We've been having a lot of good meals lately aside from all the wonderful holiday food. A few weeks back Nick and I made this roasted chicken. This is a good alternative to the
rosemary-sage roasted chicken
we made back in October. The rosemary-sage butter chicken was probably one of my family's favorite meals, but there is just so much butter that we can't do it all the time. At this point I can't remember if this recipe was off the top of our heads or a recipe I saw. I've put a recipe below of pretty much what we did. I do remember that we shoved garlic and red onions under the skin, which made it very tasty. We tossed it in EVOO before shoving it into the oven. We also made garlic noodles and my own concoction of anchovy broccoli. Now, I know a lot of people are squeamish about anchovies, but they give such a nutty, full flavor to whatever you put it in. I highly suggest trying them. I've used the paste in spaghetti sauce before and it made such a difference. This time I minced up whole fillets until it was practically a paste and threw it in with the broccoli. It was soo good. Since I'm not a fish lover I haven't tried whole fillets, but minced up for flavoring is amazing.
Roasted Chicken with Red Onions


5-7 chicken thighs and drumsticks, separated
2 red onions, eighthed
1 bulb garlic, whole cloves
Thyme sprigs
Salt and Pepper
EVOO


Directions


Preheat oven to 375 degrees. Liberally salt and pepper chicken parts. (I try to use more pepper than salt for my Dad's blood pressure.) Pull apart two pieces of onion so that you have a bunch of separate thin layers. Gently lift the skin away from the chicken and slide one to two onion pieces and a piece of garlic in between the skin and flesh. Place chicken, onions, remaining garlic cloves and thyme in a foil covered roaster pan. Coat with EVOO and toss with hands so that they are all evenly coated. Place chicken so that skin is facing up. Roast in oven for 45 min to 1 hour or until juices run clear.
Anchovy Broccoli


1 can anchovies in EVOO, pasted
4 cloves garlic, minced
3-4 bunches of broccoli, bite sized pieces
5-6 Tbsp water
Salt and Pepper to taste


Directions:


Mince anchovy filets into a course paste, reserving EVOO in can. Sautee anchovies in regular EVOO until fragrant and then add garlic and reserved EVOO stirring constantly. Add raw broccoli, toss in anchovy mixture. Add water and cover for 3-4 minutes to steam. Salt and pepper to taste.
A couple of weekends ago we also had a crab night. Yum yum! My favorite thing ever! Briana and I had gone to have Pho and then popped over to Ranch 99 to get crabs for my dad to cook up that night. It was a pretty fun day. Christopher had helped me get out all of our Christmas stuff, so I started decorating the tree while Briana did her homework. I can't remember where the rest of the family was, but it was just the two of us listening to Glee Christmas in front of the fire while I got sentimental about all of our ornaments. I'm turning into my mother.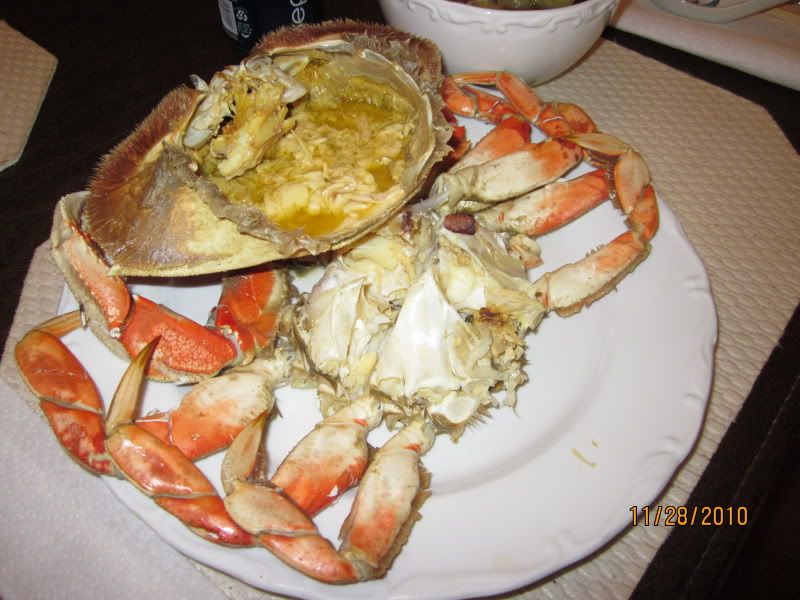 I didn't think that crab would be enough to fill us so I made a soup too. It was good, but we had way to much, as always. If you want to cut back on the salt use less bouillon.
Soup Noodles


1 onion, chopped
4 cloves garlic, minced
3 jalapenos, sliced
1 32oz box chicken stock
4 cups water
5 tbsp chicken bouillon
1 pack fresh Korean noodles (found in the refrigerator section of Ranch 99)
Baby bok choy, cut in half


Directions


Par boil noodles and set aside, strained. In same pot sauté onions, garlic, and jalapenos. (I didn't deseed the jalapenos.) Once vegetables are soft, add chicken stock, water, and bouillon. Bring to a boil and add bok choy. Cook bok choy until they are bright green. Portion strained noodles into bowls and ladle soup over noodles.


Note: If you have left over noodles, don't add them to your soup to store. Keep them separate until you go to eat it otherwise the noodles will absorb all the soup and be gummy.
Some Emmy pictures: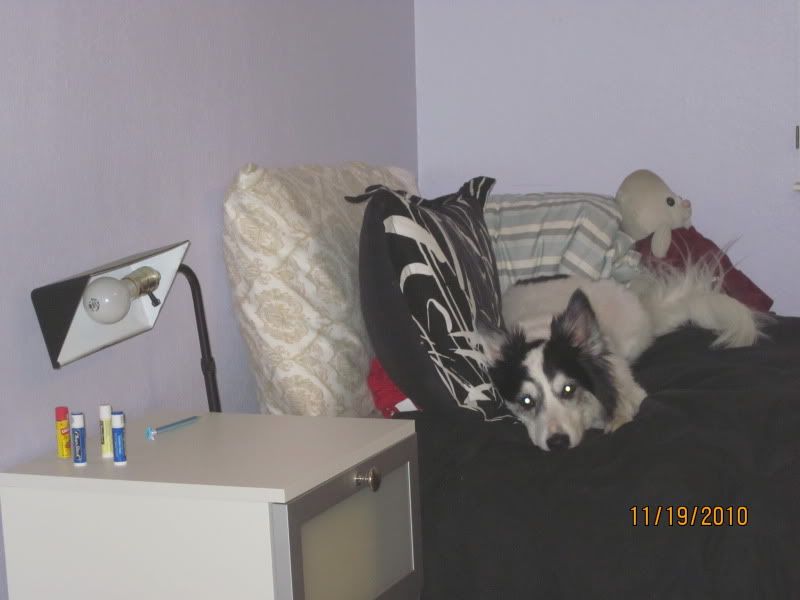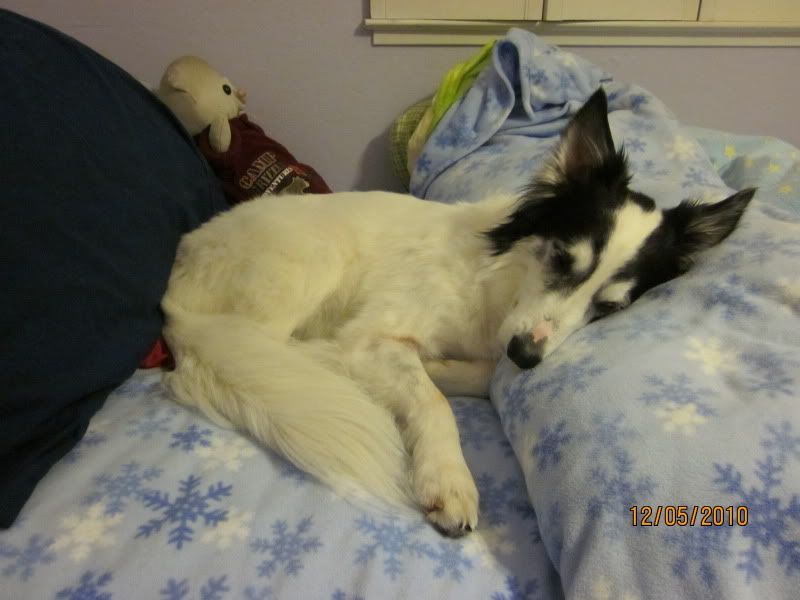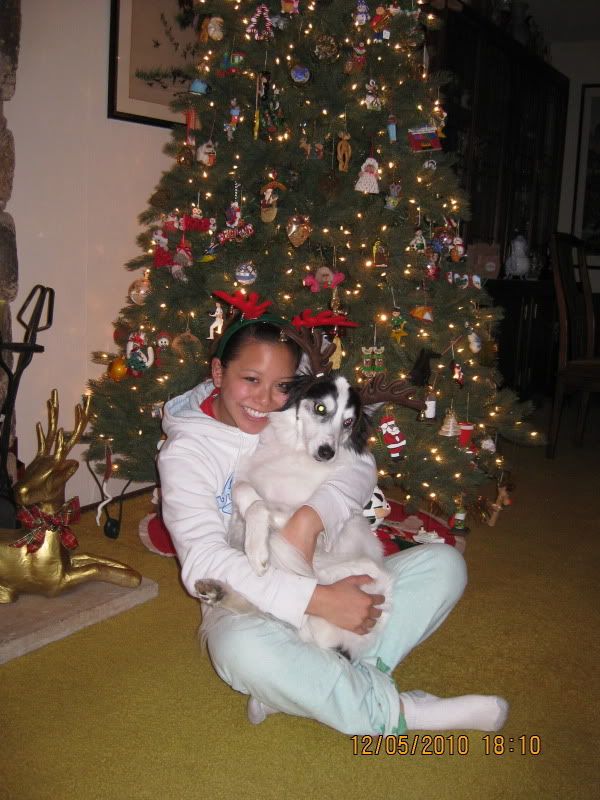 She wasn't very happy about this picture, but she knows to listen to her mommy when she's stuck like this.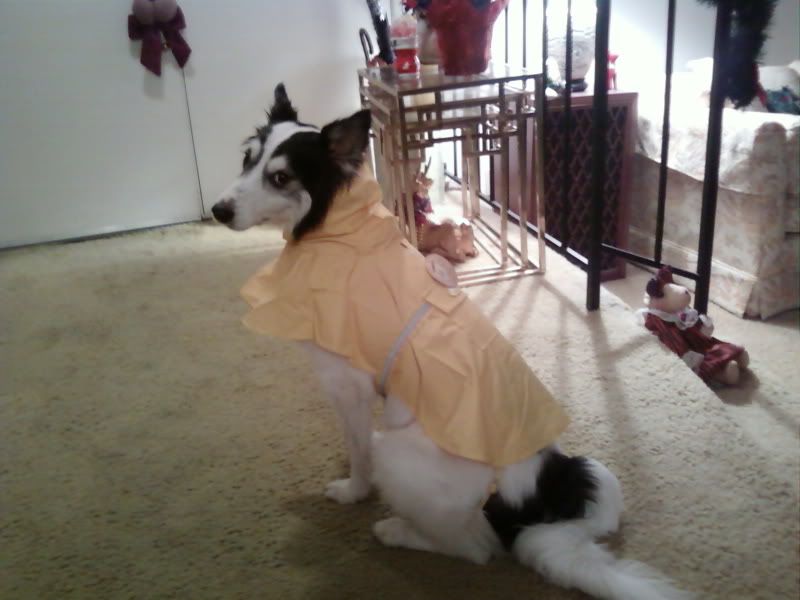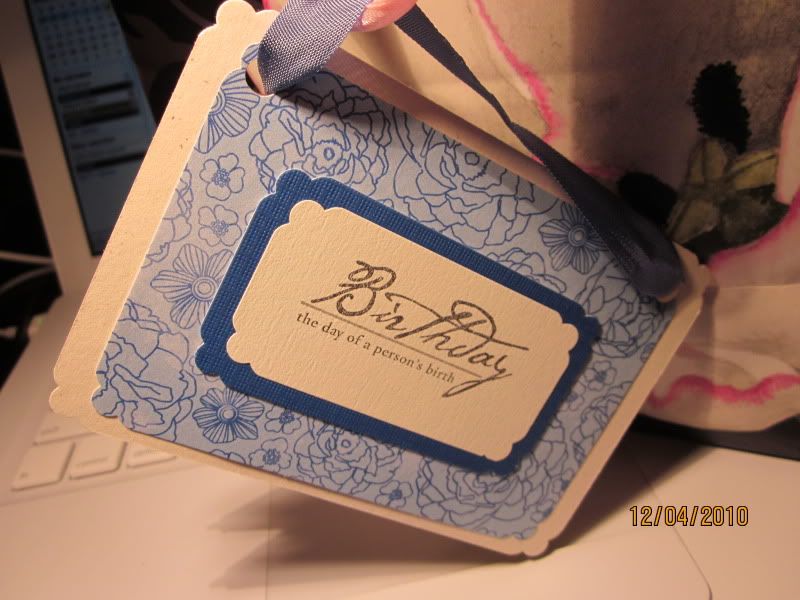 A couple of weekends ago Nick and I went to a disco themed birthday dinner and roller skating for one of his coworker's birthday. We got her a nice scarf and this is the card that I made. Nick borrowed my Dad's shirt that he bought for canoeing. We were all surprised that he could fit it since he is so much bigger than my dad. In my Dad's defense, he needed something bright that wasn't cotton so that if he he got lost he would be easier to find.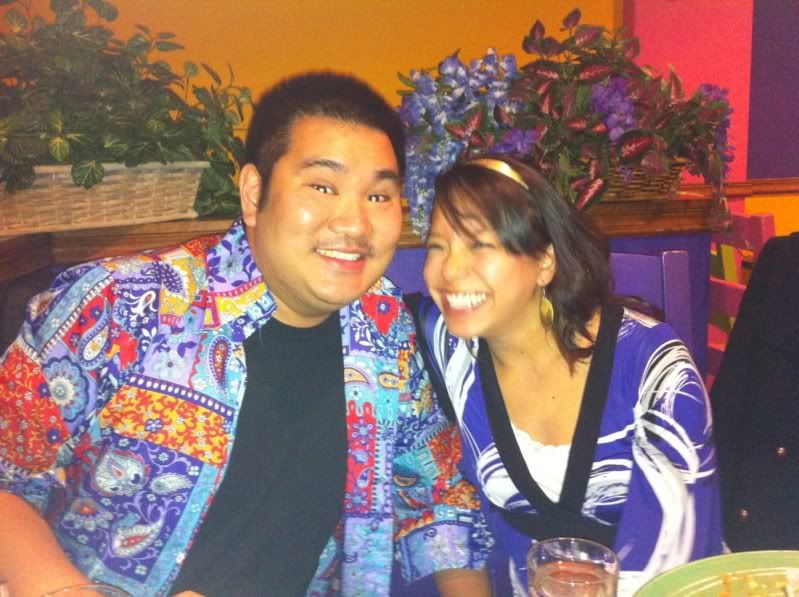 The Meyer Sale. Ah, the Meyer Sale. Meyer is an umbrella company for some well known kitchen retailers like Anolon, FarberWare, Circulon, Kitchen Aid, SilverStone, and Bonjour. They also had a lot of Rachel Ray and Paula Deen stuff there too. On Saturday Nick drove my mom and me up to Fairfield to have brunch and go to the Meyer Sale. He had gone last weekend with his cousin and sister. Mrs. Ryan usually tells us about it every year, but since she changed jobs and is now working for Lowe's and not Meyer, she forgot. When we reminded her she jumped at the opportunity and met us up there. I made away like a bandit. Not only was this their year end sale so everything was already marked down, but we also had a 30% off coupon. I got myself new two cookie sheets, two cake pans, a pasta fork, slotted spatula, ladle, and new cutting board. My mom got herself the rest of what you see below including some of the same tools as me. We also picked up quite a few gifts too.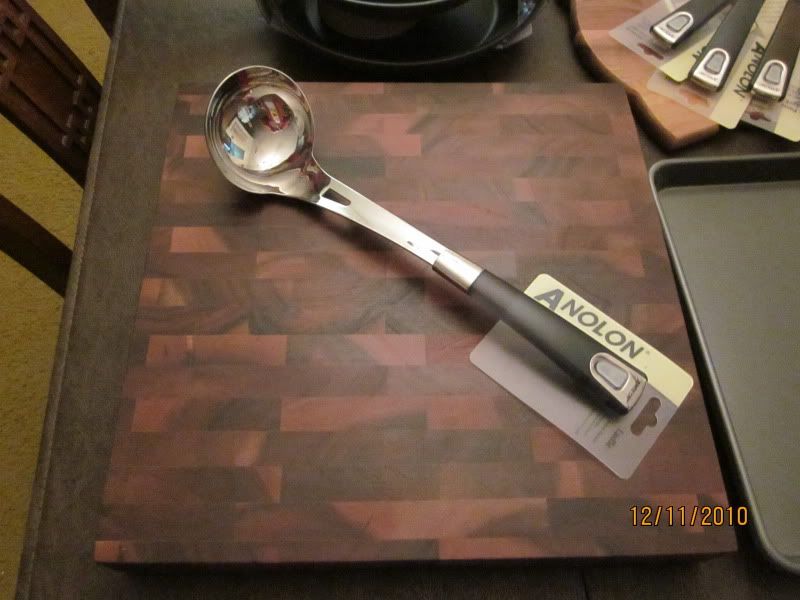 Size comparison for board. It's 15x15 raised cutting board. I love it.
Since I had gotten new cake pans I wanted to test them out. I just used a box mix, but it was still fun to do. I've never seen a bake pull away from the pan like this before. I also made my own frosting out of powdered sugar. I gave the cake to Nick since I don't really like sweets. He said that the cake was kind of oily. I guess I will have to do it from scratch next time. I was just trying to take the easy way out and practice my decorating skills.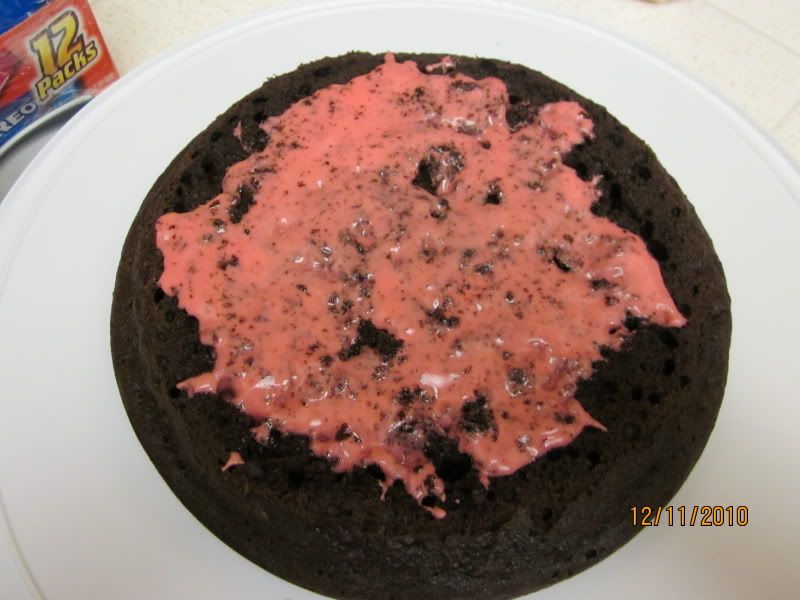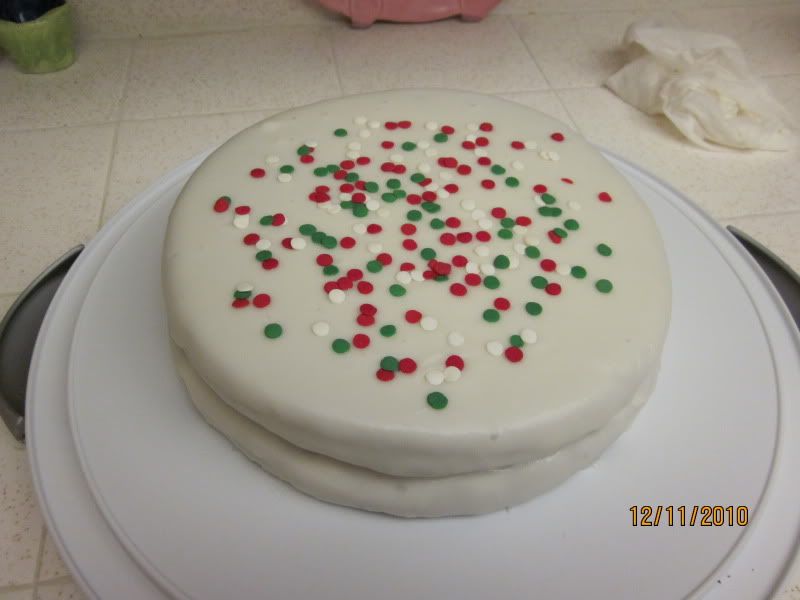 On Sunday I had an urge to try out my new cookie sheets. I made butter cookies from allrecipes. I can't find the link right now. The cookies themselves are okay and didn't take that long to make the dough, but the press I used was the biggest hassel ever. I won't be using it anymore. I've been developing a little bit of carpel tunnel in my right hand from using my mouse and chopping so much garlic so this didn't help it at all. I had to press so hard on the handle that both of my forearms were sore the next day. It took me a total of 3.5 hours to make about three dozen cookies. It's back to round cookies for me. I think even rolling out the dough and using a cookie cutter is easier than this and I think cookie cutters are a lot of work! But all in all, I loved the pans! I was in a rush to finish the last few batches so unfortunately they weren't cooked all the way through my mom said. I had to get to Nick's house so that we could go to Oakland for his grandma's birthday dinner. Oh, that was yummy. So much seafood. Family! Listen to this, Nick's family all fits at one big table! Including his little cousins! When was the last time our family was able to do that?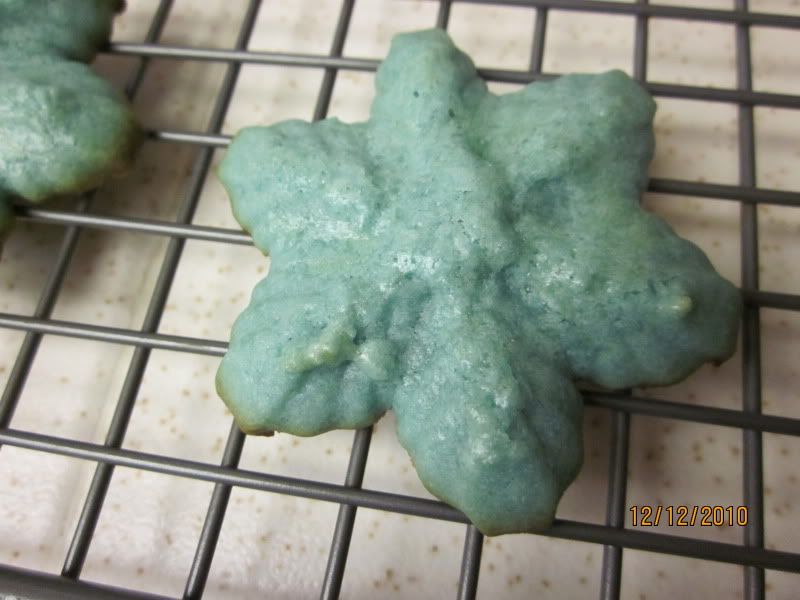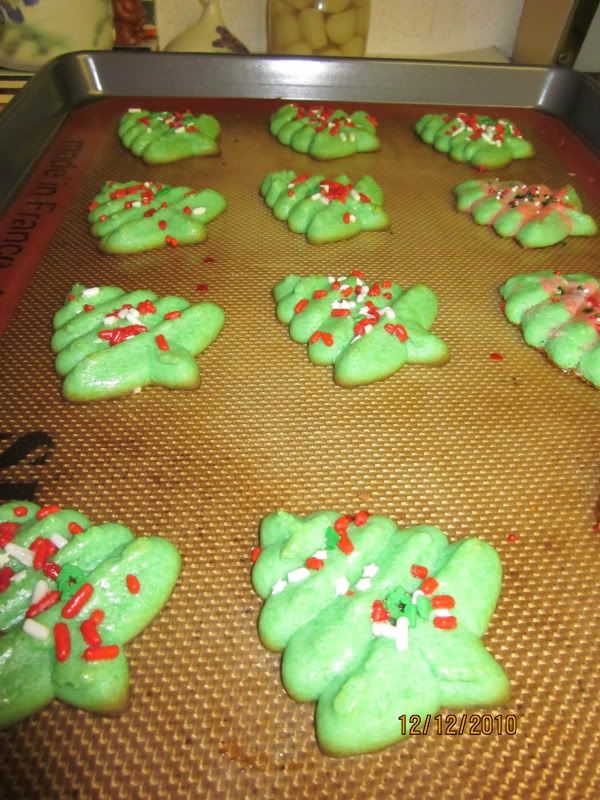 After all that baking I had to rejuvenate myself by doing a lot of cooking. On Monday I made a shrimp scampi with garlic noodles, which was good as always. Last night I tried something different. I've been craving fish for some reason even though I don't like fish so I planned to make
fish tacos
. The problem was that I ended up going to sushi with Nick's family the night before so I was all fished out. I didn't think the fish that I made was that great and it was cold by the time I got everything on the table so no one else liked it that much either. I did make my own
Spanish rice
and a stewed
zucchini dish
. Those turned out really well. The rice was so much better than the boxed Spanish rice. I will definitely be making both again.
I did have a picture with my dad smiling but it was really blurry.
In other news, it's going to get really hectic around here. Well, it already is, but it will become more so. This year Christopher and I will be hosting Christmas dinner with my mom's side of the family. I have everything planned out down to the half hour starting Christmas Eve. I was originally planning to work a half day on Christmas Eve, but after looking at all of the stuff I have to prepare for I decided that I need to take it off. The day after Christmas Jen Jen is having a baby shower for Josie, which I'm very involved in. We've been planning for the last two weeks to figure out what we're doing. Now that the time is getting closer we're both starting to feel the stress, but I think we have a handle on it now. So for Christmas weekend I'm going to be very busy. It's a good thing Christopher is helping me and Nick said that he would come and help with the cooking for Josie's shower and then take off before all the ladies come. I probably would be broken out in pimples and have no hair if I didn't have their help.