Yesterday my mom and I went to get new furniture for my place. I'm very excited about it! My parents had said that they would get me a bed and sofa for my birthday and you bet I cashed in on that. Unfortunately, this morning we found out that the condo floors aren't level so the hard floors can't be installed. I'm really disappointed. At least we didn't have to pay a restocking fee since we didn't know that it wouldn't work. I find it irritating that we had to wait all this time to get approved, measured, the wood to acclimate to the apartment temperature, and on installation day that is when we find out that it won't work. Why didn't they check that before they ordered 50 boxes of laminant for us? I'm trying to look on the bright side though. At least now I don't have to worry about all of the sound problems from downstairs that could have occurred and I don't have buy a ton of area rugs. I will probably be picking light colored carpet to compliment my new furniture.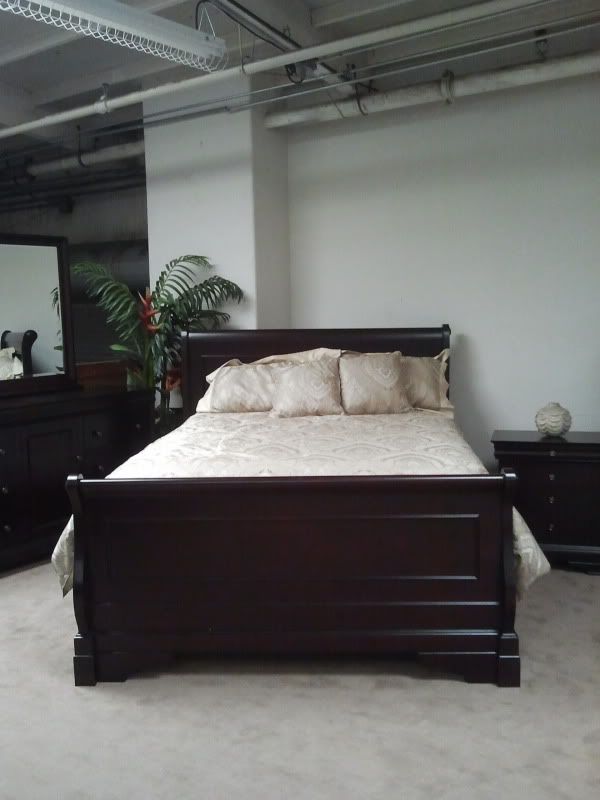 I have a chocolate brown duvet cover that I'm going try to make
work with the bed. I'm going to try to lighten the whole thing
up with cream color accent pillows. If it doesn't work and it
looks too dark I will be on the market for a new duvet cover.
I also got a ton of stuff from TJ Maxx yesterday. It seems like I spent a lot, but the quality on all of my stuff is pretty nice so I was willing to spring for it. I can't even imagine trying to furnish a whole house.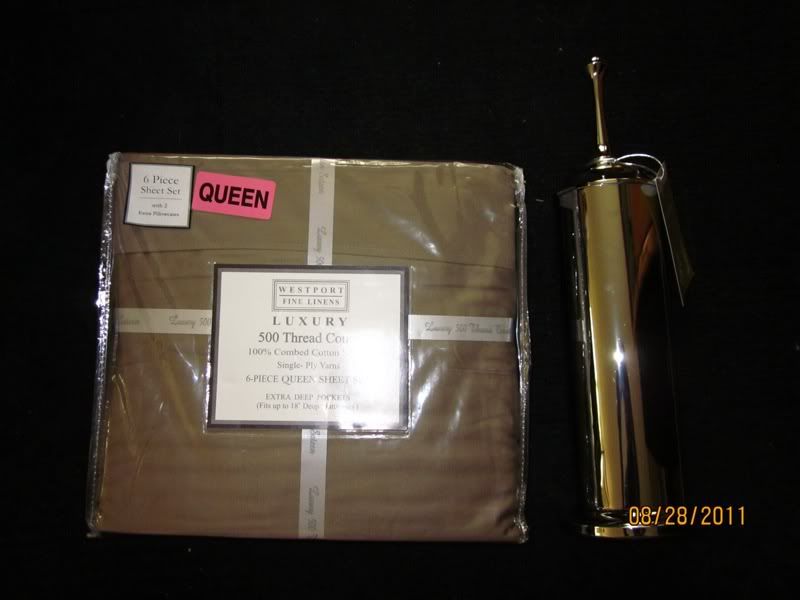 I got the toilet bowl brush to match the chrome light fixture and faucet head
that my dad put in the bathroom for me. The sheets will look and feel nice
on my new bed!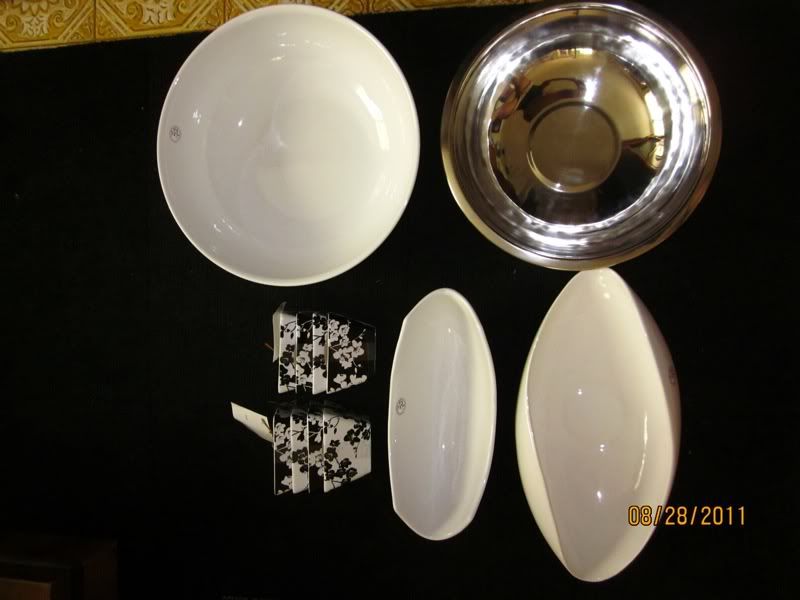 I was disappointed that Corelle's designer plate sets run at around $50 for a
set of 16. I decided to go with plain white, but got the little square bowls ($5.50/set) on the
bottom left as accent bowls. I will probably use them as rice bowls, but may revert to
the traditional round. The other serving bowls were really reasonably priced at:
Large Round: $13
Contoured Oval: $10 (clearance)
Slim Oval: $5.50 (clearance)
The mixing bowls, I got two, were only $4 each.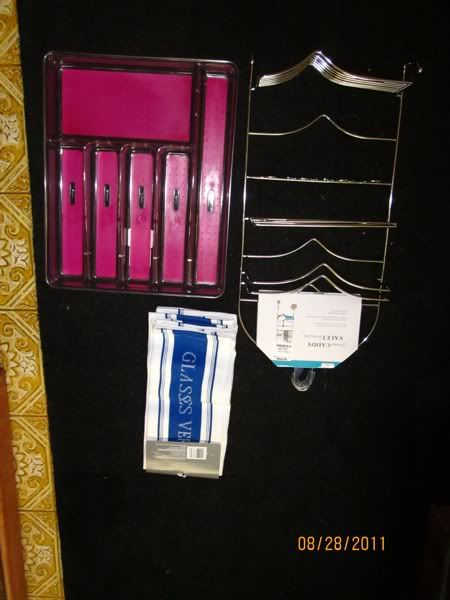 For some reason this is upside down, but it's just my silverware
tray, shower caddy, and hand towels.
This was a more frivolous purchase. These are crystal paper weights in the
shapes of diamonds ($10/set). I bought the container for $10 and plan to get those clear
pebbles that are made for fish tanks as additional filler. I'm going to mix all the
bling together to go around the green candles that I got at the dollar store.
They smell awesome. This will be my coffee table centerpiece.