Well as I'm sure you all know, the Giants have made it to the World Series! Nick and I were enjoying a nice dinner at the
Monterey Fish House
while the last game against the Phillies was going. I'm not a big baseball fan myself, but there were plenty of people who were very into the game when we were waiting for our table. While we were waiting outside for the taxi to pick us up, Nick was watching through the windows at the score while I was on the lookout for the cab. As soon as we got back to the hotel we could see a huge crowd of people in the restaurant/bar area. Nick practically dragged me over so that we could see the last inning of the game. The rumble of happy fans was pretty gosh darn loud after that last pitch.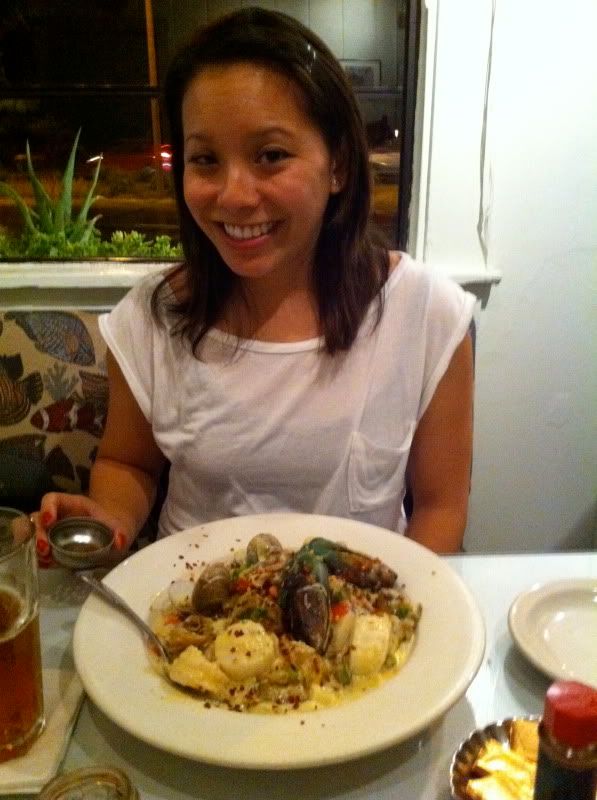 My dinner at the fish house
Our trip to Monterey was quite a bit of fun. It's a good thing that 1 year anniversaries only happen once because we couldn't afford to stay in such a nice place all the time otherwise. The hotel was beautiful and well worth the small fortune that we forked out. There was even a little zen sandbox and bonsai tree on the desk and when I went into the bathroom there was a live orchid on the counter. I thought that was cool since we (my mom) has a difficult time keeping orchids alive in our house. It was a pretty fancy-smancy place and I'd love to go there again. Maybe when we're rich and famous. We were able to check into the room early so we chilled our champagne that we picked up the weekend before in Napa in the sink with some ice. The ice bucket that they provided was tiny!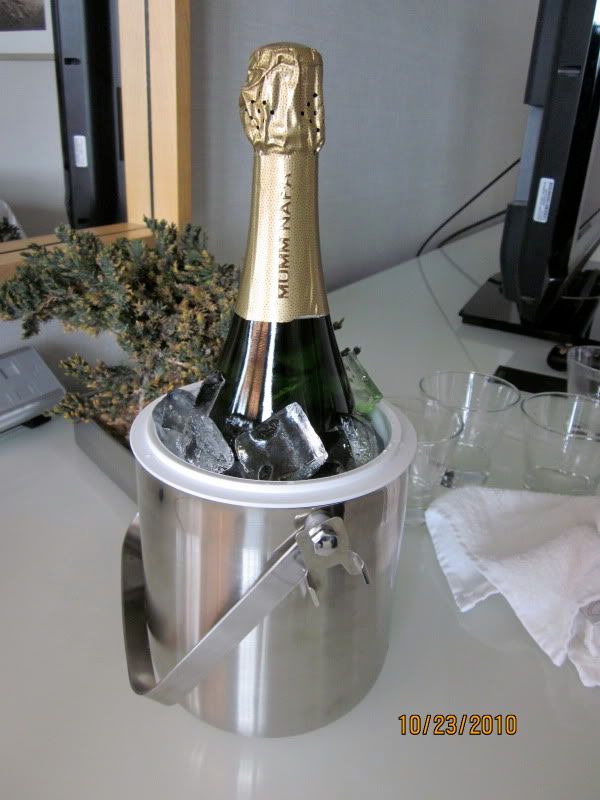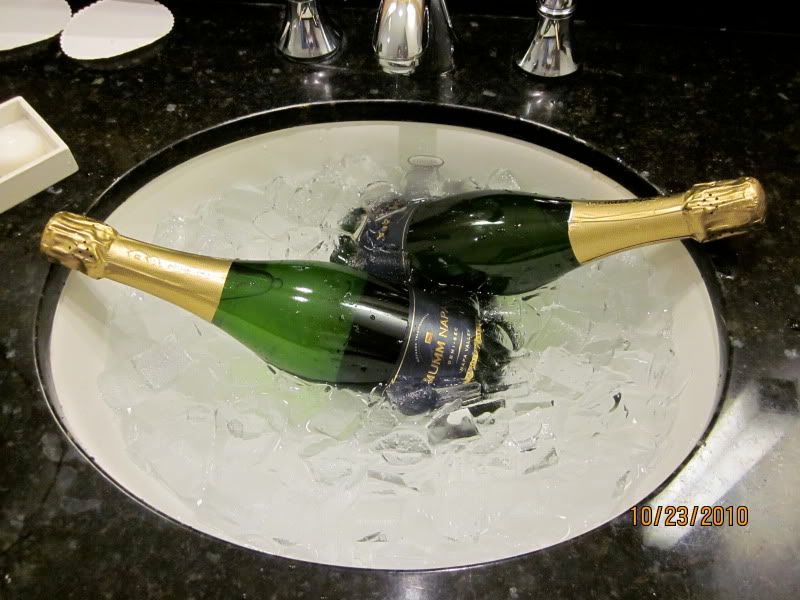 We forgot to take pictures of the room before we messed it all up, but I found some pictures on google.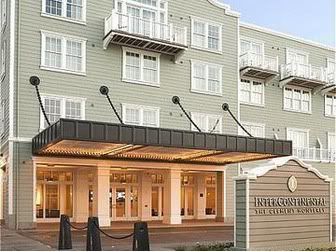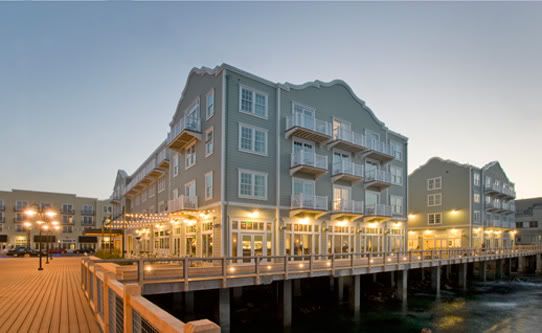 When we first arrived in Monterey we went to the
London Bridge Pub
on Linda's recommendation. It was really good; a little heavy, but good. We parked a little far away because our GPS didn't exactly know where 2 Wharf II was, but it worked out well because we were able to get street parking and mosey around the street markets. By the time we finished our awesome lunch, walked back to the car, and checked into the hotel, I was ready for a nap. Nick wouldn't let me though. While he was filling the sink with ice, he heard me flop on the bed and yelled, "Are you laying down?!" and then made me get up. We had plans to go to the aquarium and do a behind the scenes tour so he didn't want me passing out on him for three hours. After we finished with icing the champagne, we walked down to the aquarium, which was about 500 feet away. Unfortunately, the big tank that I love was being renovated, but everything else was good. Soooo many children running around and strollers being parked everywhere. It was like an amusement park! We did the behind the scenes tour like we planned. It was pretty neat. Unlike the tour in Chattanooga, we didn't see the pipes and go to the noisy filtration parts of the aquarium, but we did get to go on top of the roof-ish area where you can look into the tanks and see where they were building new tanks. For $12 a person I thought it was a great way to learn more about the aquarium and the local wildlife. I think that next time we go down, I'm going to get an annual membership. Nick and I have decided that we will be going down again because somehow I managed to lose half of our pictures from Carmel. So, we'll have to go remake the memories! Plus, my dad has been talking about going down as a family for months. By then an annual pass would have paid for itself. I'm kind of regretting not getting one this time, but oh well.
Cold plankton that we threw into the tank to feed the fish in the kelp tank.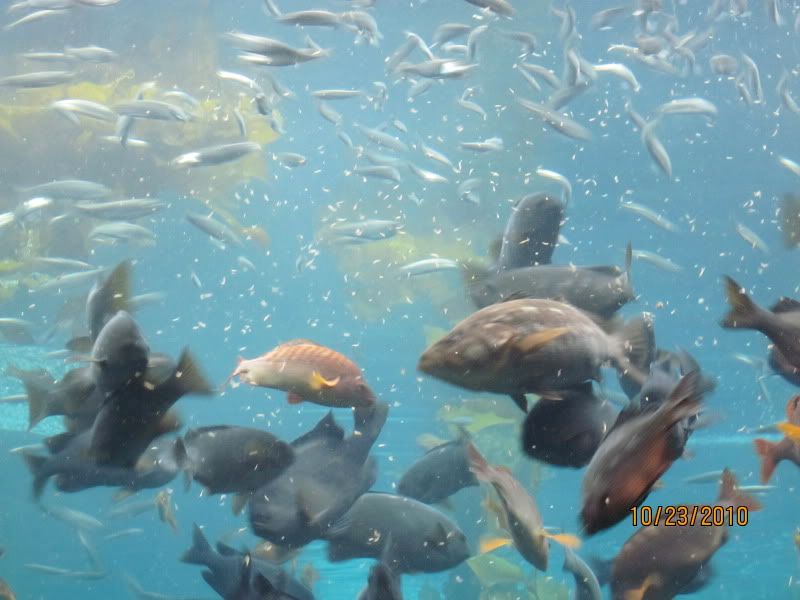 Fish eating our plankton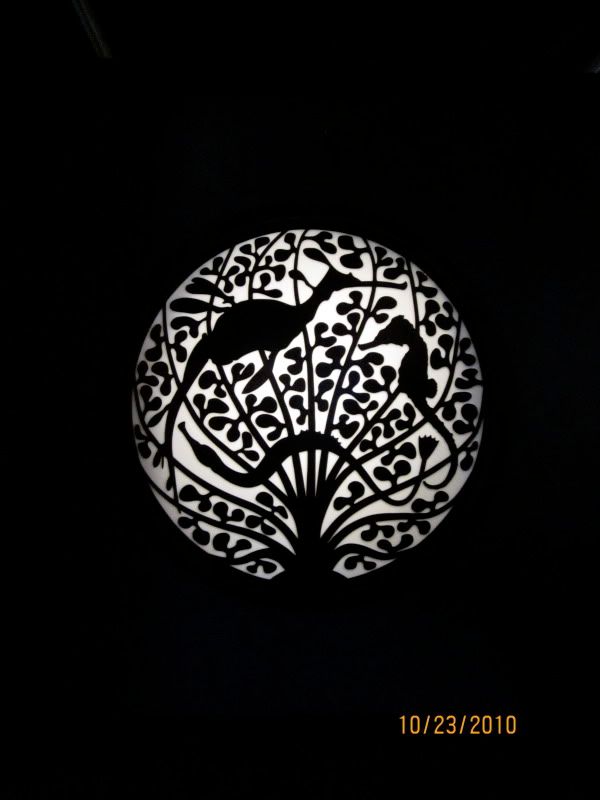 On Sunday we went to Carmel and the beach before heading home. In total we had ordered three dozen oysters between us. Yum yum yum. I think our trips are always going to be food trips. We didn't really have that many set plans, but we did have a lot of places that we wanted to go to eat. We found this tiny little restaurant on the wharf to have breakfast at. It was so small that the stove was right in front of us and we could watch them work. There wasn't even a bathroom in there! We will definitely be going back to
Lou Lou's
.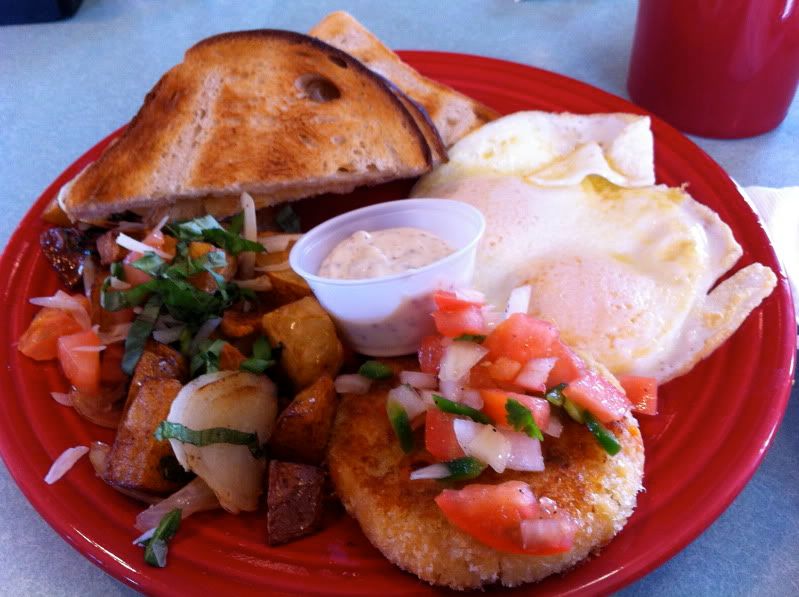 Nick's breakfast
My breakfast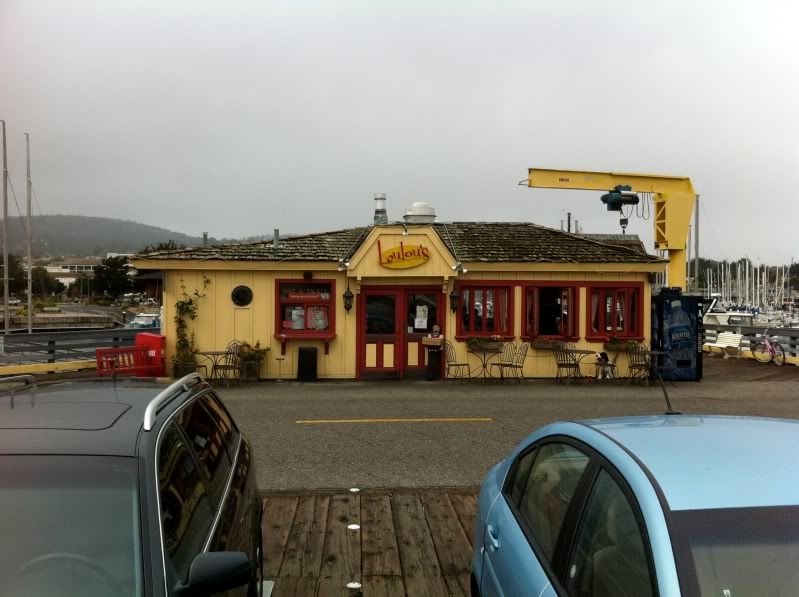 ----
On Tuesday night Bonnie and I went to the Sound of Music Sing Along. It was a special thing going around at movie theaters all over the place to celebrate the movie's 45th anniversary. We first went and scarfed down some Chipotle because we were both starving and had been texting each other about how excited we were to eat. After we finished inhaling our food we had half and hour to spare so we headed to Michael's to see if we could find a mask for me to make a Halloween costume out of. Nick and I originally were going to be chefs, but since we wanted to have our names embroidered on the chef coats they won't arrive until the first week of November. I ordered them on October 8th too! I figured there would be plenty of time to get them. Apparently not. So Bonnie and headed over to Michael's and I found a mask, googly, eyes and glitter glue. Even though she wasn't shopping for anything, she found a can coozie, pink glitter glue, and pink rhine stones. We already had planned to have a dinner, movie, and wine night at my house on Thursday so we saved it to decorate together. By the time we were done with our Michaels shopping we practically had to run to the theater. It was pretty fun. The group behind us was a hoot. We later discovered that it was because they had imbibed quite a bit of wine.
Yesterday Bonnie and I had a nice girl night of decorating coozies and masks. I made
chicken parm
, string beans, and potatoes. It turned out pretty well except that you're supposed to use chicken cutlets and I used chicken breast. I just covered the cheesy chicken with foil so that the cheese wouldn't get too brown and left it in the oven at 375 degrees for about 25 minutes. I took this picture with my phone halfway through eating the chicken.
It wasn't that hard to make, but I don't think I'd make it again. My dad said that he like the chewy, stringiness of the cheese, but that he liked the chicken that my mom made the other day better. The best part of the chicken was the homemade tomato sauce that I made for it. I didn't follow Giada's recipe in the second half of the link. This was my improvised tomato sauce:
Fresh Tomato Sauce
1 onion, diced
2 shallots, diced
1 head garlic minced (if you don't like garlic as much as I do just use 2-3 cloves)
2-3 mushrooms, sliced


1 14 oz can diced tomatoes, drained (the sauce will be too thin with the juices added)
2 8oz cans tomato sauce


2 tbsp fresh thyme, minced
2 tbsp fresh rosemary, minced
2 tbsp fresh sage, minced
2 tbsp fresh Italian parsley, minced
Salt and pepper to taste
1 tsp sugar (this reduces the acidity of the tomatoes)


Directions


Saute onion, shallots, and garlic until translucent. Add mushrooms and cook until tender. Add diced tomatoes and stir until they are soft. Add tomato sauce. Drop in thyme, rosemary, sage, parsley, salt, pepper, and sugar. Bring to a boil, stirring frequently. Lower to a simmer and cover for two + hours. Stir every 15 minutes or so. Once you are close to serving, take off the cover, and let simmer for another 15 minutes. This will thicken up the sauce.
Note: This makes about three to four large servings worth of sauce. If I were making this for my family to put over pasta I would double the recipe since we always like to go back for seconds. I usually don't like parsley of any kind, but since I minced it really finely and then let it simmer for a long time I didn't bite into any large, over powering chunks of leaf. The parsley added a lot of flavor to the sauce so don't skimp on the parsley.
After dinner Bonnie and I went to go watch movies and do crafts in the study. I had ripped a copy of
The Ugly Truth
, but it stopped working about 15 minutes into the movie. I will have to try it on the downstairs dvd player to see if it works. If not, then I'll just have to break down and buy it because it's a really cute movie. We decided on
Hello Dolly
instead since neither of us had seen it. I spent the first half of the movie working on my Halloween mask so I didn't catch it all, but I'm definitely going to go back and watch the whole thing again. It was really good! I loved all of their choreographed dances.
Ever since I've known Bonnie she has always like pink and princesses. She made this coozie for her desk since her office is already decked out in Disney Princess stuff.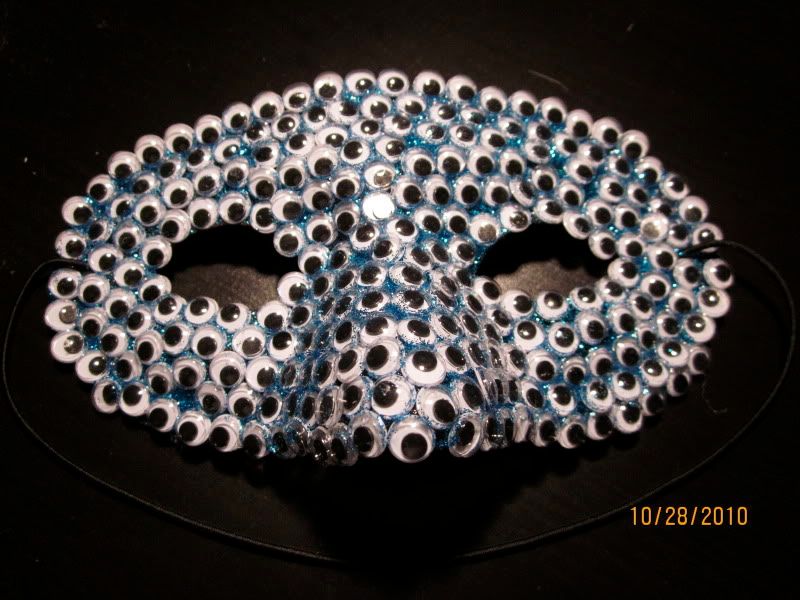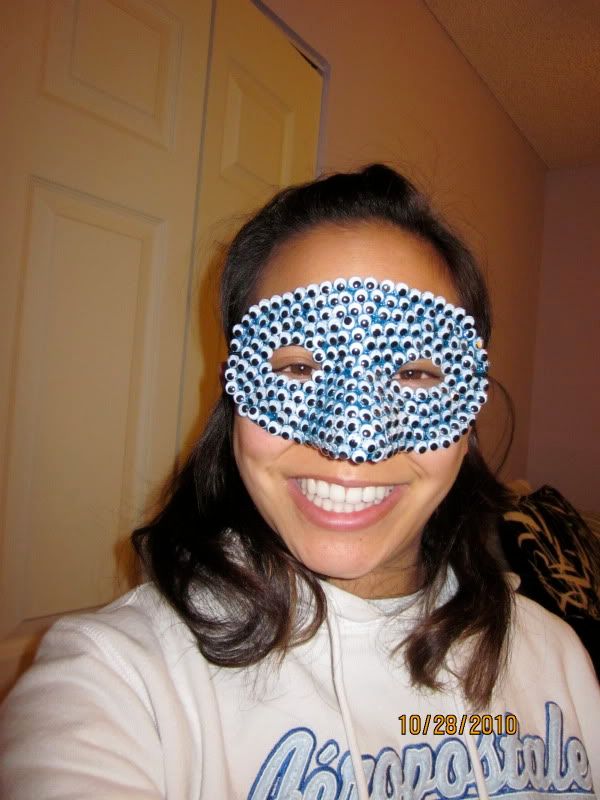 My Halloween mask made of googly eyes blue glitter glue. For $6ish it was a pretty good deal! I just need the eyeballs to stay on until the end of the night. Hehehe.
In other news I have been working out 3-4 times a week for the last three weeks and I'm gaining weight! All I have to say is that it better be muscle. Nick told me that I looked a little thinner, so hopefully he is right. My legs and rump do feel firmer. Shanna is now part of our motivation team to get fit. She's been doing a really good job at getting herself up in the morning before work to go on walks on top of her roller derby practice in the evenings. Nick said that the giant hill to his house is getting easier for him to walk up too. I've even noticed that his belly is much flatter. So it's working! I probably should have taken my measurements before we started the whole thing, but my belly fat and double chin are disappearing. I've started to run up all of the hills that are on my path and walking on the flat parts so instead of taking an hour to do my three mile route it only takes me 50 minutes and it's more challenging. If anyone wants to join our gang let me know! We email, IM, and text each other with how were doing and also pressure/compete with one another to work out. I'm telling you, it works!