This is going to be a busy month. I feel tired just looking at my calendar. At least I've gotten through the first weekend. Nick and I had a friend's wedding to go to on Saturday and then spent Sunday recovering. This is the one that I went down to Pismo Beach about a month ago for the bachelorette party. Nick officiated the ceremony and did a great job. I was trying really hard not to cry, but the girl next to me and the woman in front of me were balling so it was hard to keep it together. During the Maid of Honor speech I lost it and Linda said "Don't look at me!" because the tears were streaming and she probably would have started up too. Even though I wasn't in the wedding party, I felt like I was since I helped edit Nick's speech and then went to help make the favors for the wedding. We made carmel and chocolate apples with nuts and chocolate chips. They were huge and heavy from all the toppings. It was a lot of work, but it was nice hanging out with all the girls doing crafty stuff. It was also very fulfilling seeing people digging into their carmel apples like little kids.
Took this pic with my phone after all our hard work. I didn't take a picture of the ones with chocolate chips though. First we dipped all the apples in carmel, let them dry, dipped in chocolate, and then pressed on either chopped almonds or chocolate chips.
I forgot my camera on the kitchen table when we were leaving, but my mom did take a picture of Linda and myself before we left. I wouldn't have been able to carry the camera anyway. The clutch I took matched perfectly with my awesome shoes, but it barely held my cellphone and some lipgloss. Useless, I tell you, useless. It is all stained now because I had to put it on the grass, which was wet and it is satin, but I don't mind much. I think I bought it for $10 in Vegas a long time ago. I've gotten my use out of it...well as much use as useless purse can give.
----
The last couple of weeks my family, Nick, and Briana have been getting together for dinners on Tuesday nights for Glee. Nick and I used to have Tuesday night dinners at his house, but now that Briana comes over to watch Glee we just do it at our house. Last night Nick and I made roasted chicken over veggies and a
bacon and spinach rice pilaf
that actually turned out like No-Mai-Fawn. I think we might have added too much chicken stock so it wasn't fluffy, but sticky.
Nick makes a pretty awesome rosemary and lemon chicken and I make a pretty mean sage chicken, so we decided to combine our two recipes and make a sage-rosemary-garlic chicken. Yum yum yum. We put the oven on a really low heat so it took almost three hours to cook, but we'll know next time to make the oven hotter. Usually we sit in the dining room and eat out since there is more room when there are all six of us, but since the chicken took it's sweet time, we had to cram around the dinner table to watch Glee. It was delicious though. You can definitely reduce the portions and just make one chicken, but we're big eaters. All of this food was roughly $45.00 so that comes to $7.50 a person. Not bad if you ask me!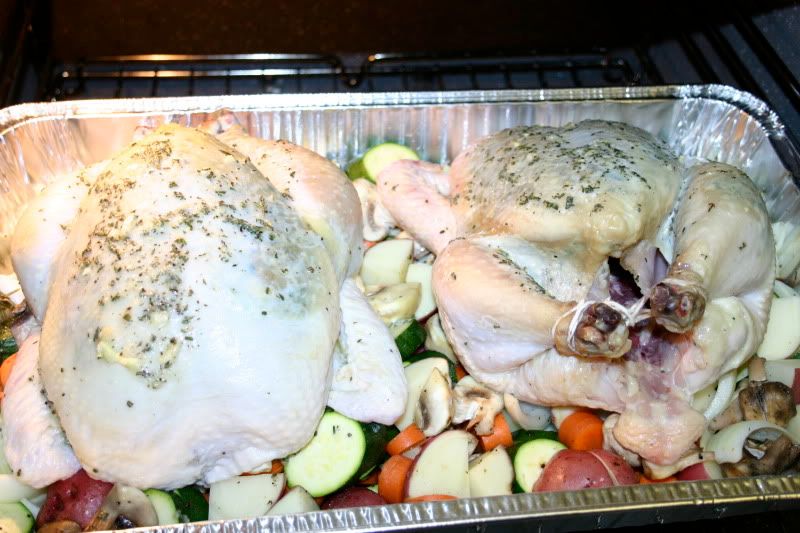 At the 50 minute rotation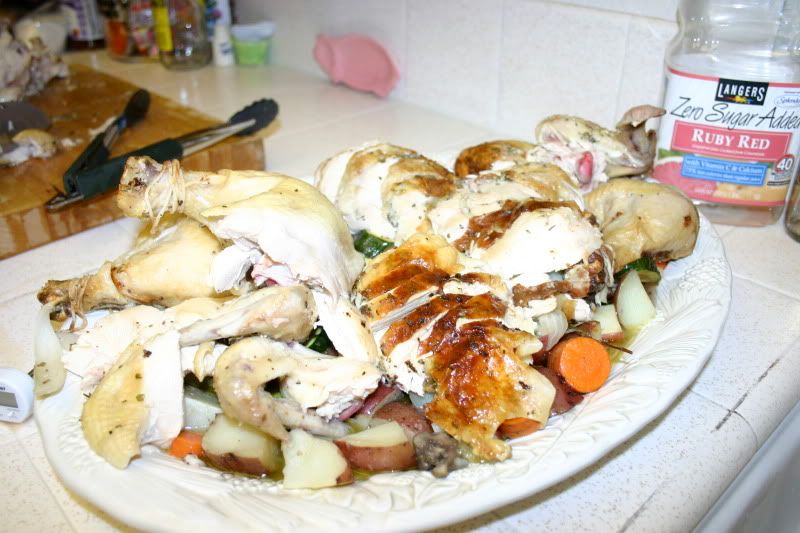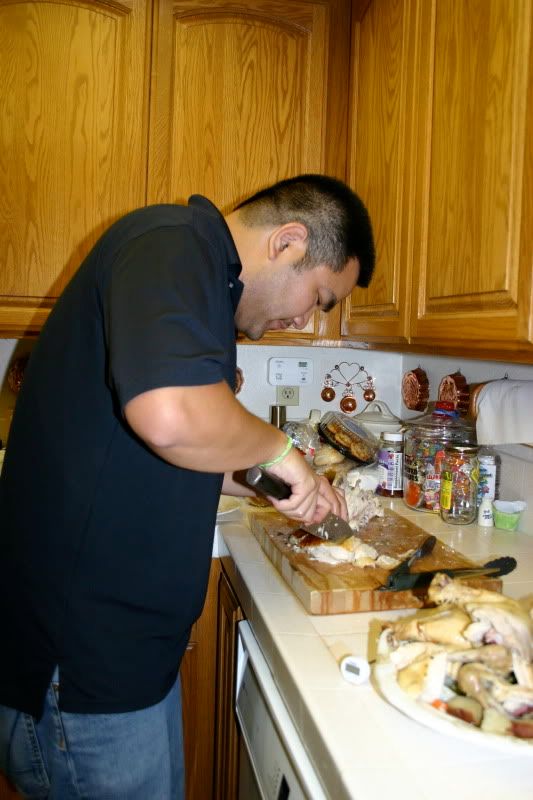 Nick about to say "Ahhh it's burning my fingers!"
Nick and Allison's Roasted Sage-Rosemary-Garlic Butter Chicken
2 whole chickens, cleaned and patted dry
2 sticks unsalted butter, softened
2 tbsp fresh sage, chopped finely
2 tbsp fresh rosemary, chopped finely
1 head garlic, grated or very finely minced
Preheat oven to 425 degrees. Combine butter, sage, rosemary, garlic, salt, and black pepper in large bowl until completely mixed. Taking small portions of butter, spread under the skin of the chicken on breasts and thighs. Truss your chicken. (We just tied the drumsticks together and tucked the wings under the bird.) Spread more butter on the skin for flavor and browning. Reserve some of the butter to put on your vegetables.
Note: When placing your birds on the vegetables for roasting make sure to put the breasts up and the ribs down to the veggies. (Nick taught me that last night.)
Addendum: If you aren't going to put the chicken on top of vegetables, make sure to put the chickens on a rack. You don't want them to be sitting in their own juices and oils. Baste to moisten.
Roasted Rosemary Assorted Vegetables


5 red potatoes, large dice
3 carrots, chopped
8 mushrooms, quartered (8thed if they are large)
2 heads garlic, whole cloves
2 onions, 8thed
5 zucchini, thickly chopped
5-10 sprigs of rosemary
Reserved dallops of sage-rosemary-garlic butter
EVOO for drizzling
Directions:
Spray bottom of pan with Pam. Combine all of the vegetables in pan. Add dallops of butter and drizzle EVOO. Mix together with large spoon or hands so that everything is well mixed and coated. Place chickens on top, breasts up. Cover chickens with foil and put in 425 degree oven for 50 minutes. Rotate and take foil off. Put back in for another 50 minutes. Temperature of chickens should be above 160 degrees in the thickest part of the chicken. Make sure not to let the thermometer touch the bone.


Chicken Gravy


2 tbsp butter
2 tbsp flour
1 1/4 c chicken drippings
6-7 mushroom slices from the pan


Directions:
Melt butter and flour together over medium heat, stir continuously to make a roux. (You don't want it to burn or get too brown --light brown is good.) Add chicken drippings a few small ladles a time, stirring. Add mushrooms and let come to a boil, stirring continuously. If gravy is too thick, add more drippings (if it is to thin, lower heat and let simmer, stir frequently so that the bottom won't burn.) Serve over chicken and vegetables.
This dinner was a complete success. When Christopher and I went to drop Briana off, my parents were apparently talking about how good it was and then when my dad came to give me a kiss goodnight he reiterated how good dinner was. Usually he doesn't keep talking about dinner after it's in his belly. Yay! Success, though we can't have this all the time since there is sooo much butter in it. I make myself feel better that it was split between us all.
As a second round dinner, my mom is using the chicken carcasses for jook tonight, but you could always make a really tasty chicken stock with them.