I wish I could say that Disneyland was a blast, but it wasn't as great as I was hoping it to be. It was soooo windy. The first couple of days were pretty good though. Our trip started with me taking Christopher and Briana down to the school at 3am. I usually stay up really late anyway, but knowing that I
had
to actually stay up this time made me tired. After the kids were on the road, we all got up at 6:30 to leave at 7am. The Ryan's are usually a little on the late side so we had our coffee and waited for them to come. By the time they got to our house it was 7:30am and Mrs. Ryan had forgotten her Disneyland tickets. We didn't get on the road until almost 8:30. I could have slept so much longer.
After hitting tons of horrid LA traffic we made it to our hotel around 4:30pm. Since it was a little late we decided to stroll around Downtown Disney and then go to a sushi dinner at
Kagura
in Anaheim. Oh my gosh. It was so delicious. I had found this place on Yelp! and the reviews didn't lie. The place is Japanese owned and the service was excellent. The food was fantastic and we were all very satisfied by the end of the night. Wow, what a find. Hopefully when we go down to LA for our cruise we can go back. It's a rather small place, but maybe my family can steal away for a sushi dinner before we board...that is if we go down the night before. It was a little on the expensive side for our family, not something we'd do every day, but it was well worth it especially because the next day we ate at an Ihop that totaled to almost the same price. At least we were getting superb quality and service at Kagura. I'm getting hungry just thinking about it.
The next day we went to California Adventures before we headed over to Disneyland to watch Christopher's parade. I like CA Adventures, but it's not as great as Disneyland. There is a big circular room where they have huge TVs showing clips of Disney movies. I think that is my favorite place. It reminds me of the big tank in the Monterey Bay Aquarium where everyone stares with mouths open at the huge circular glass wall of fish. During the summer the TV room is air conditioned and it has really neat exhibits inside. When I went last time, there was an exhibit that showed the different concepts of villains. Ursala was originally a lion fish before she became an octopus. This time we got to learn how to draw some of the Disney characters and saw a sneak peak of Toy Story 3, which I'm excited about. We learned how to draw Daisy Duck and Tigger. I think my parent's Tigger's came out much better than mine, but I did enjoy my Daisy Duck. Afterwards we rode some of the rides and watched the Aladdin show. In the evening we met up with Uncle David and his family to watch the Christopher's marching band performance. It was good as usual, but the kids were practically running so we barely got to see them.
The next day was when the kids did all their stage performances. This was the windiest day. Their music was flying and dust was being blown everywhere. I literally had to sit with my eyes closed. I should have been like Uncle David and worn my glasses. So on top of being super tired because our dumb alarm clock went off at 6 15am, my allergies were horrible. I think my parents thought I was going to kill the alarm clock. I was trying to yank the cord out of the back of the alarm clock while also whacking it to find the snooze button. By midday I was not feeling well at all--itchy eyes and throat, runny nose, hopped up on caffeine but no energy, the works. Uncle David and his family decided to go swimming and take naps after lunch. I was just about ready to do the same thing. I think a mixture of allergies, tiredness, and tons of caffeine had me sick. Plus, I think I was dehydrated. Usually I sit at my desk with my 40 oz Klean Kanteen and drink water all day. (I average about 120 oz a day.) While we were in Disney I refused to pay $3 for a bottle of water and chose coffee and soda instead, which my body didn't like probably because the only liquid impurity it's used to is alcohol. Hehe. Anyway, all that made me not feel well so my parents and I went back to the hotel for a rest. I'm an adult and they still wanted to go back with me. Aiya. Around 7pm we got up and headed back to Disneyland for the fireworks. On the walk back I had managed to lose my ticket and find it again on the ground. Then when we got in the park, the fireworks were canceled because the winds were so high. Booo! We had good seats too! Oh well.
The trip was a nice break from work, but I'm glad to be back. All that walking and wind was really getting to me. So now we're back to normal life. Whew!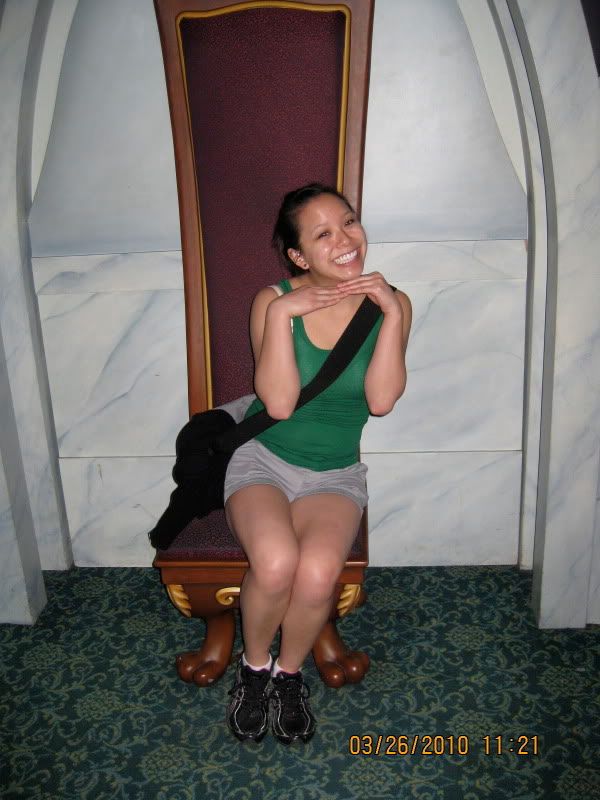 Fooling around in a princess chair in CA adventures.