Well this weekend was quite a success. Jen Jen's baby shower was pretty awesome, a little breezy, but it turned out really well. I don't think I'll be eating Deviled Eggs for a while. I'm rather tired of them now that we made 100+. There was a lot of food to prepare, but I think we managed to get it all done before the bulk of the guests started to pile in. Josie did an awesome job of getting everything together and prepared. She made awesome decorations and favors. I can't believe that she made all the baked goods herself. Josie, you should definitely start that business that you talked about! Below are pictures that I filched from Jen Jen's facebook.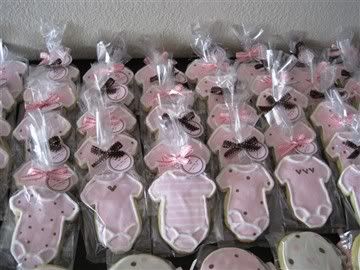 These were the favors that "we" gave out.
Little onesie cookies. (Josie made them all)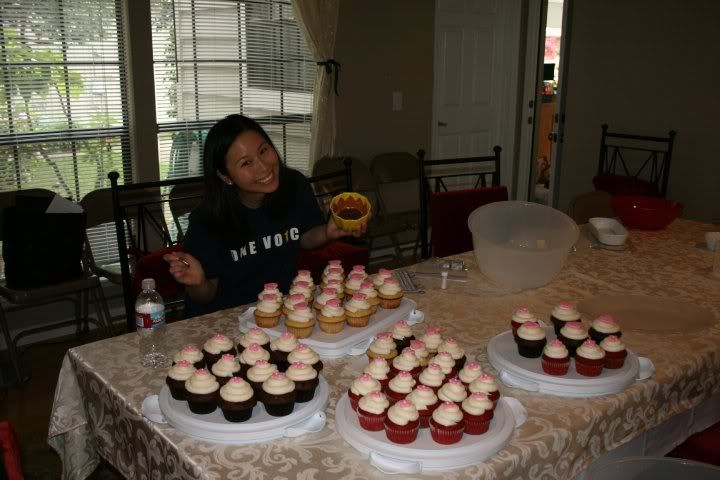 These cupcakes were the dessert. Josie said that she made the cupcakes and decorations from scratch. All of them! I want to get into baking, but I don't think I have that much patience. My friend Linda said that she will be my baking guinea pig. I don't think she knows what she's getting herself into. I'm notorious for messing up my baked goods because I read recipes incorrectly
all the time
. Just this past winter I was making those
Cranberry-Orange Scones
from Ina Garten and instead of added 2 tsp of salt I read 2 tbsp of salt. I thought to myself, that seems like a lot of salt for scones so I looked at it again and read it wrong the second time too! Being the good boyfriend he is, Nick ate them even though they tasted like salty-sweet biscuits. I'll be baking the
Black Magic Cake
that I found on Allrecipes this weekend. It got good reviews and looks to be rather fool proof (I hope anyway). I will also be putting a
ganache
on top because it also seems to be something that I can make without messing up. Maybe one of these days I'll be able to be as good as Josie. I may need to learn to read first. Heheh. (Maybe that's why I can't find a job. Who wants an English major who can't read?) When I asked Josie if the red velvet cake was hard to make she said that it was easy. Hahah maybe easy for her!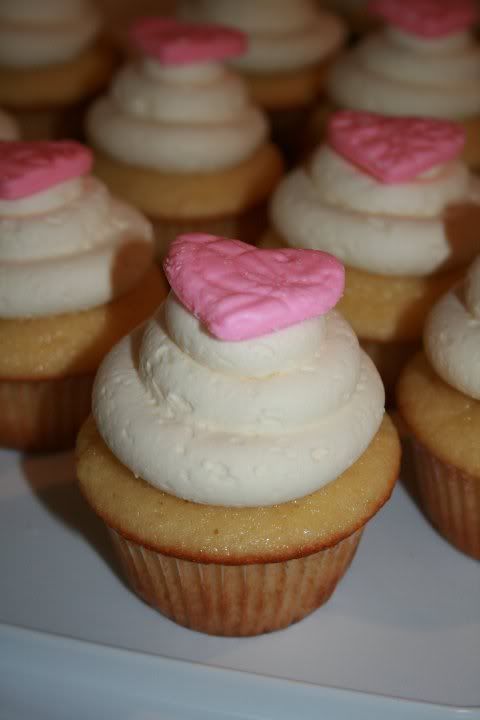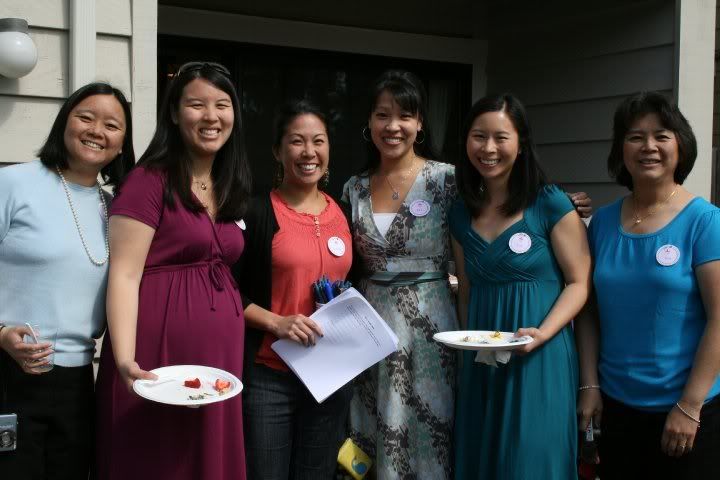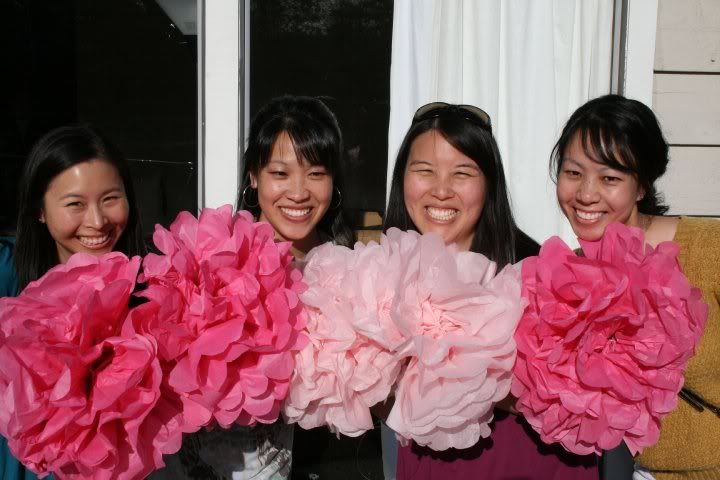 After Jen Jen's shower we started to get ready for Easter. Christopher and I went out to Target to get Easter basket supplies. Nick and Briana are probably bouncing off walls now that they have so much candy. I also made a nice dinner for everyone. We had a big ham, green bean casserole, squash, and rice. We made a pretty sizable dent in that meal. Emmy also got a nice Easter dinner of a whole NY Strip steak and some rice. She was sooo happy about that.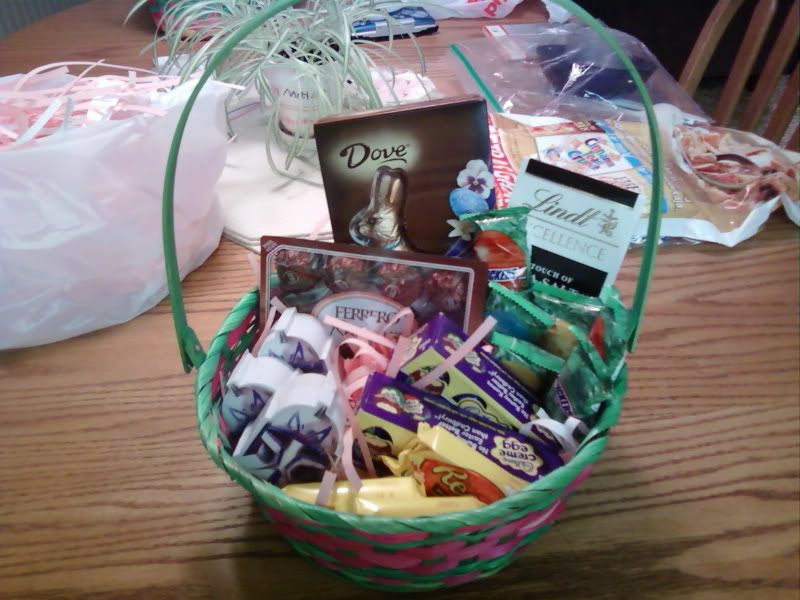 Nick's Basket. I also got him
Superfreakanomics
and stuffed it into the basket the day that I gave it to him.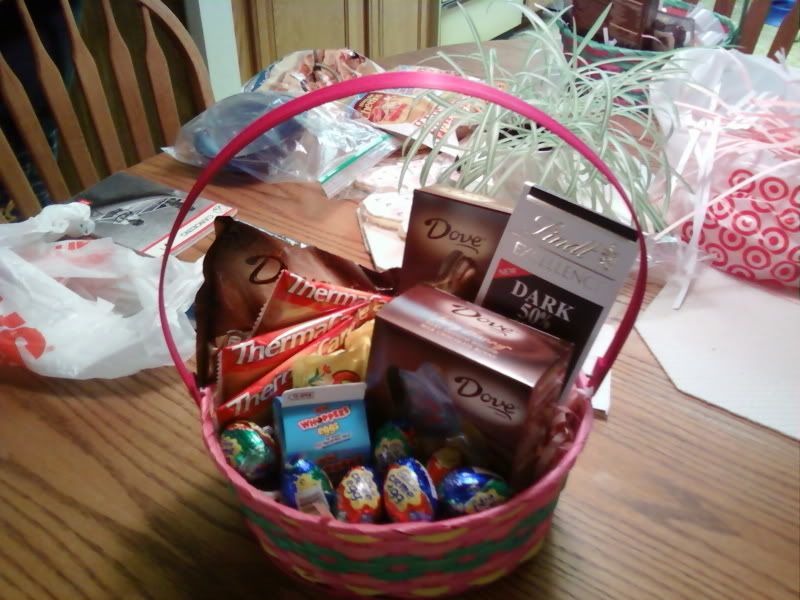 Briana's Basket
She is a "working" dog after all.
Next week: pictures of our new patio.