What a good weekend! On Friday night I drove out to Sacramento to see Anthony Bourdain with Julie. It was pretty awesome, though I didn't get as star struck as when Nick and I saw Huber Keller. I suspect that it was because Anthony was on stage and not shaking my hand and talking about the weather. He was really funny. If you didn't know who he was and went to his show (though I don't know why you would do that) you would just think that he was a foodie comedian. He totally ragged all over Food Network, which is nothing new, but it was nice to see it in person. He pretty much spoke the whole time about his travels and what he's learned. Afterwards he did a pretty lengthy question and answer section. I was getting a little annoyed by some of the people asking questions. They would all start with "Anthony, I just want to tell you how much I love your show..." No duh. That's why you paid $60 to go to see him, you nit wit. Some of the questions were really good though. ...And some were really bad. Let's start off with a good questions. Someone asked him what he would eat if he were on death row. He answered sushi. Specifically San Diego Umi on perfectly made sushi rice with a type of seaweed that I'd never heard of. He also said bone marrow. Mmmmmm....Another good one was about his experience in Beirut. If you recall, while he was filming the show a war broke out and he ended up locked in his hotel and then had to be whisked out of the country when it was safe enough. The question went something like "We all saw the Beirut episode and how it affected you. And as fans we saw how it changed some of your other shows. Can you tell us a little more about your experience that we didn't see on tv?" Wow, what a good question. His answer went something along the lines of "Well I don't want to get into too much detail because I don't want to cry on stage." He then went on to naming all the people he stayed with and how it was so crazy seeing their reactions to their hometown being blown to bits. He got pretty choked up when he was talking about it. He has a pretty significant twitch in his fingers when he's walking around the stage, but at this point he stopped and scratched his head. He was clearly very uncomfortable. It was quite touching.
Now, for the dumbest question. This woman stands up and in this sickeningly sweet little prissy voice asks, "Anthony, I love your show. Would you please tell this wonderful audience here about your first time eating an oyster?" Wha-what?! I seriously did a slow-mo turn to see this lady. The reason being that in his first book, the one that made him famous, mind you, he explained in great detail his first experience eating an oyster. It was a three or four page long of description. I was like, lady, seriously? Granted, I own the new book but haven't read it yet, but still, if you're going to spend all the money to see the show and want to ask him questions, at least read the one that made him famous. Thankfully, Bourdain, in his snarky manner said "Well I had it at my neighbor's house as a kid. I described it much more eloquently and with detail in my book. Sorry, I don't want to shirk your question, but...Yes, you there." Ah, it was great. Stupid lady.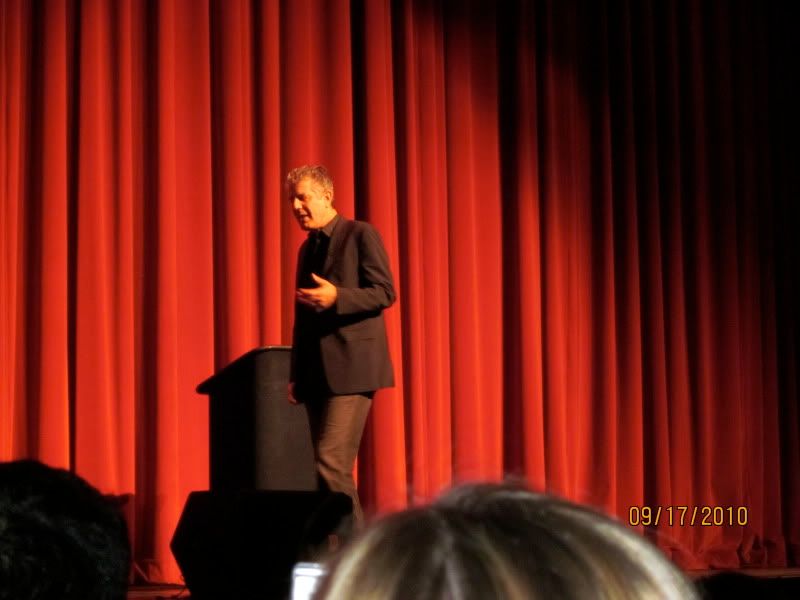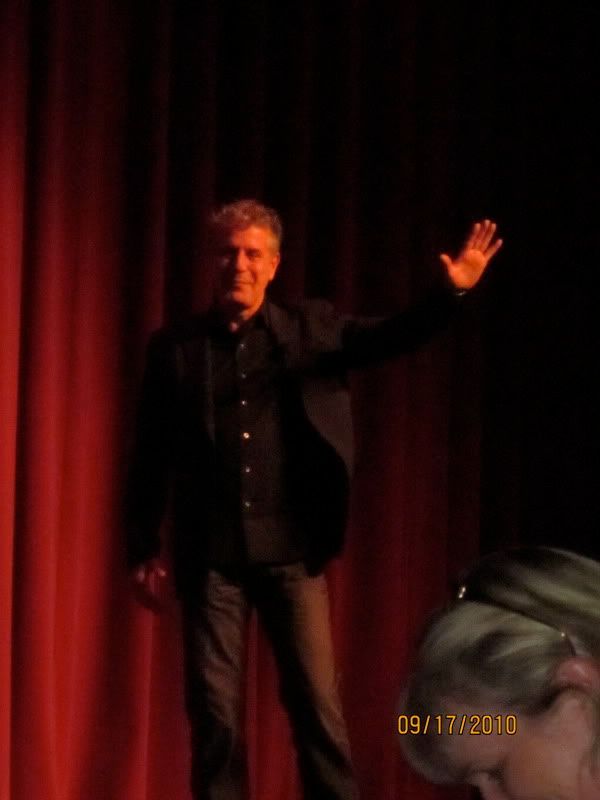 On Saturday Nick and I took Bart into the City and went to go visit the local food truck from Food Network's
The Great Food Truck Race
.
Spencer on the Go
was really close to being a finalist but got beaten out by $37 in the second to last round. We were rooting for them since they're local. Anyway, so we decided head out there to check them out. The food was sooo good and they were really friendly. I had two escargot lollipops, basically escargot in puff pastry speared with a skewer, and a lamb cheek sandwich. Nick had an escargot lollipop,
foie gras
, and a slider. The total came out to be $50, but it was well worth it. My dad said "$50 for a roach coach?!?!" but it was worth the Bart ride and walk. ...And it's called a Food Truck, Baba. After we ate at their little stand, we got to talk to Chef Laurent for a little bit before we headed on our merry way. We stopped at this little pub that I had been to before called
The Chieftain
. After watching the Giants lose, Arizona squash Iowa, and Stanford terrorize Wake Forest, I had to drown my sorrows in some beer. Cal is up against a lot this year. After watching those games, I've started to prepare myself for a tough football season. I just hope they can pull through without to much image damage. Eeek.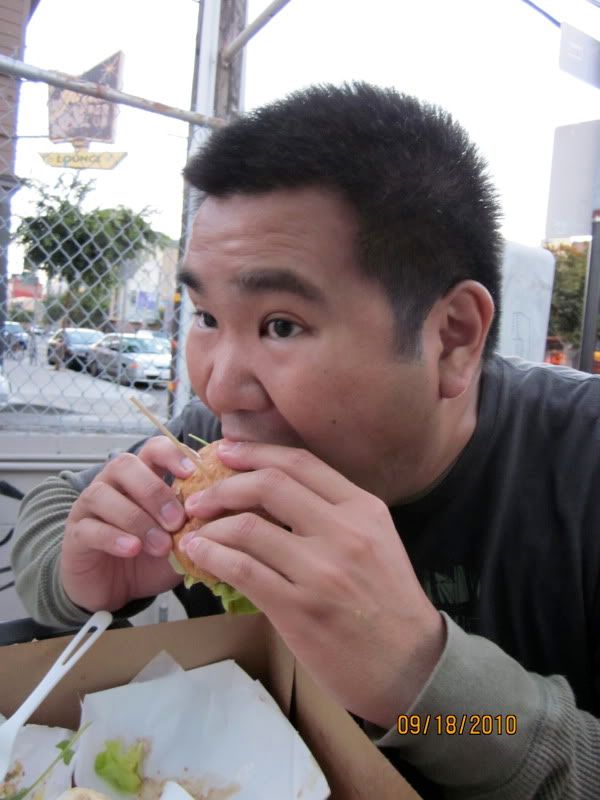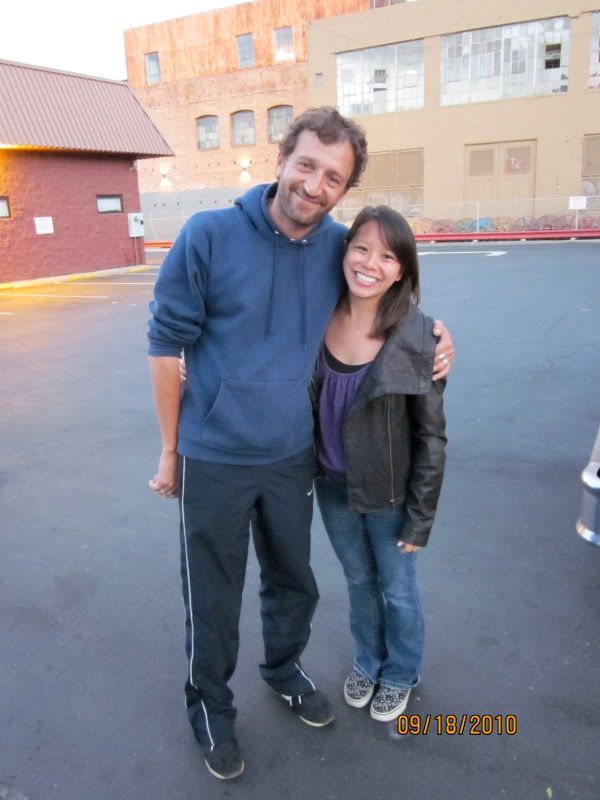 Chef Laurent