To start, no pictures from last night's dinner. I took some left over soup and added some dumplings. I forgot to take pictures! I didn't look like much anyway. Tonight's dinner, however, is much more picturesque. After having garlic noodles on Monday night I wanted them again. This time I added the greens from the radishes that I put into the salad. For $1.00 I was able to use the whole radish! No waste!
I also prepared a spinach salad with half an heirloom tomato and the "fruit" of the radish. Nick decided last minute to make a sauce since I had added about three tablespoons of chicken stock to my roasting pan before broiling. That part is optional, but it is nice with the sauce.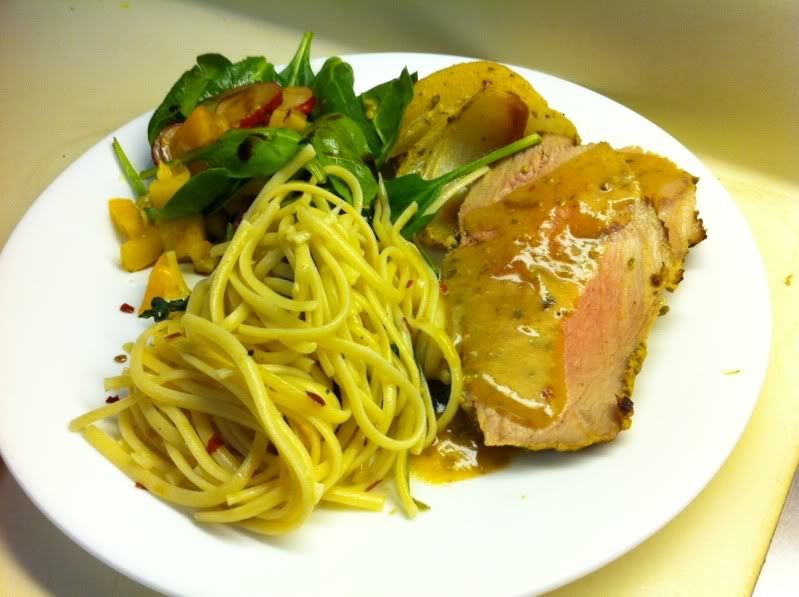 Honey-Mustard Pork
4 lb Pork roast
6 tbsp Spicy Brown Mustard
3 tbsp horseradish
4 tbsp honey
3 tbsp fresh rosemary, minced
3 tbsp fresh parsley, minced
2 tbsp crushed red pepper
3 tsp black pepper
2 tsp salt
1 bulb garlic, peeled
1 head onion, chunked
Directions:
Preheat oven to 375 degrees. In small bowl mix mustard, horseradish, honey, rosemary, parsley, red pepper, pepper, and salt. Using a sharp knife, slice holes into the sides of the pork roast. Stuff whole cloves of garlic into the pork. Slather mustard rub over the pork. Add onions around the roast for flavor. Put into preheated oven for 1 hour for medium rare. For color, turn on broiler for 10 minutes; rotate half way through. Let rest for 15 minutes before slicing.
Grade: A-
I made this on a whim because I had all of the ingredients on hand. If you can marinate the pork in the mustard mix I bet it would be AWESOME.