As promised in last week's post, here are pictures of our new patio. After a lot of hemming and hawing, my parents finally decided that they needed someone to come in to do the patio. Originally my dad wanted to do the patio as a project with Christopher, but after doing the Eagle project, there wasn't much time left to do the patio. My dad had done a little side area of our house where we now have the grill, but it took quite some time for him to get it the way that he wanted. By actually hiring someone to do it, the patio was done in three days. Three days! The guys basically had to remove all the dirt that was piled where the deck used to be. (My mom was hoping that my dad and brother would get it done before weeds started to grow on dirt pile, but that didn't happen.) So the contractors dug up all the dirt and remaining bricks, leveled and graveled, and then laid the new bricks. It was a noisy process and the guys were here from about 9am until 7pm everyday, but they got it done really quickly. They even replaced the beams to our overhang for us. Granted, they are a little crooked, but they're going to come back to fix it. The patio makes the yard look soooo much bigger. We still have to do the rest of our jungle-like backyard, but my parents want to do that themselves.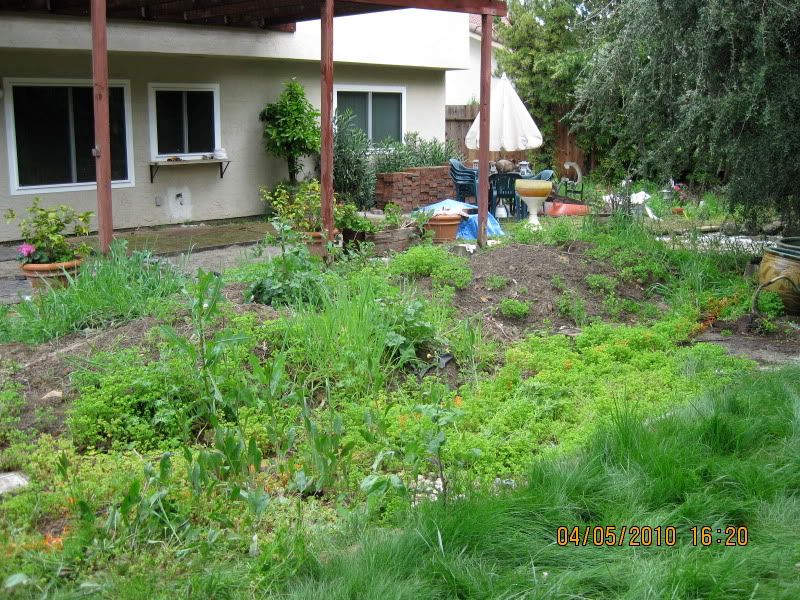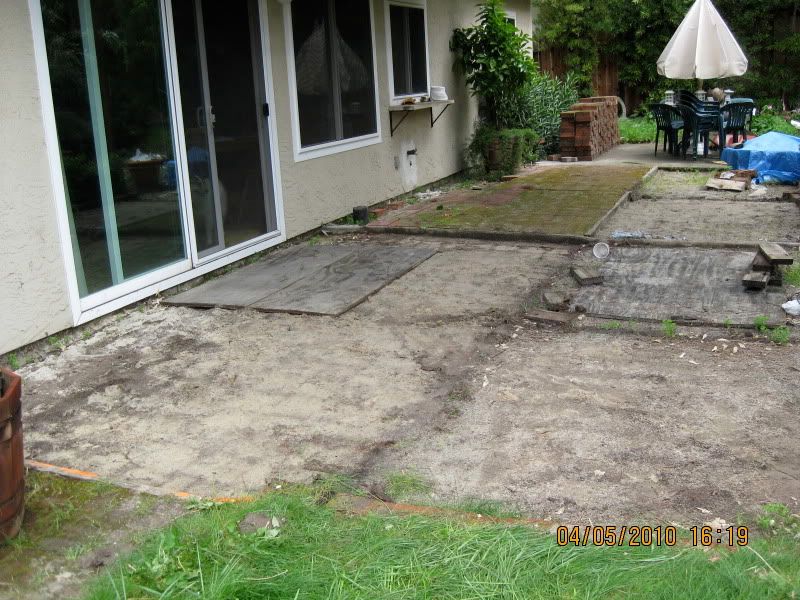 Before
See the giant pile of dirt with weeds on it? That came from the little patio that my dad made. He had to remove some of the dirt so that when he laid bricks down it would be same level as the cement pathway. Sometimes while playing Emmy in the back I look around and think, this shouldn't be that much work. And then I remember that I'm squeamish and don't like bugs or getting dirty. We used to have a little "rock pond" right behind the fish pond that I would play in and build little rock mounds. Yeah, that's all under a nice layer of weeds now. I'm also not sure what my parents are planning to do with the 600+ bricks from our old patio plus the extra bricks from the new one that are now stacked on yet another patio area in our yard. Make another patio with it? We all know our backyard is big enough for another patio. Hahaha. I still think that we should have gotten a pool...something which my dad, brother and I have been wanting since I was a small child.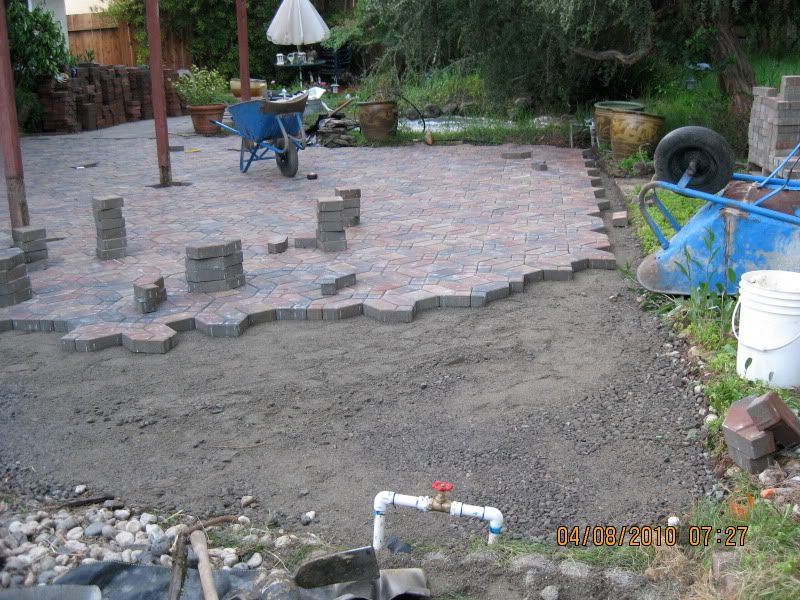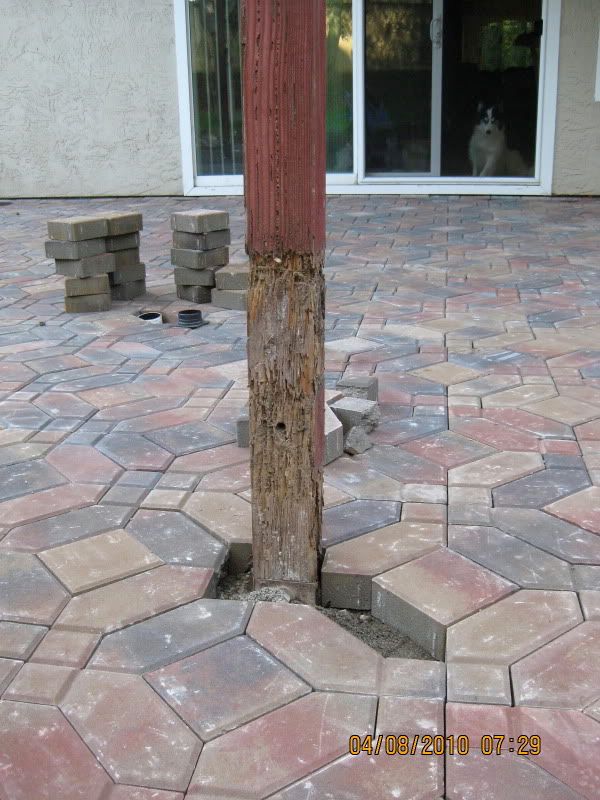 During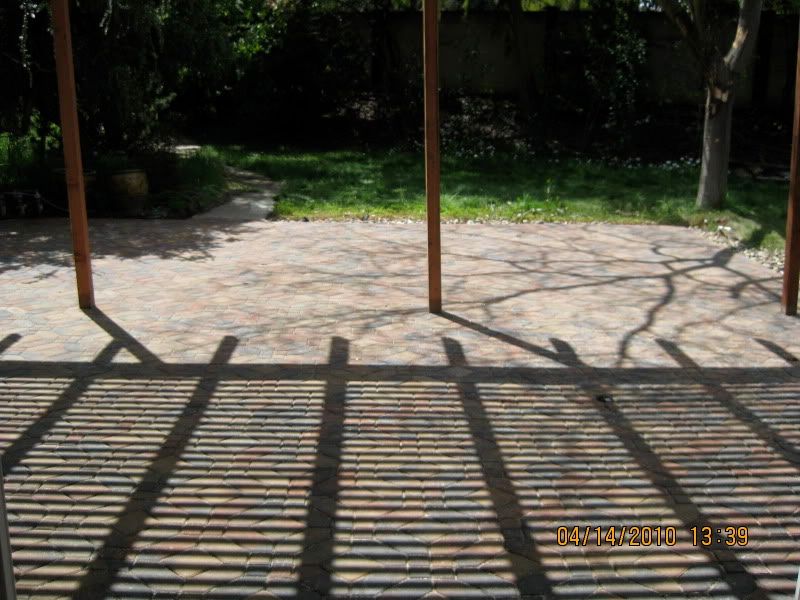 After
I still can't believe how fast these guys got the backyard done, but now that it is, my mom is on a mission to find nice patio furniture to fill the empty space.
This Sunday I'm going to try to get two little patches of land de-weeded and junked so that I can start a little vegetable and strawberry patch. Well, I should say I'd like to revive our weed-filled strawberry patch and give it some love. I will try to remember to take before and after pictures of that process. Right now those little plots of land have weeds that are almost up to my knees and have a bunch of wood piled in it. I'm going to try to overcome my fear of bugs by wearing pants, boots, sweatshirt, and gloves...probably a face mask too. It always worked for me in NY, so it should be fine for this weekend too. If this turns out well then maybe I'll attack that weedy rock pond area to see if I can make a difference out there. I've already dedicated my weekends in May to cleaning out our garage so I don't know if I should attempt to do more work in the backyard. Seriously, you'd think we were hoarders if you saw the garage. I will also be sure to take before and after pictures of that. My goal is to be able to fit two cars in the garage again before it gets too hot to clean the garage. After cleaning the study and my parents room, I have the confidence (and had enough recovery time from the last "great purge") to start this major project. My mom says that most of the stuff is mine, which is good since I know how to let go of stuff that I haven't seen in years. My dad, however, would keep every last thing if he could. (...That broken receiver may come in handy someday you know...)
As I said in the last post, I made a cake for my friend Linda. The recipe instructed to grease and flour the pans so that the cakes didn't stick. My mom said that she always uses parchment paper on the bottom instead of flour. I should have done that instead, but I wanted to try the technique that the recipe suggested. I didn't think I put that much flour on the bottom, just a thin coating, but when I turned the cakes out they were an ugly shade of puke brown. Instead of using the ganache like I had intended, I used premade frosting instead so that I could cover the ugliness. I will not disclose how much frosting I used, but it was waaayyyy too much. For a first try it wasn't bad. I resorted to crushing Butterfingers to top the cake with so that I could cover the crumbs that got mixed in with the white frosting. I seriously think that frosting the cake was harder than following the directions, which I checked three times and made sure the oven was on Bake twice. It turned out well though. Linda and Nick said that the cake was moist, which is always a plus.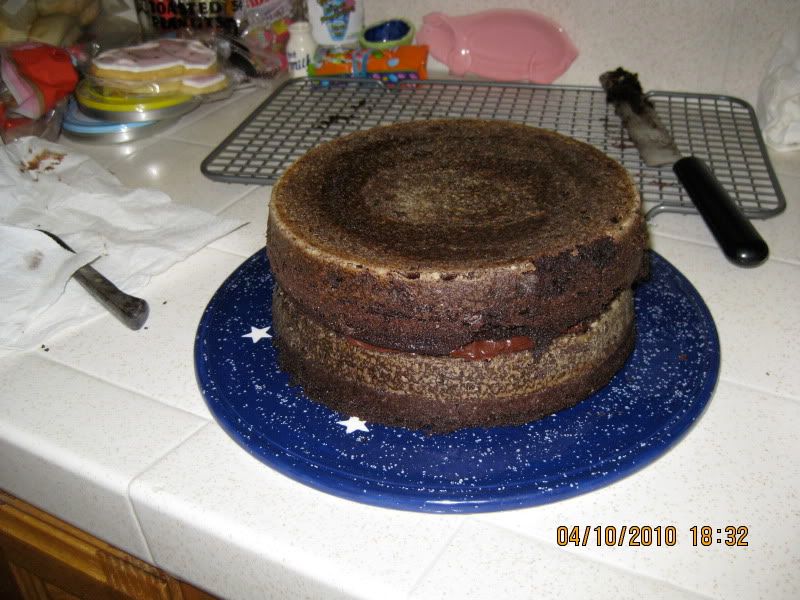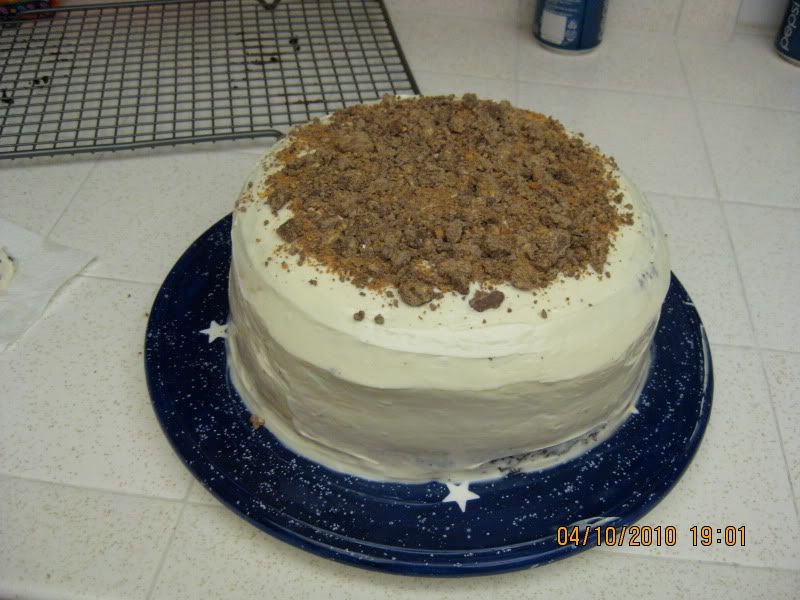 First attempt at a multilayer cake.
This week I will be trying a
Greek Lemon Cake
from Allrecipes.com. I am a little apprehensive about having to peak the egg whites, but I'll make sure to have my mom around in case I need to holler for help. Linda and I are also cooking this weekend, something I'm much more comfortable with. We will be making Enchiladas and Spanish rice. I will also try to remember to take pictures of that.
Other than the new patio and my first multilayer cake, I saw
How to Train Your Dragon
. It was sooo super cute! I loved it and highly suggest seeing it.