To kick off this cooking weekend I started Friday afternoon by making the
Greek Lemon Cake
I found on Allrecipes. First road block: Christopher and I went to Safeway looking for cake flour. I know the stuff exists, but Safeway didn't have it. We scoured those shelves looking for it, but it was no where to be found. It's a good thing for Allrecipes' resources and reviews. According to the
flour article
, you are not supposed to substitute all purpose for cake flour. However, there was a reviewer who said that if you use regular all purpose you take out two tablespoons for every cup to get the same sort of result. Since I've just started baking I can't actually tell you if it had the same texture and consistency, but it seemed to work out fine to me.
It was super delicious even though it was a tiny bit under cooked. There was a little portion that was "custardy" as my mom put it. Woops. The rest of the cake was good though! The recipe started with peaking egg whites, which I was apprehensive about in my last post. I've seen this done quite a bit on Barefoot Contessa, Paula Dean, and even when my mom has done it, but I'm impatient. I beat the egg whites until the mixing bowl looked like it was full of bubbly
loogie
and then added the sugar. Apparently the loogie-like egg whites become more like meringue, which I knew but chose to ignore. I figured that it had been beaten long enough and I hadn't done it correctly. It's a good thing my mom was around to tell me that I needed to leave the whites to beat longer. Thankfully they came to fruition even though I added the sugar way too early. So after beating the heck out of those egg whites they finally fluffed up like they were supposed to. I swear that if I didn't have a stand mixer I would never, ever bake. Anyway, putting together all the ingredients took a lot longer than I thought it would. I'm hoping that when I start getting better this will speed up. Once the cake was done I topped it with confectioners sugar. I thought about making a glaze and frosting it that way, but I kept envisioning pools of gloppy glaze and decided to go with sprinkled powdered sugar, which is pretty fool proof. Even though the cake was completely cool before I powdered it, (I let it sit over night) it was a very moist cake so after a while the sugar started to soak in. This could be because it was a little under cooked, but I can't say for sure. Hopefully half a year from now and many cakes later, I will be able to look back and say, yup, cake flour makes a difference and yup, it was too moist because it didn't bake long enough. Time will tell.
Greek Lemon Cake
After making the cake I thought I was going to be too burnt out to cook, but it was actually refreshing. The pressure was off and I was back in a realm to which I am a little bit more familiar with. While my cake was baking I was measuring out spices to bring to Nick's for our dinner and for the dinner that we were going to be making with Linda. Linda and I planned to go grocery shopping together, which we did, but I didn't want to have to buy all new spices so I prepacked them in little baggies (clearly marked of course) and took them with me to Nick's place.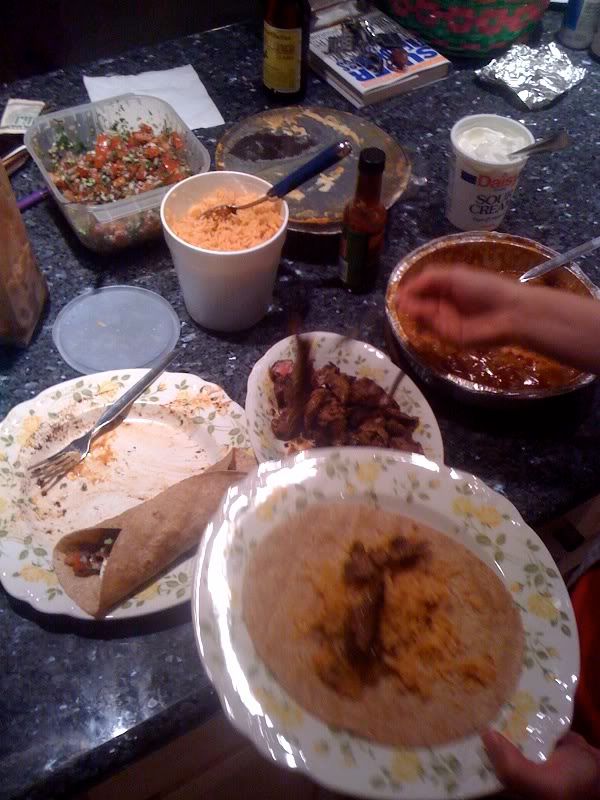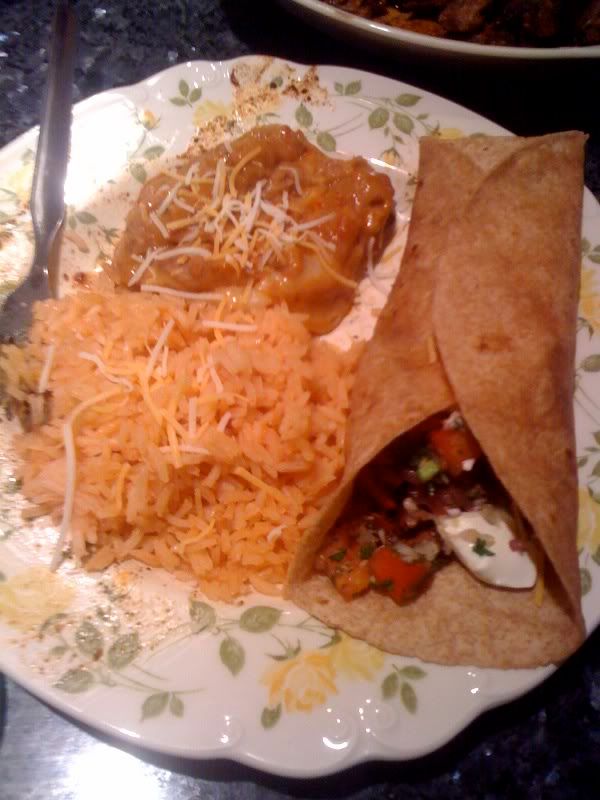 Fajita burritos that Nick and I made Friday night.
On Saturday before heading to Nick's where Linda and Rob were coming for a mini cooking lesson and to make dinner with us I made my dad and myself giant bagel breakfast sandwiches. (My mom and brother were at a band thing.) On the toasted bagel were two slices of cheddar cheese, kielbasa sausage, and two sunny side up eggs with ketchup. Oh it was delicious.
Anyway, the whole point to me getting side-tracked is that it's much more difficult to stand back and let someone learn than it seems. This is exactly that saying "Give a man to a fish, he eats for a day. Teach a man to fish, he eats for life." Once things were going smoothly and we had our mise done I reverted to my cleaning lady mode and started cleaning things as Linda used them. This worked out well so that she always had uncontaminated knives and cutting boards to use. By the time we were ready to assemble the enchiladas we were getting tired so Nick suggested that we do them lasagna style. It was the best idea of the day. Linda layered tortillas, enchilada filling, and our enchilada sauce up so that it was basically a Mexican lasagna. Again, Nick and Rob went to get beans and rice from a restaurant so that we wouldn't have to make that ourselves. The enchilada lasagna was soooooo good. It was a major success and I think, even though it was was labor intensive, that I'll be making this for my family.
Linda hard at work
Rob also hard at work
While we were slaving away at our enchilada feast, Christopher and Briana were getting ready to dance the night away. Awww how cute they look!
Briana's prom
On Sunday I spent the day at home doing stuff around the house. After lunch Christopher and I went to Costco so that I could get dirt and plants for my vegetable patch. We got 3 tomato plants (I ended up going back for three more while I was planting yesterday) two green bell peppers, and a pepperchini plant. I have a feeling that the bell pepper plants were mislabeled and that we got two pepperchinis instead of two bell by accident. The leaves of one of the "bell pepper" plants looks just like the pepperchini plant that we got. By the pointedness of the leaves the mystery plant is not a bell pepper. If I remember correctly from my planting in NY the spicy peppers have pointy leaves and the bell have rounded. Oh well. We'll see what happens when it starts to sprout.
Things were going pretty well until the allergies hit. I think I was only outside for an hour before I could barely open my eyes and was sneezing up a storm. Getting halfway through de-weeding the strawberry patch I decided to take on the vegetable patch that had a bunch of weeds and wood in it. That's when I started seeing nickle-sized brown spiders with spindly legs scurrying across the dirt towards and away from me. (The bugs hide under the wood.) There was more than one girlish squeal and sprinting across the yard. My dad, who was putting a sealant on our patio, would just shake his head. Since the strawberry patch was relatively safe, I went back to weed that section. By the time I finished with the strawberries, my allergies were killing me. Christopher came to my rescue and evacuated all the debris and weeds from the vegetable lot. He also put in more dirt, hoed, and watered the patch so that I could plant. (I asked if he wanted to take a picture by his hard work but he declined.) I did however take a lovely picture of how miserable I was. The rest of the night, even though I showered, I my nose was runny. I felt like I was drowning in my own snot. I had to plug up my nose so that it wouldn't drip on the food that I was preparing. After a couple glasses of wine which usually clogs me up right away I was no longer drippy but at a normal nasal passage state...that's how runny I was. At the end of the night after dinner I was drained. My vegetables weren't planted, but at least Christopher cleared out the area and I got my strawberries in better order.
Before vegetable patch
After vegetable patch
Before strawberry patch
After strawberry patch
Miserable allergies
For dinner I had picked up some pork tenderloins at Costco. I rubbed them down with two different spices. I also made a veggie dish with all the stuff in our fridge. My mom always buys all these vegetables that look awesome but then we don't eat them all. This time I cut them all up and put them in one big stir fry.
I don't know how she did it, but she managed to get a grass stain on her eyebrow while we were outside doing yard work. She says that she was also working very hard, which is why she has the stain.
Green brow