What a week it was. Monday was a normal hum drum Monday, but come Tuesday I was busy as a bee. Nick took me to a nice French Bistro in Lafayette called
Metro
for our six month anniversary. I know, it's already been six months! Time sure does fly when you're having fun! At Metro we ordered a dozen oysters and calamari as appetizers. He's created a monster by introducing me to oysters. (I think I say that every time I have them now.) I love them and can't get enough...of the small ones, that is. I still haven't developed taste buds for the larger, more briny mollusks. For dinner Nick ordered black cod over a rice cake and I had a lamb sausage and a side of potatoes. My goodness, it was good. On his sister's recommendation I also got a Pink Lavender Metro cocktail that was really tasty. All in all I thought the place was good. The portions were just about right and the setting was very nice. It had a modern club-ish feel in the front by the bar though it was a nice sit down restaurant with a fireplace and sun room in the back. Maybe the owners were trying to dip into the best of both worlds for ambiance. Who knows, the food was good and that's what we care about. The evening ended nicely with Glee and V, two of my favorite shows.
By Wednesday things were in full gear. I had to cancel my weekly dinner with Melanie just so that I could get everything done. After going to the grocery store, I made a fresh salsa that was spicy and addicting just like my first recipe I concocted in Troy. The grocery store didn't have habanero peppers so this time I used serranos and added some onion. I think I might actually enjoy this recipe a little more than the first salsa recipe I made.
Spicy Salsa #2

2 28oz cans diced tomato
7 serrano peppers, seeded and minced
1 small red onion, diced
1 head garlic
salt to taste

In blender mix serranos, onion, and garlic until finely chopped. Add diced tomato and salt. Blend until desired consistency is achieved. (I like mine chunky)
I also made a copycat
Old Spaghetti Factory Creamy Pesto
salad dressing that tastes pretty much just like the real stuff. I knew that I wanted to have a salad for the bbq I was having for Nick's birthday, but I couldn't decide on what kind I wanted. After going through loads of salad recipes on Allrecipes a little light bulb came on. Nick's favorite dressing is the creamy pesto from Spaghetti Factory so why not make that? We had actually looked up the recipe a while back just to see if there was one out there and sure enough, there were a bunch. I picked the top hit on google and it turned out marvelously with the simple garden salad that I made. I wasn't able to find Romano cheese at Food Maxx, but I substituted it with Parmesan that I had at home and it worked well. I also grated my garlic instead of mincing it because I didn't want people biting into little chunks of garlic. I also made a second batch just for us to have at home using Best Foods instead of the store brand and it came out a lot thicker and had a better texture. Anyway, not many people ate the actual salad, but they used the dressing on their ribs and sausages. I have a feeling that our friends don't enjoy salad as much when there's good old meat being grilled up. Hahah I wouldn't either!
Thursday was the hardest day for me. After work we went out to Costco to buy all the meat and sausages. Originally I was going to make short ribs, but then when we got to Costco, they were about $5/lb compared to the $2.50/lb for regular baby back ribs. So baby back it was. The packages were huge too. There were three racks per package and I got about five servings per rack compared to five slices of short ribs per package. Yikes! With two packages of ribs, we had plenty to feed everyone and had to force them to take some home. I also bought chicken apple sausage and habanero and cheese sausage. Yummy! I still prefer chicken apple sausage over the habanero, but it was nice to change it up a bit. I probably won't buy them again though.
What is a birthday barbecue without some cake? One of Nick's favorite flavors is Mint Chocolate Chip so I went and scoured the web for a good recipe and found one on
Epicurious.com
. I find that usually recipes on this site are a little more involved than the ones I find on Allrecipes, but the
Chocolate Mint Layer
cake looked doable. Since it was for a party I decided that it would be easier to make cupcakes instead of a multi-layered cake. My mom had me look at a boxed cake box to see about how long to bake them and it turned out great. What a good idea! The temperature was the same so I didn't have to try to do funky conversions or guesswork. I was fine until it came to filling the cups. As some of the reviews said, the batter was really liquidy, which made the cupcake flutes really difficult to fill without making a giant mess. Since I'm kind of a neat freak getting the chocolate batter everywhere was really frustrating me. After my mom said that she usually holds each cup and fills it over the bowl and then gingerly puts it into the pan I started doing that instead of bringing my ladle over the already lined pan. It was just a complete mess. Filling the cups before they hit the pan worked pretty well, but since they were quite liquidy it made it a little difficult to get the cups into the pan without spilling. I had contemplated putting my crushed Andes in the batter, which would have thickened it up a bit, but the recipe specifically called for the candies to be put on top. I thought that maybe since the batter was so soft that all the candy would sink to the bottom. Not the case. I think that if I make these again then I will remember to mix the candies into the batter. Dropping the candies on top made the cupcakes look messy and ugly. Everyone seemed to like the actual cake so I will probably make it again sometime. The only thing that had me boggled was that there were no eggs in the mixture. I had never seen such a thing.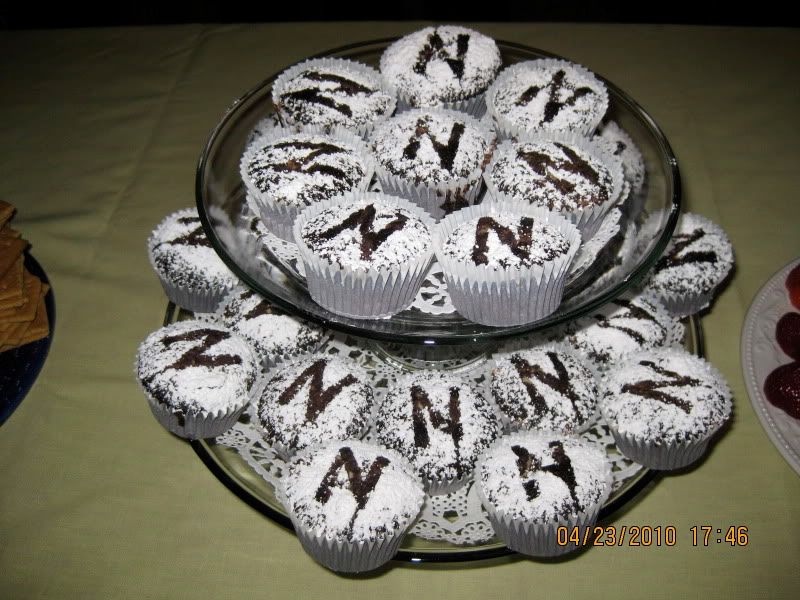 Sunday after everything was settling down Christopher and I headed out to Home Depot to get some herbs for my vegetable patch and then to Costco to get fish for dinner. Since it's been pretty nice out, Nick came back over and grilled fish for us while I planted my herbs. I'm still not that keen on fish so I got myself a separate tuna steak while my family and Nick had salmon. Nick marinated the salmon in garlic, lemon zest, EVOO, and a little pepper. While he was cooking it he put lemon juice on top. For the tuna I just marinated it in garlic, EVOO, and pepper. With our fish, Nick grilled up some asparagus and I made garlic noodles. Grilling is great because the clean up is so easy plus you get to be outside in the nice weather. Yay for Spring time!