No wonder I've gained so much weight. Everyone seems to be losing weight for our cruise except for me. Maybe I should start eating salads and oatmeal. Bleh. That does not sound like a good idea at all. I'll just pretend that I don't have an old man pouch when I wear my bathing suit. Hahaha. Aside from doing a lot of cooking, this past weekend we went to the Jazz Dinner Dance which is a fundraiser for the CHS band program and then to dinner in the city for Mother's Day. Yum yum yum, good food and drinks all weekend long.
In and effort to keep this post short and sweet, I am going to put brief captions below each picture. The length of these posts have been getting a little out of hand for how little actually goes on during my week.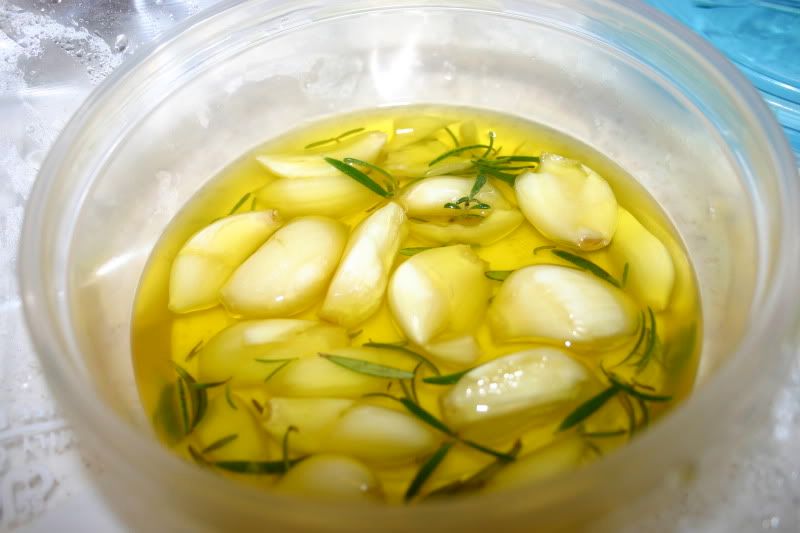 I made this garlic and rosemary infused EVOO that went onto the red potatoes and zucchini pictured below. My mom and I usually just coat the potatoes in EVOO and add garlic and rosemary to the pan. Infusing the oil ahead of time wasn't difficult at all, but I really couldn't tell the difference of having the oil infused compared to not.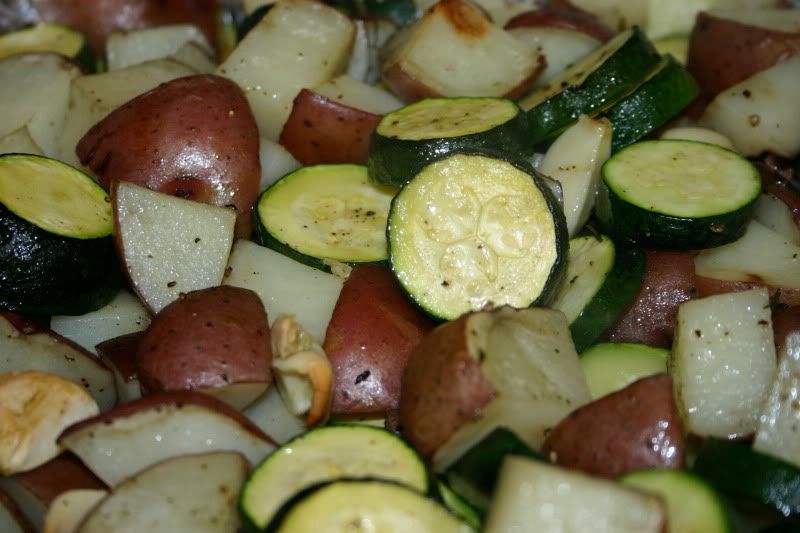 I think I've posted this recipe in the past, but in case you want to try it I'll post it again here so that you don't have to go searching. I added the zucchini because they looked good at the store the day that I went. If you use zucchini make sure to cut them in large chunks. Since mine weren't that large, some of my potatoes weren't cooked all the way through because I took the pan out before the zucchini turned to mush. I made this to bring over to Melanie's last week.
Garlic Rosemary Potatoes
(Mommy' recipe)

5 red potatoes
1 head garlic, separated
2 tbsp fresh rosemary, minced
6 tbsp evoo

Preheat oven to 350 degrees. Dice potatoes and mix with whole garlic cloves, rosemary, and evoo. Spread on a baking sheet lined with foil. Bake for 20 minute intervals. After the first 20 minutes take the potatoes out and stir them, make sure the are all flat. Bake for another 20 minutes. Cool before serving.
Since I've decided to start grilling, I invited my friend Bonnie over for dinner. What a mess. I had read that beer can chicken is pretty fool proof, but I managed to mess it up. It's a good thing that I know how to work a stove top because I clearly cannot grill.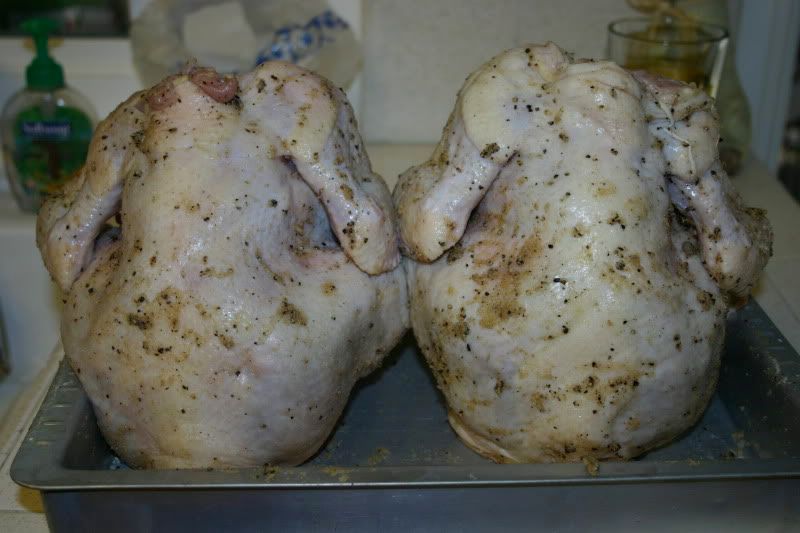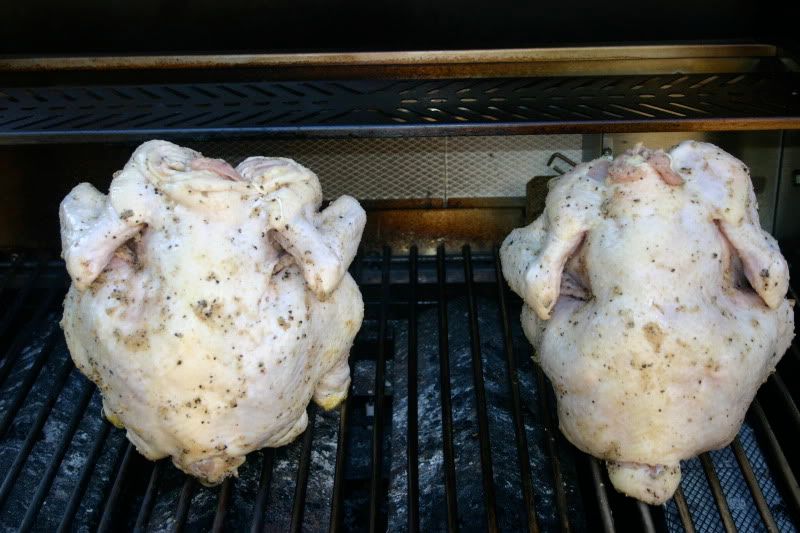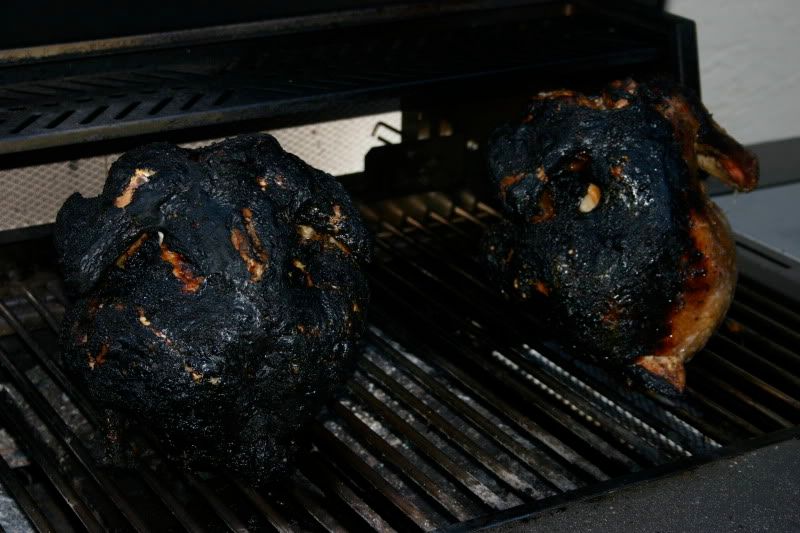 Our faces when seeing this was probably more priceless than this picture. Too bad it wasn't caught on camera.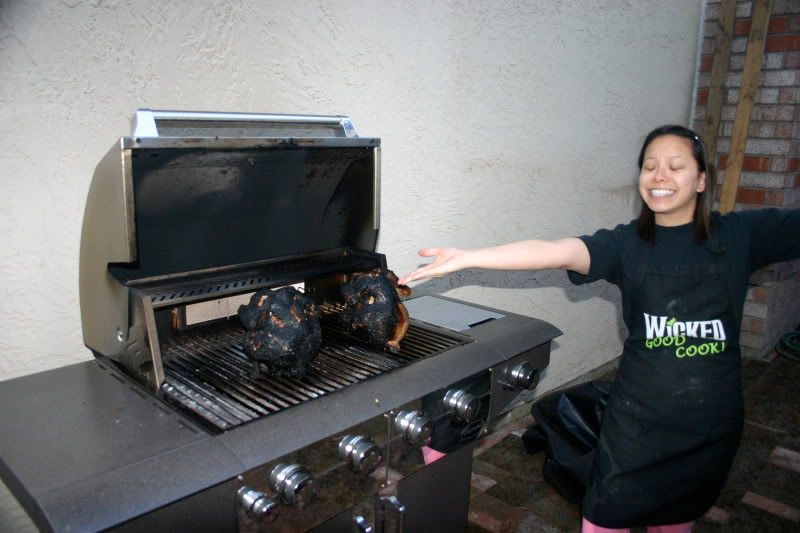 The recipe said to not cook it on direct heat, so I turned off the middle burner. Apparently that wasn't good enough. The smaller chicken was only half burnt, but it was also only half cooked as well. What a disaster. After seeing my chicken, the giant portobello mushrooms I prepared to grill were cut up and put into a spaghetti sauce. Thus, Spaghetti Sauce 4 was born. I had to revert to my back up plan of spaghetti where I was able to patch up my burnt ego. Originally I had prepared a shallot, roasted red bell, garlic, and onion mixture to be "stuffed" into the mushroom caps so it was all ready to go. After seeing the chicken I added some tomatoes and the mushrooms and walaa! Yummy spaghetti and some burnt chicken for dinner. The chicken itself was tasty under the burnt skin so I might try it again and pay more attention to it next time.



Spaghetti sauce 4

2 shallots, diced
1/2 red onion, diced
1 head garlic, minced
roasted red bell pepper, diced
3 large tomatoes, diced
2 cans diced tomatoes
portobello mushrooms, sliced (optional)
salt and pepper to taste

Sautee garlic, onion, and shallots. Once soft add tomatoes and portobellos. Add canned tomatoes. Bring to a boil.
After my burnt chicken excursion, we had a nice Jazz Dinner Dance to go to where there would be no little Chinese girls grilling. We had a lot of fun listening to the jazz bands play and hanging out with friends.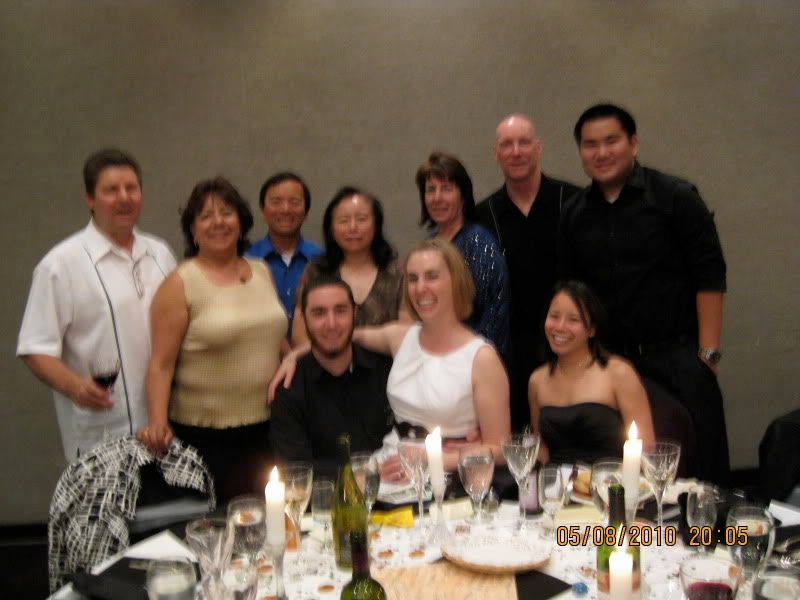 The kid who was taking our picture for us had the shakiest hands. Starting from the left top: Mr. and Mrs. Ryan, my mom and Dad, Mr. and Mrs. Minnich, Nick. Left bottom: Frank, Jennelle, Me. If you will recall, Mrs. Minnich and Mrs. Ryan were the ones who set Nick and myself up at Frank and Jenelle's wedding.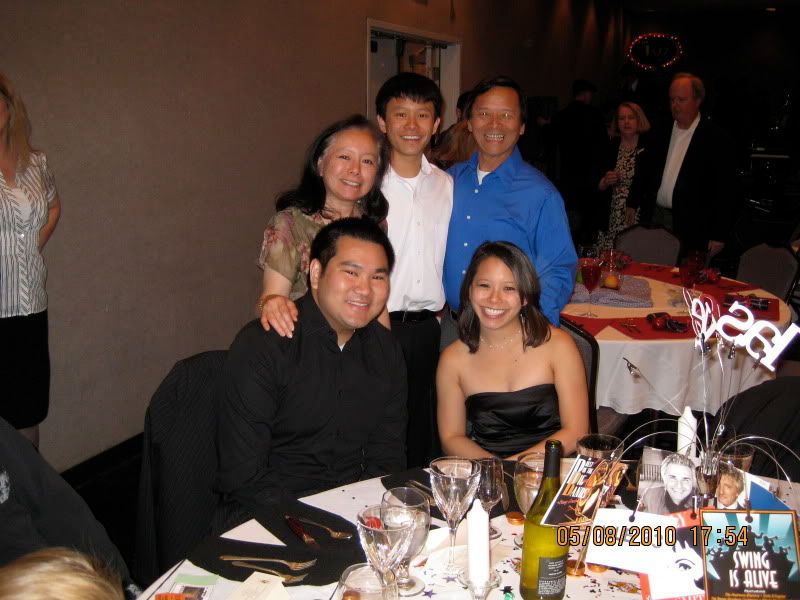 It seems that Nick and I are starting a Tuesday night ritual of cooking and then watching Glee and V. This week we made
Venetian Pizza Rolls
inspired by Giada de Laurentiis. I say inspired because we didn't actually use much of the stuff that she suggested putting in the roll, but used her idea and instructions. Since prosciutto is kind of expensive and difficult to find in my grocery store, we used regular ham that you'd find in the refrigerator section. We also put in one zucchini and three or four very thinly sliced mushrooms. We piled it with cheese like she suggested and added some dried thyme and oregano. It was delicious and quite inexpensive.
Venetian Rolled Pizza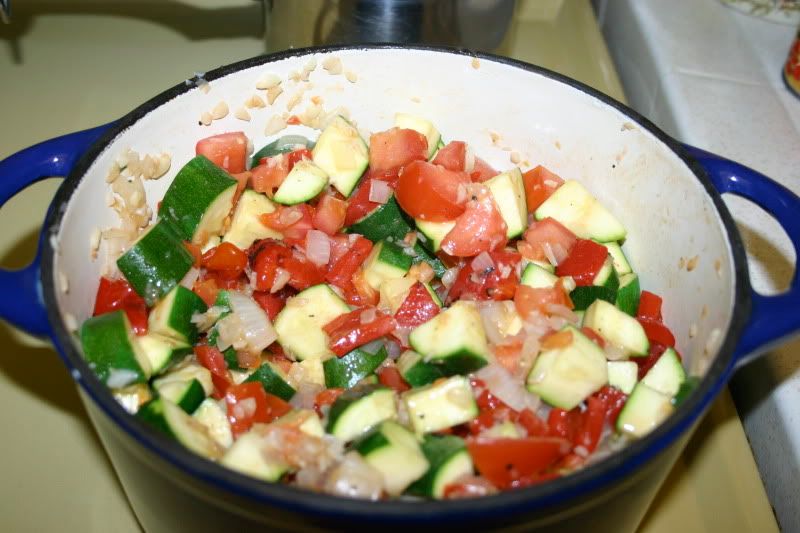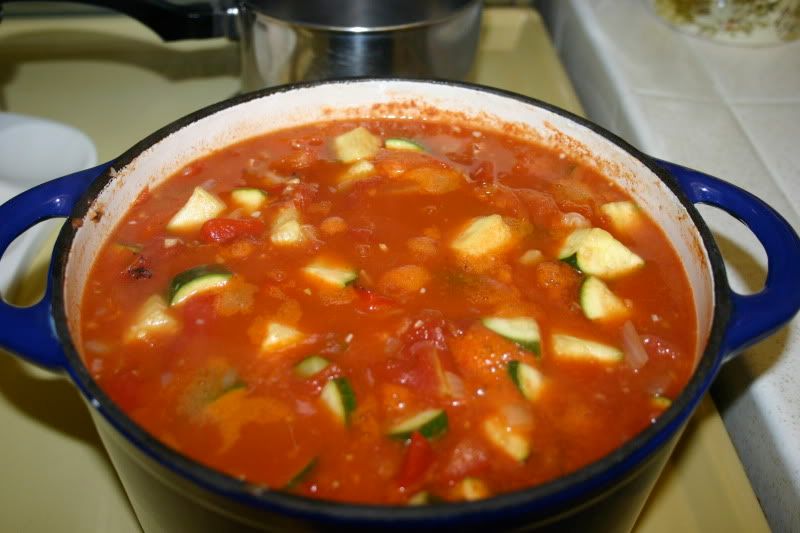 I added some zucchini for good measure.
The chicken was pretty good, but it's the sauce that does it. MmmMMmmm.... I piled the chicken over some rice and then the Chole on top of the chicken. It sure was delicious and definitely worth all that preparation.
While I was home learning to grill, Christopher was off at his Eagle Board of Review. He's finally an Eagle Scout! Congrats little brother!
Mr. Ryan, my dad, Christopher, and Mr. Sutherland (Christopher's Eagle adviser)
All I have to say is thank goodness it's all over. I'm so glad that I don't have to hear anymore about getting binders turned in and meetings set.
Step 1 and 1.5: Mix crumbs, sugar, and butter.
Put mixture at the bottom of a pan.
Step 2: Sprinkle chocolate chips
Step 3: Sprinkle mini marshmallows
Step 4: Sprinkle remaining crumb mixture on top and bake.
Well this blog isn't really that short, but it doesn't seem like I wrote as much. Thank goodness. Until next week....