Blogging twice in one week! I haven't done this since I was bored and miserable in NY! It must be the caffeine and Claritin D. I've been drinking coffee to help with my allergies. The caffeine actually helps with my sinuses until the Claritin D can kick in. The sudafed in the Claritin D pretty much acts like caffeine for me. So between the caffeine from the coffee and the sudafed from the Claritin D, I'm typing faster than usual and talking a million miles a minute. My poor customers.
Every Tuesday night Nick and I get together to make dinner and watch Glee and V. Yesterday I was feeling rather grumpy because of the weather and people not receiving messages properly at work so I couldn't decide on a soup to make for dinner. (Nick said he was craving soup.) Of course, not being able to decide on anything made me even more grumpy. In the end, I ended up making something up. This always seems to happen when I can't find anything I feel like making online or in a book. As a result I came up with Sausage Soup, clever name, I know.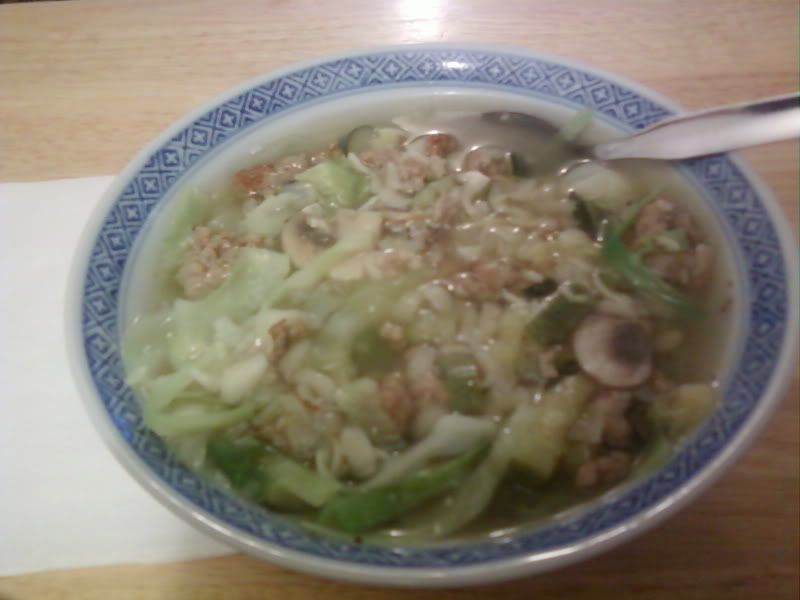 Sausage Soup
Serves 8-10

EVOO
1 lb mild italian sausage, crumbled
1 onion, minced
1 head garlic, sliced
3 shallots, minced
5 mushrooms, sliced
2 zucchini, halved and sliced
2 summer squash, halved and sliced
3-4 sprigs rosemary, just leaves
2 cartons chicken stock
3 c water
1/2 package orzo pasta
1/2 head small cabbage, sliced


Directions:

Heat EVOO in the bottom of your pot. Brown sausage, using wooden spoon to crumble it up. Once sausage is brown, add onions, garlic, and shallots. Sautee until onions are translucent. Add zucchini, squash, and mushrooms. Sautee until tender. Salt and pepper to taste. Add rosemary leaves. Add chicken stock and water, bring to a boil. Let simmer for 15-20 minutes. Add orzo and cabbage (this will cook really quickly).

This soup isn't hard to make at all, it's just a lot of prep work. Once you get everything into the pot, it's mostly just waiting for all the flavors to meld together for yummy goodness. I've decided that the next phone I get will have a nicer camera. I seem to be taking more food pictures on the go and this phone just doesn't really do the job well. I doubt I will get a new phone for a while, but one can always make plans for the future.
Tonight I am going to make turkey burgers. Melanie's baby, Talan, has hit the phase where he doesn't like vegetables. He used to eat them all the time when it was baby food, but now that he's into solids he won't touch a zucchini unless it's to take it off his fork. Tonight I'm going to try to trick him by grating up squash and putting it into the turkey burgers. He won't be able to take it out! Of course, he might just reject the whole burger, but since he likes meat I think I'll be okay. I saw on Sandra Lee that you can grate your squash or zucchini into a tea towel and then ring out all their natural moisture. If you do this then it won't make your burgers fall apart. She was actually make zucchini cakes so extracting the moisture was imperative, but I think the concept will work well with my burgers too since I got lean turkey. I will let you know how this experiment works out. It's fun trying to get picky eaters to eat what you want them to. I love feeling power in my hands. Mauhhhhh...
I also just found out today that the show
Castle
that my family and I are really into has real books! The premise is that Richard Castle, the writer, shadows Kate Beckett, the detective, for his research and inspiration for murder mystery novels. Castle and Kate have a budding romance that has yet to come to fruition as both are in denial about their obvious attraction. Castle uses Kate as his muse for his book
Heat Wave
that stars Nikki Heat, who coincidentally is very much like Kate. As it turns out the books are real! I knew that the show was pretty legit when authors
James Patterson
and
Steven J. Cannell
showed up as Castle's close poker buddies, but this is mind blowing! The books are out suitably with the pen name, Richard Castle, but I want to know who really wrote them since Castle is a fictional character. Neil, my boss, and I tried to look it up but there are only rumors that it's the writer of the show who wrote the books. I'm not sure if I want to buy
Heat Wave
or not yet. I'm not really into murder mysteries, but I sure am interested. Maybe I'll go see if the library has it.
A little more exciting news. Tomorrow Nick, Melanie, Kevin (Melanie's husband) and I will be going to the Carrie Underwood concert! I'm really excited. I don't think that Carrie is really Nick's cup-of-tea, but he's doing it for me since I really like her (and he really likes me). I'll be going to the Dave Mathews concert with him in August so it all works out. I've been trying to listen to Dave while I cook so that I'll be familiar with a little bit of his music. Right now I'm still not gung-hoe about him, but he's not bad. His non-moaning songs are pretty good. It's just when he does some weirdo moaning stuff that I don't enjoy it much...but it seems like a lot of his songs are like that. It's probably his way of getting into the music, but I'm not a fan. Carrie on the other hand, I'm a big fan of. Yay!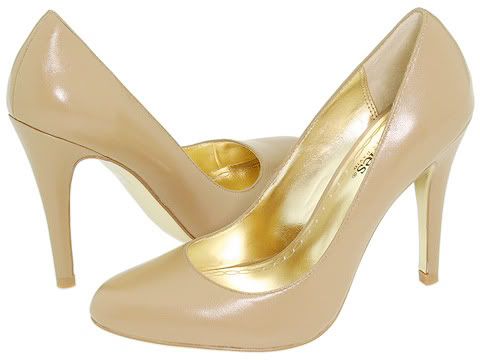 Aren't they gorgeous? Lately I've been looking for some nude colored heels. I found the perfect pair by
Charles David
but they didn't have my size. I was so disappointed that I completely stopped my online shoe shopping for the night, which is a big deal. Usually I don't do the "update me when they restock" thing, but I really wanted them so I did it this time. It paid off. The other day I woke up with an email saying that they were in stock in my size. By the time I went to the website, which was right away, there was only one pair left in my size so I seized the opportunity. All I have to say is that they better fit. I'm always weary of buying shoes online, but Zappos.com has a really good return policy. I think I'd be crushed if they didn't fit properly. I should be getting the shoes in the mail sometime today. Maybe I'll wear them to the Carrie concert!