On my day off for Veteran's Day I made a scrumptious pasta sauce. This is no joke, my best sauce to date. The fire-roasted tomatoes gave the sauce a really nice smokey flavor and all the veg gave it a hearty texture.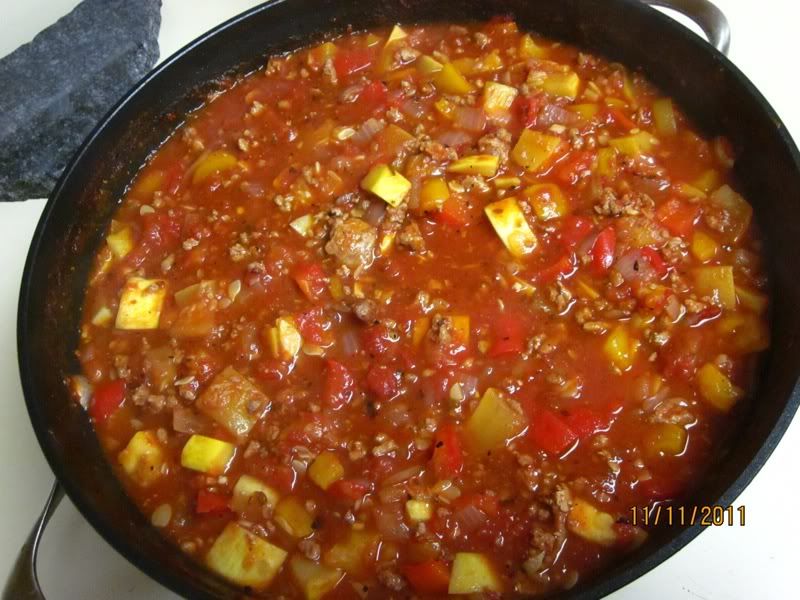 Spaghetti Sauce 5: Fire Roast Tomatoes Spaghetti Sauce
1lb ground turkey

2 onions, diced

5 cloves garlic, minced

2 tbsp fresh sage, minced

1 tsp anchovy paste

2 red bell peppers, diced

2 yellow bell peppers, diced

3 yellow squash, cubed

1 cup red wine

3 8oz cans tomato sauce

2 14.5oz cans fire roasted tomatoes, pureed

Salt and pepper to taste (about 1 tsp of each)
Directions:
Over medium high heat, brown turkey in large sauce pot. Let 75% of turkey juice evaporate. Add onion, garlic, sage and anchovy paste, sauté until soft. Sprinkle in salt and pepper. Add bell peppers and squash. Saute veggies and add wine. Cover and let veggies steam in wine sauce.
Meanwhile, using a blender or food processor, puree fire roasted tomatoes. Add fire roasted tomatoes and tomato sauce. Bring to boil. Once at a boil, leave lid cracked and let simmer for 2-3 hours.