Thursday marks our two-year anniversary. Nick got me my TV as a housewarming/anniversary gift and I got him tickets to see the
Rennsport Reunion IV
. I definitely hit the jackpot with this idea. Nick was like a kid in a candy store (as were the thousands of other men there). The weekend started with us walking up at 7:30am on Saturday to drive down to
Laguna Seca
. After we got there, we wandered around the paddock and got some up close looks at the race cars. By 11am I had hit my car-wall. Nick was excited so he talked about cars most of the drive down to Monterey and then we were surrounded by car fanatics. I had been craving corn dogs since the Giants game I went to with his company at the beginning of September so he promised me corn dogs. That made the whole day better. I ate three in the span of the weekend. I probably haven't had a corn dog since I was 10-years old (I don't really like them much) but oh man, when you've been craving one for weeks it's the best thing in the world. That as well as some strong, local beer got me through the day.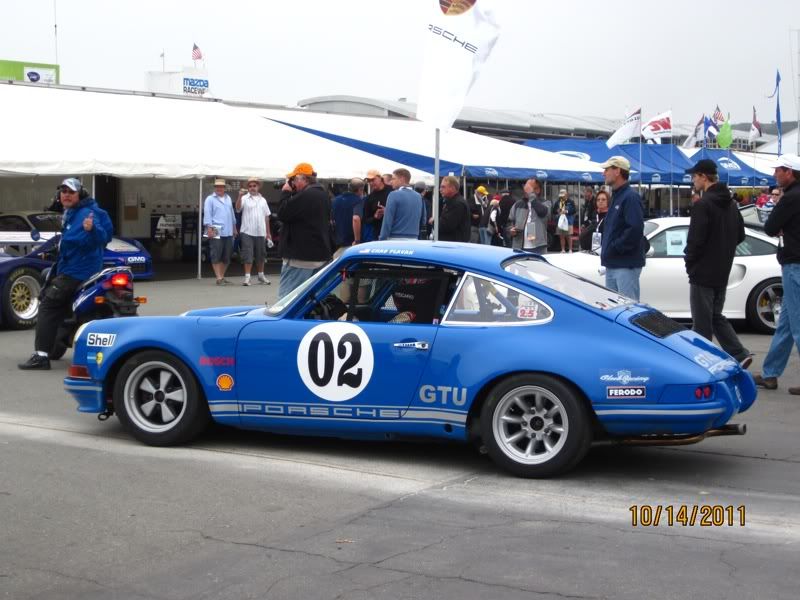 There was a preview of a new racing game, not sure which,
and Nick tried to win a Hot Lap around the track. He didn't,
but it was worth a try!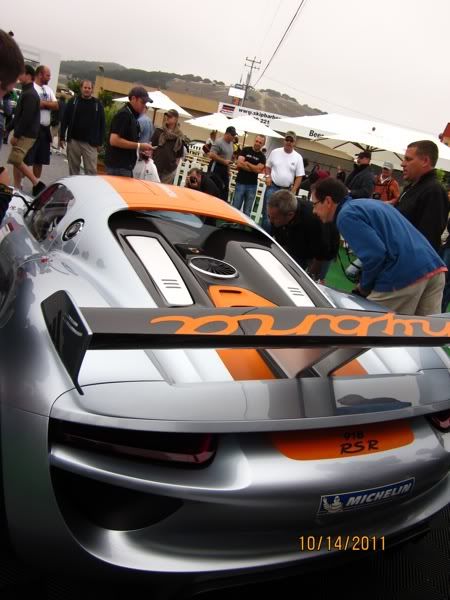 A race car that Nick was really excited about. I'm not sure
what it's called, but all the guys were excited about it. I went
to take a picture of the side of the car and when I held my camera
up all I saw were blue jean butts in the view finder. All the men were
looking into the car. There were four butts staring at me, I counted.
Nick's was in there as well. I don't mean to sound gender
specific, but really, there were no females
bending down looking in there.
The races started at 1pm, much to my chagrin. I thought the qualifying races we had been watching were the actual races! Little did I know that I had a whole afternoon to go. It wasn't as bad as I thought though. We hiked up to the Corkscrew area and I took a little nap. With the power of ear plugs, the day went by pretty quickly. I'd go with Nick again, but only as long as the tickets are reasonably priced. I don't think I appreciate this kind of thing as much as some others might.
Nick had made us reservations at our favorite seafood house in Monterey,
The Monterey Fish House
, so we headed back to the Marriott in Downtown Monterey to clean up. I showered first. By the time Nick got out of the shower I was in sweats with a glass of champagne and my feet up on pillows. We are such an old couple. We had a great night with an awesome dinner and some pretty hearty laughs. He makes me laugh so much. We were chattering away when we got off the elevator in the hotel and we went to the wrong room! He would put the key in and I would try the handle. We did that about three times before we realized we were on the second floor but needed to be on the sixth. We got out of there quickly in case someone came out of their room. Giggling the whole way of course.
The second day of the Porche reunion was just about the same as the first but this time we went to breakfast at
The Breakfast Club
in Seaside. Holy smokes, I had the best omelette I've ever tasted. The waitress recommended the Chile Verde omelette. It was packed full of green salsa with barbacoa pork. Just thinking about it makes my mouth water. I scarfed the whole thing down before I even touched the biscuits with gravy and hash browns that came with it. We've definitely found our new breakfast place for when we're in Monterey. Oh man, it was good. If I was on the Food Network show,
The Best Thing I Ever Ate
, this omelette would be a top pick.