...for the gloomy day's soul. Yesterday was just so gloomy and drizzly that I really wanted to make chicken soup and pies. The soup was delicious and my coworkers enjoyed the pies.
Gloomy Day Chicken Soup
1 pack chicken thighs
1 onion, roughly chopped
1 head garlic, minced
4 stalks celery, roughly chopped
8 qts water
1 tsp rosemary
2 tsp thyme
2 tbsp black pepper
1 tbsp kosher salt
2 heads broccoli
2 eggs
1/2 lb pasta
Directions:
Sweat onion and garlic over medium-high heat in a large pot. Add chicken to brown. Once chicken is browned, add celery, water, rosemary, thyme, pepper, and salt. Bring to a boil. Let simmer for an hour. In a separate pot, cook pasta and drain. When ready to eat, add broccoli, pasta, and egg. Cook for two minutes.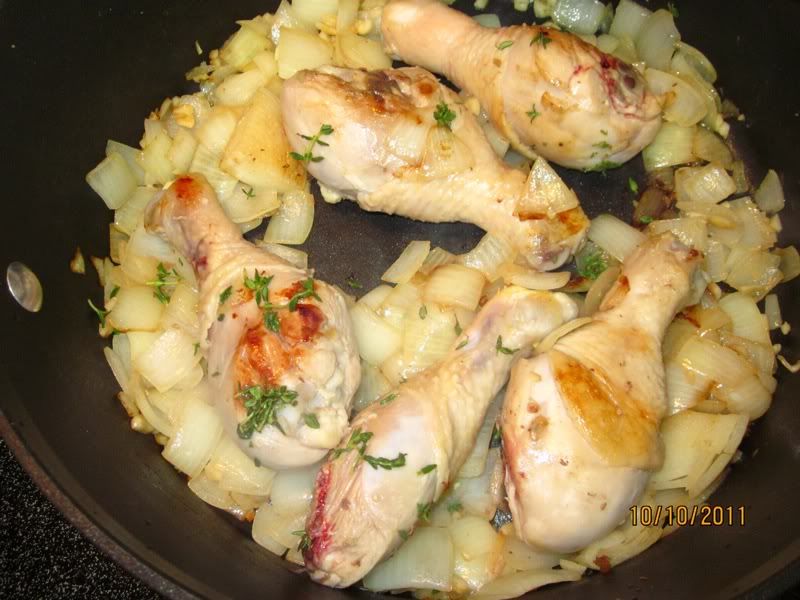 Browned chicken, onion and garlic. I added the herbs first, but you can just
do this when you add the water to ensure that they don't burn.