As most of you know, Nick proposed on Friday night. Can I get a HALLELUJAH! I don't know if it's because I told my Mom a week into dating him that he was
the one,
but it seemed like a long time coming. We've only been dating for two and a half years, but I guess we are getting to the age where we know what we want and how to get to it. I of course, have not stopped smiling since Friday night. This weekend by far has been the best weekend of my life. (I'll get to the rest of it another day.) I can't stop looking at it. This is how it all happened.
I was at my parents house doing laundry and Nick went to his to have dinner. Really, he went to his parents house to get the ring to surprise me. I had done my nails at my parents place before I headed back to the apartment. While carrying the laundry up the stairs I had throughly messed them up. Nick helped me take the laundry into the bed room and I started grumbling about how I messed up my nails.
Nick: Babe, I have present for you.
Me: You do?
Nick: Look in the guest room.
So I go into the guest room and see a long box on top of it. It had been a very long and trying week so I figured he got me something to cheer me up. He wrote me a nice very sweet little letter with a magical spell worked into the poem. After seeing the gold writing on the box:
Me: You got me a wand?! (Tears start coming)
Nick: Look inside the box.
I opened the box and pulled out the wand. My fake engagement ring that I wear when I go out with friends was on the wand. I was confused and looked in the little wand bag but there was only paper stuffing. He told me to look in my jewelry box and there was the little black box. It even had a little light in it to make it sparkle. When I turned around he was on his knee. Tears were pouring at this point. I couldn't even say yes because I was crying so hard. The rest is history and many phone calls to family and friends ensued.
Originally, Nick wanted to propose on our favorite beach in Carmel, but my mom pointed out that I might do a swish and flick with the wand and the ring would go flying. Proposing in the apartment was a much safer idea.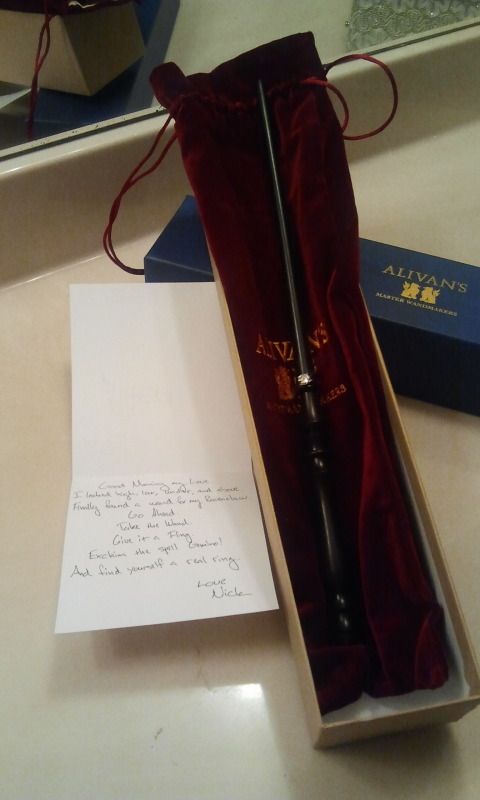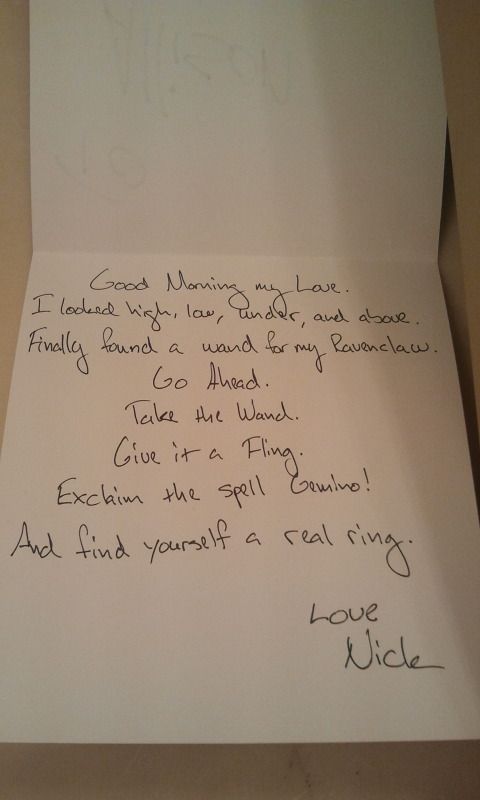 I was supposed to say the spell and then the
real ring appeared. Yeah...I didn't get it. He
was also going to do it the following morning.