It really was. First the engagement and then a spectacular weekend of relaxing and celebrity chefs. The format of this post will be picture book-like. I'm not sure how else to make sure that I get all my pictures in and that I go in chronological order.
We started our lovely trip with breakfast in Hubcaps diner in Walnut Creek.
I had a hearty omelet. I think it was called the Kitchen Sink. Whatever it is
called, it was delicious.
For lunch we stopped at our favorite oyster place in Carmel, A. W. Shucks, for
a dozen. We didn't want to eat a large lunch because we had a really nice
restaurant reserved for a late dinner. We were originally going to go to a
promising looking salumi place, but we were still full from breakfast and
didn't want to spoil our appetites for dinner.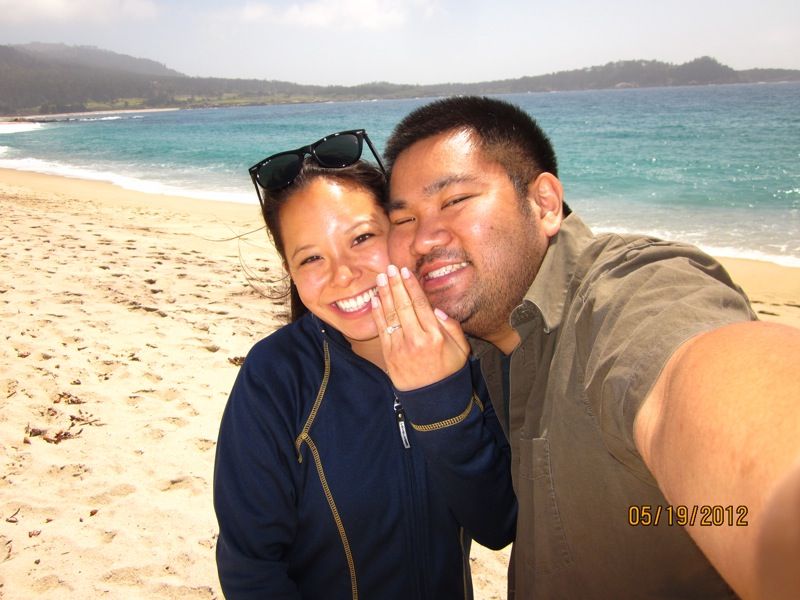 Our favorite beach in Carmel. This is the beach that Nick was originally
going to propose at, but after my Mom mentioned that I might accidentally
flick the wand and the ring would fly off, he decided to do it in our apartment.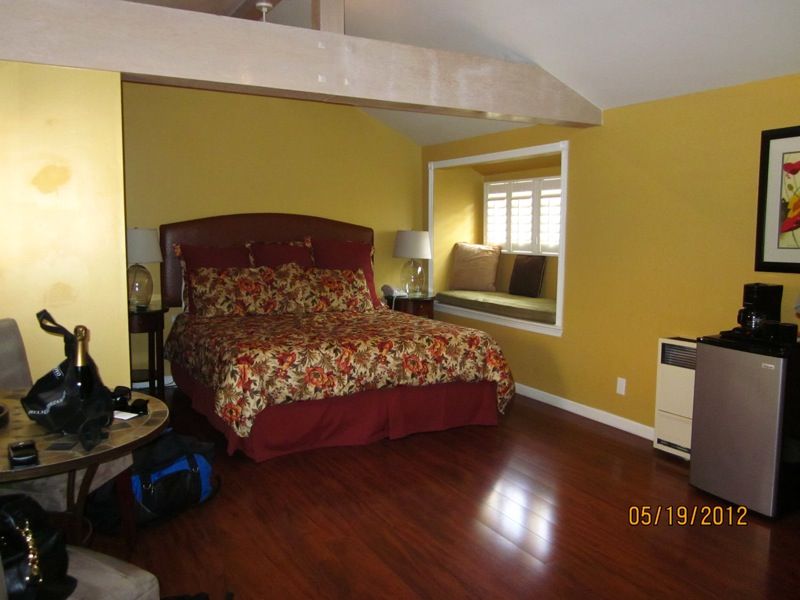 We were pleasantly surprised by this room. I had found it on Kayak.com since
all of the rooms in hotels near Monterey were either booked or $400+.
The Sunset Inn was only $140 and was very quaint. It even had a fireplace and
river rock flooring in the bathroom with a rainfall shower head.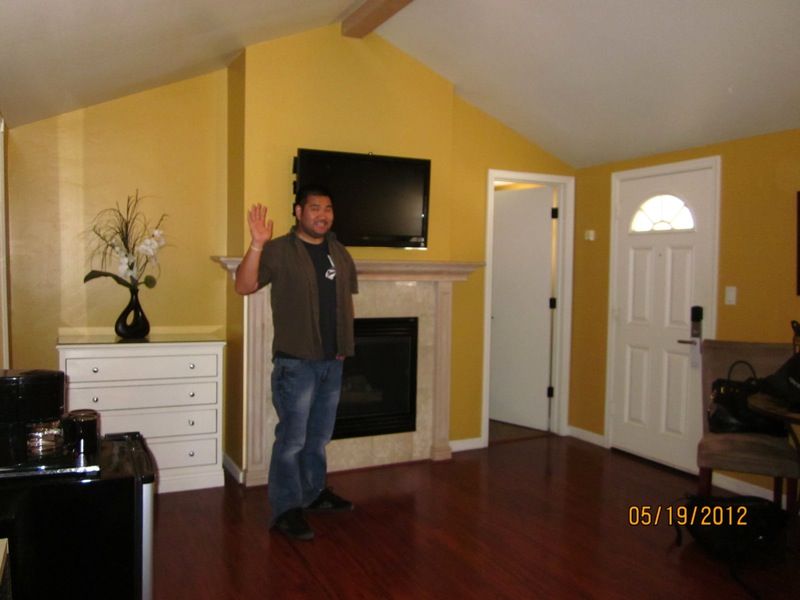 For dinner, we went to Restaurant 1833. I had
heard of it through Food and Wine Magazine.
We were apparently in the right place because
Rick Bayless walked in while we were having
our celebratory champagne at the bar. After I
was not so discrete about being excited to see him,
Alex Guarnachelli walked in with a small group of
people. She promptly popped her head into the
kitchen and then sat at the bar next to us. I
have to say that I'm not a huge fan of hers, but
after reading an eloquent article that she wrote
about her childhood and the influence of her
mother's cookbook writing, my opinion of her
softened. I took a large swig of my champagne
and had to go talk to her and tell her how beautifully
I thought her article was. I'm sure you know by
now how easily I swoon over a well written piece.
Shortly after I introduced myself to Alex and she
thanked me for the compliment, we were seated.
This is a complimentary fennel soup. It was
interesting and rather creamy.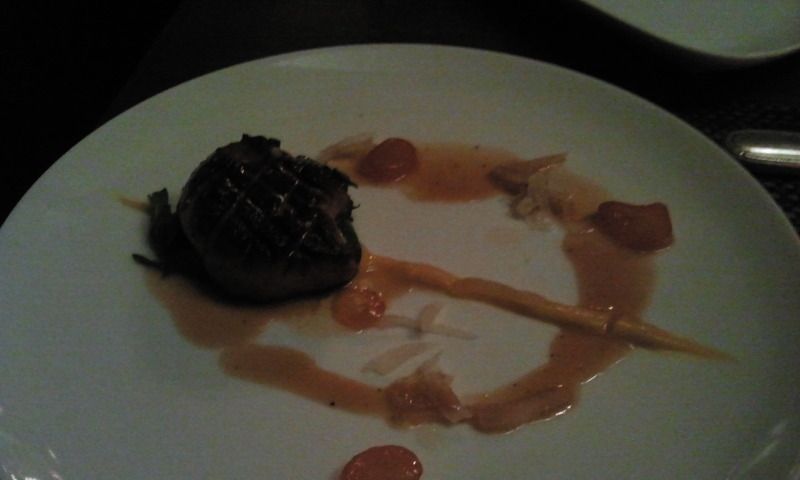 Foie Gras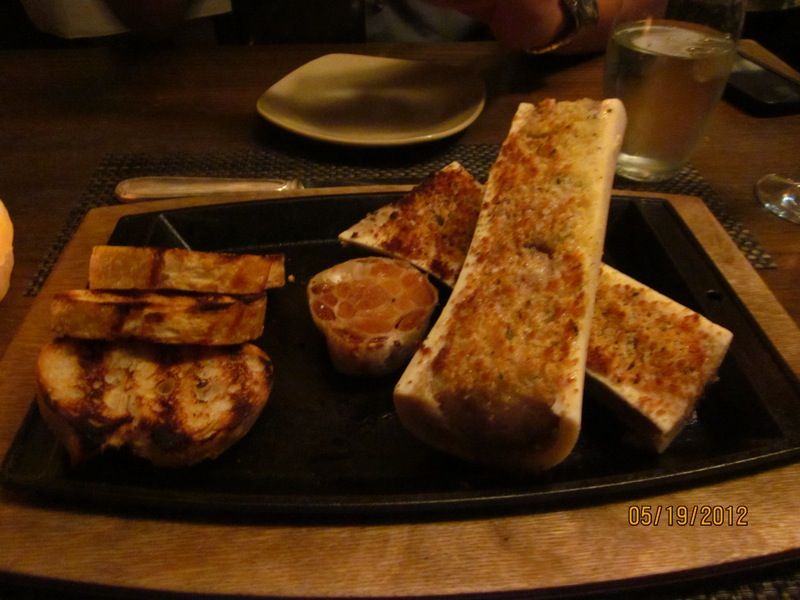 Bone marrow with crostini and roasted garlic. These were by far the biggest
bone marrow portions that we have gotten in a restaurant and they were super
delicious.
Bone marrow, garlic, and crostini. Mmmmm...
Nick's seared sea bass with a creamy mussel sauce.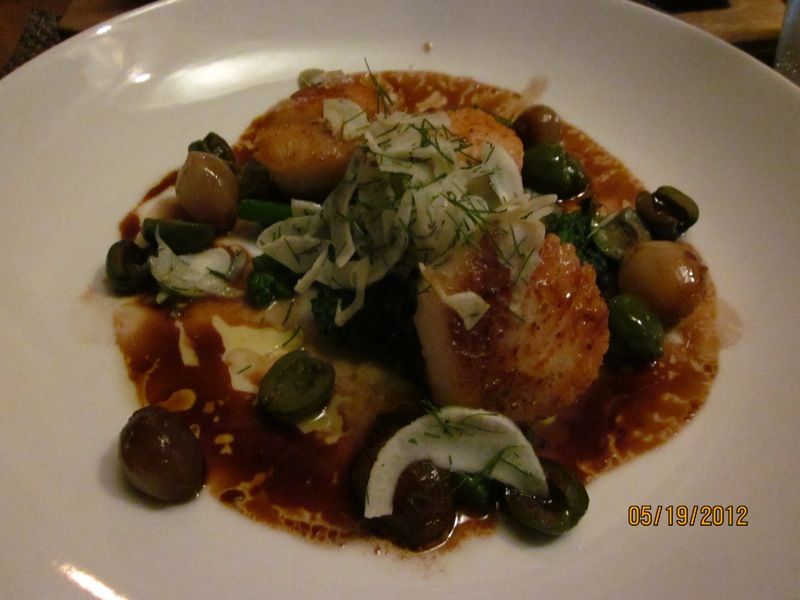 My seared diver scallops with a savory olive and fennel sauce.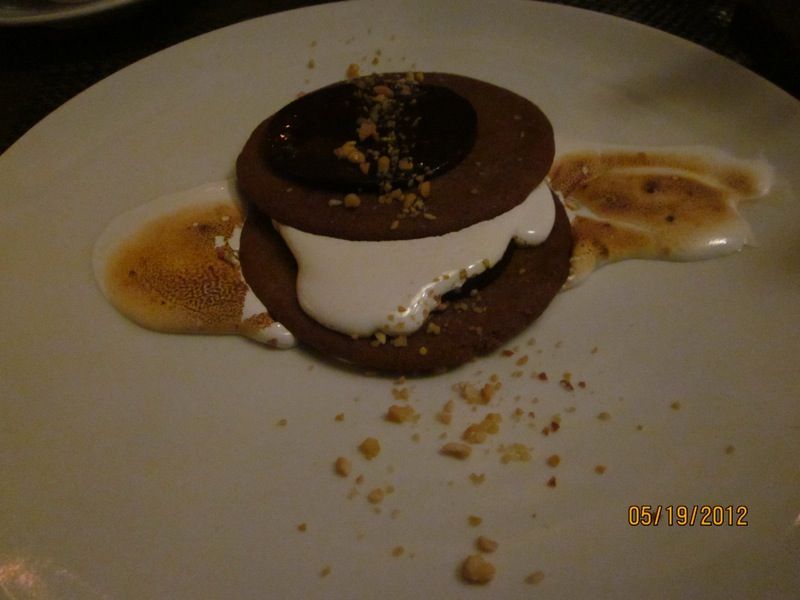 Fancy s'mores. It was actually really, really good. The cookies were a
crispy ginger cookie with house-made toasted marshmallow.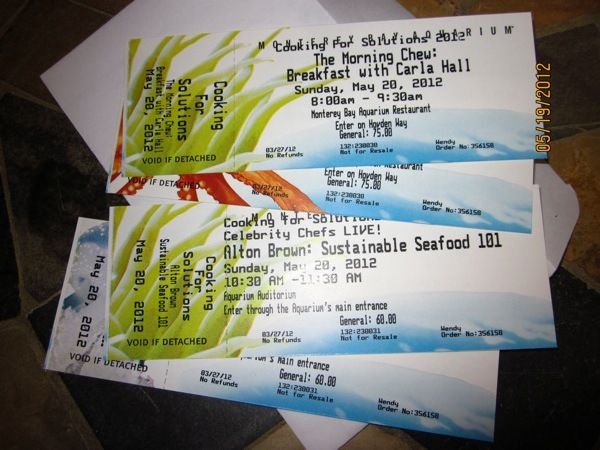 Event tickets to Carla and Alton.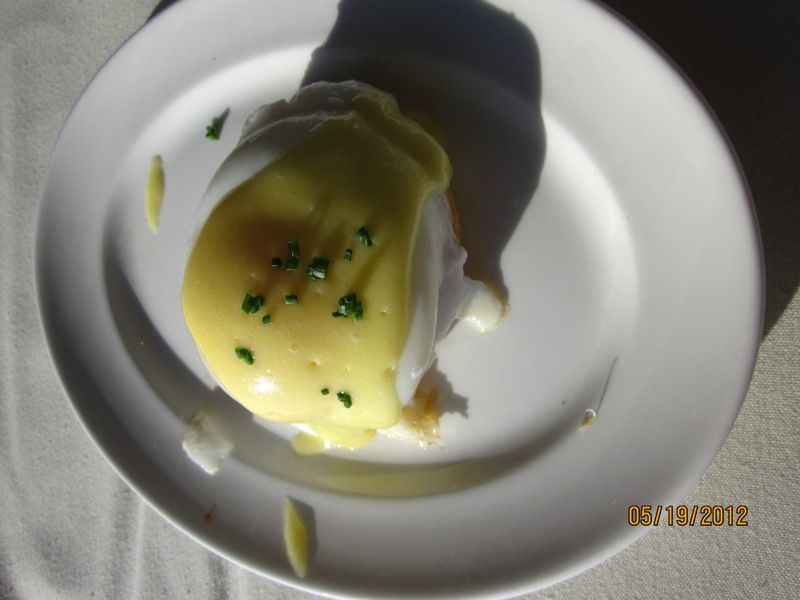 Artichoke-crab benedict that we watched Carla make herself!
Cornmeal blueberry waffles. The cornmeal added a great texture to the
waffle as well as a light flavor.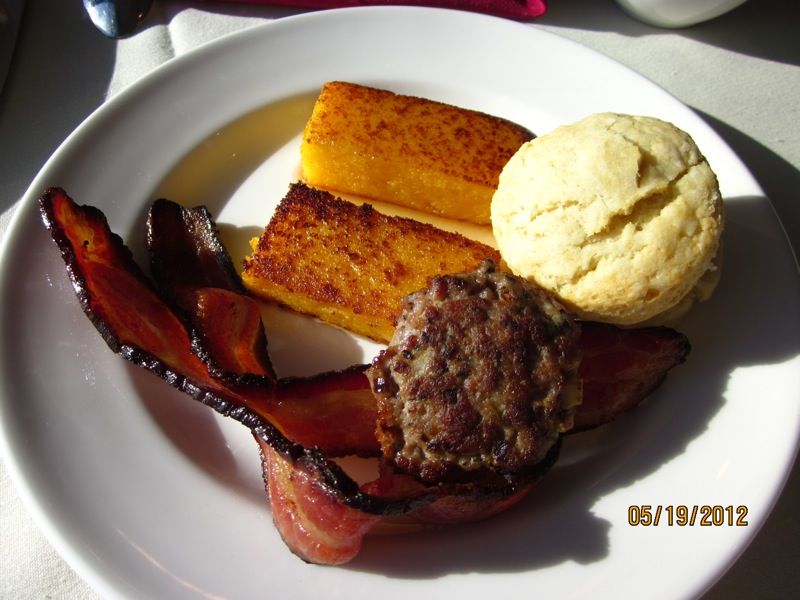 Thick-cut smoked apple bacon, turkey-rosemary sausage, citrus poletta, and
a savory biscuit.
Our view from our brunch table. We sat with a really nice couple who had
been at the event all weekend. They were a very down-to-earth couple who had
spent the whole weekend at the event. After hearing about their experience
with Cooking for Solutions, we definitely want to save our money
so that we can go to the whole thing next year. They sounded like they
met a whole bunch of famous chefs while actually interacting with them. They
even made sure that we met Carla Hall and told her about our engagement, which
then lead Carla to congratulate us. CARLA HALL CONGRATULATED US!
I look normal, but really I'm practically bursting inside.
General set up for the demonstrations. We were sitting in the third row for
Alton Brown's presentation.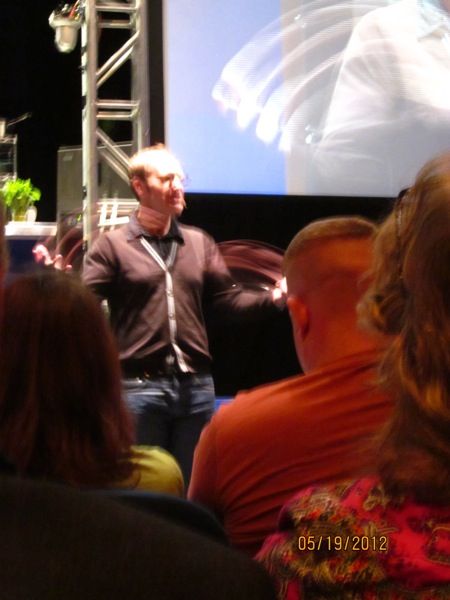 It was too dark to get good pictures and they requested
that we didn't use flash.
Nick anticipating talking to Alton about firearms.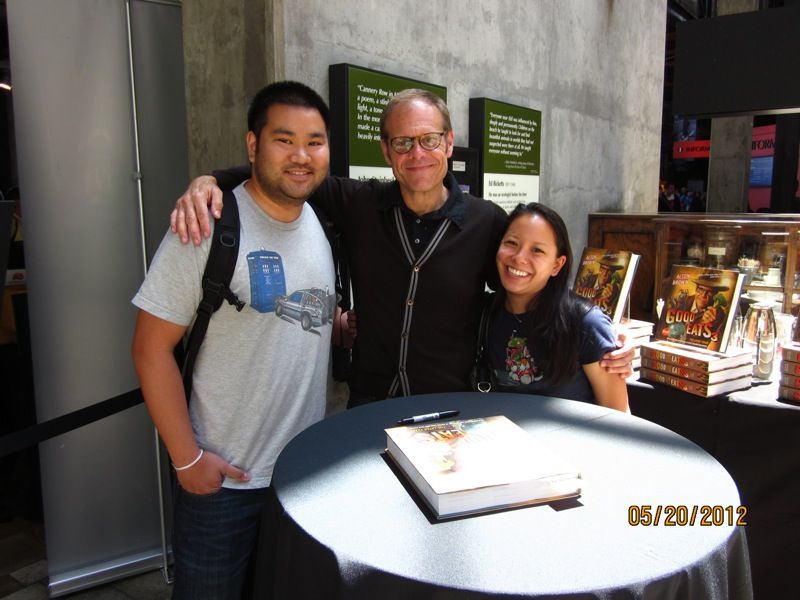 After Alton signed our book Nick had a full on conversation with him about
firearms. While Alton was signing our book, Nick had made a comment that he
really liked Alton's taste in guns (Nick follows Alton's Twitter posts and had seen
a few of his tweets about guns). After Nick had finished commenting, Alton said
quickly "Oh you know I like them all Glocks, Kimbers...whatever. I try not to be more
than 5 steps away from a gun in my house." Nick then replied, "yeah I am working on it,
I actually just bought a new p226." At this point we had figured our short time with Alton
was over, and were walking away from the table, the next couple had even showed up at
the table for their signing with Alton. When Alton turned towards us and asked
"Oh! have you shot one yet?", Nick then said that he had "dry fired it at the gun store"
(whatever that means) and finished with "how can you argue with the pedigree of the gun".
Alton then nodded in agreement and wished us a great day. Nick proceeded to squeal
and say, "I just had a gun talk with ALTON BROWN!"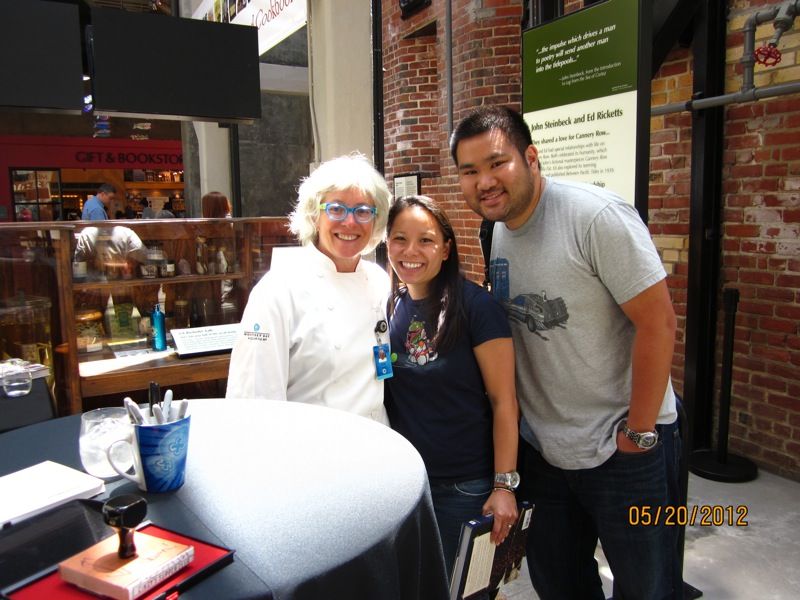 After waiting for Alton Brown's book signing we decided to walk around a
little bit, but I had to go to the bathroom first. On the way to the bathroom
I saw a booth for the Cooking for Solutions event and went up to ask them
about next year's event. They gave us a program, cook book of all the chefs
in attendance, and told us when we cou register for the next event (1/1/13).
While we were talking to the staff, a woman came up and handed them a ticket
saying that she couldn't make it to the event. The staff looked at us and asked if
we wanted to go to Cindy Pawlcyn's event. Uhh yeah, but there is only one ticket!
They told us that they always love when people want to come back and have
interest for the next year so they gave us the ticket and told the staff at the door
that we were allowed in. Not only did we get to watch and smell Cindy's demo
I also got to meet Michael Chiarello. We were sitting in Cindy's demo when
Michael came in to watch her demo. (They're both Napa area natives. Michael
is the chef and owner of Bottega in Yonteville and Cindy owns Mustards Grill
as well as a couple others that I haven't been to.) Mustards Grill is also where
we saw Laura Dern from Jurassic Park and is
Bobby Flay's favorite place for a Mongolian Pork Chop. My mom loves Michael so
I was whacking Nick's arm to get him to look. I wanted to get him to sign a book,
but I didn't want to interrupt the demo to go buy the book in the gift shop.
Nick told me to get it just in case he didn't stay for the whole session. It's a good
thing I did because shortly after I got his book and Cindy Pawlcyn's he got up to leave.
I bombarded him at the door so that he could sign my book. He was very nice and
made it out to my Mom. We also got Cindy to sign her newest book in dedication
to the couple who set us up at their kid's wedding. They had also introduced us
to Mustards Grill so it was quite fitting. We figured they would appreciate it,
but probably not as much as we appreciate them setting us up. :)
It's been over a week since our unforgettable Monterey weekend happened and I still look at my ring and can't believe that it's real. I'm floating on clouds.