Welp, this last weekend was the last shopping spree that I'm going to have for a while. My dad agreed today to let me move into one of his condos. It's in Walnut Creek so it's much closer to work than my parents home. I'm so excited! I have been wanting to move out for a while now, but haven't had the means. With my new job and a "family discount" I can actually do it. Things must be going my way because my parents thought that the tenant would retire and live there the rest of his life. Luckily for me, he moved!
The condo itself is pretty small, but has a ton of storage space. I think I can make it work since it will just be Emmy and me. It's a two bedroom, one bath on the top floor. I plan to get the big bed that I've been wanting for the master bedroom and then use the second room as my guest room/office/makeup area. I think I've managed to convince my dad to put in Pergo floors and I'm working on getting him to put in granite counter tops in the kitchen. Haha, I don't think I'll be so lucky with the kitchen. Unfortunately the ceiling is the popcorn stuff so you can't put crown molding. I love crown molding, but I'm not willing to go through and scrape off all that popcorn just for the molding in a rental. If I was going to live there forever I would take the time to do that now. I think will be putting some molding up on the walls, but it won't be crown. I've been considering scraping off just the part that the molding would go on, but I'm not sure I want to do that. We'll see.
The place itself is like a resort. This is what the website boasts as the amenities:
792 residential units with diverse features, such as Mt. Diablo views, roof decks, fireplaces, skylights, cathedral ceilings.



1,200 deeded and visitor vehicle spaces in covered garages and parking lots.



Clubhouse at center of community with regular scheduled movies on 72-inch screen, game room for cards and billiards, a catering kitchen for frequent social events for all ages.



Complete gym, located in the Clubhouse, with weights and cardiac equipment, racquetball courts, whirlpool tubs, showers, steam, sauna.



4 lighted tennis courts, with lessons offered by in-house tennis pro.



3 swimming pools, including one of the largest in the county, and 3 spas. The central pool is heated year-round. Frequent poolside barbecues and other social events.



Water volleyball and basketball courts; horse shoe pit and putting green.
I'm sooooo excited! It will be a little bit before the place is ready for me to move in. Since it's pretty close to my work I plan to stop by there afterwards to paint the rooms the colors that I want. Pictures of the renovation to come! I didn't take a picture of the bathroom and kitchen, but they're both tiny and very outdated. I can live with it, but if I'm allowed to, I'm going to paint the kitchen cabinets and change the hardware.
Living room
I'm going to paint this a light taupe color. It is actually very similar to the
color of my blog!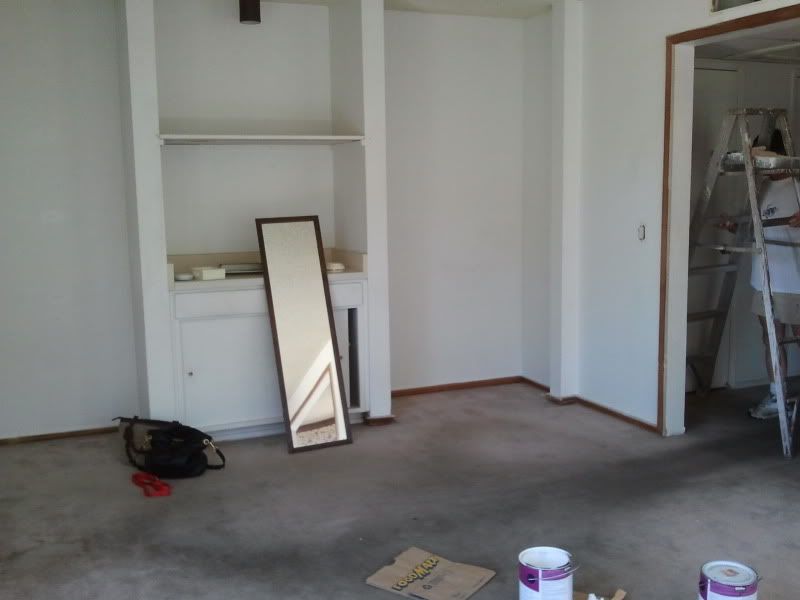 As far as Emmy is concerned, it's going to be rough in the beginning. My mom is going to pick her up in the morning and then I will get her at night after work. I don't think that she will make the transition very well since she was moved around so much before. I'm hoping that we will create a good routine so that my mom can eventually start coming later and later in the day so that Emmy can be home by herself while I'm at work. By that time, I will probably change my work hours so that I can take an hour lunch and go home to check on her. That won't be for a while, but it is the general plan. I'm going to keep my fingers crossed that she will be a normal dog and that I can start leaving her alone for more than four hours at a time. Ah, that would be wonderful.
I will be so eating canned chili and top ramen for a while, but I'm so happy!