On our way back from our friends Chris and Whitney's wedding, we stopped at the Sacramento
Boiling Crab
for lunch. We had stayed the night in Auburn and were dropping off a friend at the Sacramento airport so we were in the general area. Nick has been talking about the Boiling Crab for months now so we waited in line to get a table. I don't know if you could consider this the "original" cajun shrimp place in California, but I know it's one of the bigger chains.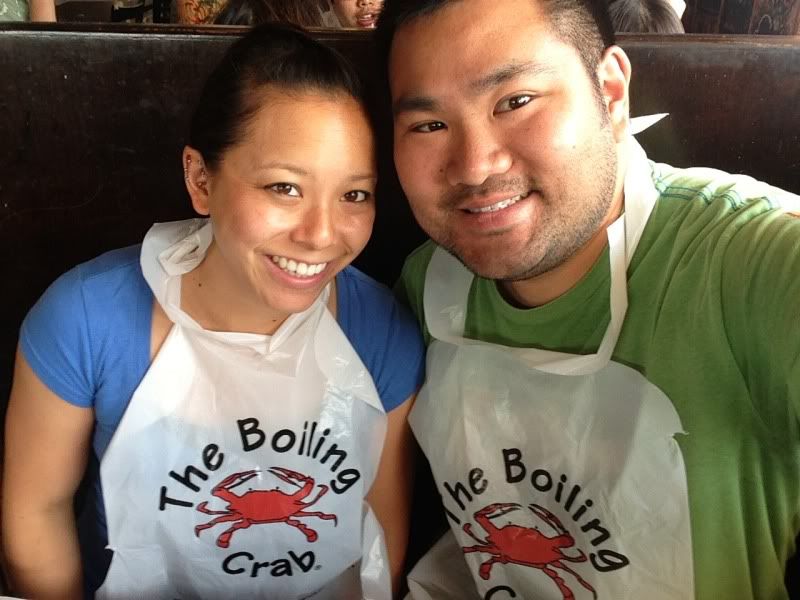 It's a clear sign when they provide you with bibs and line the tables with butcher
paper that it's going to be messy eating.
I had been wanting oysters on a half shell for a while so we got half a dozen
to start off with. They tasted fine and neither of us got sick, but they were
oddly clean. Usually when we get oysters on a half shell you can see the foot
of the oyster still stuck on the shell. These were perfectly clean. Nick thought
that they had been previously shucked and frozen. Neither of us could taste
a difference, but it was really strange to see such a clean shell after slurping it
up.
This is how you begin. They waiters bring out bags of shellfish in whatever
sauce you specify. We got a two pound bag of shrimp (right) and one pound
bag of clams (left) in their hot The Whole Sha-Bang sauce. These things were
piping hot! It made it very difficult to peel. I also don't like pulling the heads
off of my shrimp, but I had to suck it up and just do it. Nick found it funny that
I was extracting the shrimp by pulling them out with their antennae.
This is what it looks like after. We didn't even get close to finishing all of
the shrimp. We asked the waiter to pack it away with a bag of ice so that it
would keep on the drive home. I noticed that after a few shrimp I started to get
tired of the flavor. It was just so much of the same thing.