Saturday was pretty eventful with taking Juni to see Casa Real at Ruby Hill, pho, Costco, hanging around, and then a wine night/meet and greet for all of the bridesmaids. We were up much later into the night than I have been up in a long time. I wanted to keep it simple and not be in the kitchen all night while everyone got to mingle, so Juni and I picked up chicken wings, pinwheels and pizza at Costco. We played Harry Potter movies and Juni came up with a game where we would shout out things from the movies that we could incorporate into the wedding. We were getting pretty silly with the game, but it was a great way for everyone to get to know each other and relax.
On Sunday we woke up early and headed out to Tomales Bay for chance reservations at the
Hog Island Oysters
farm. They're booked until September, but we got lucky and there was a last minute cancellation that we were able to fill. They have tables out for you to sit at if you wanted to come without a reservation, but you can only buy preshucked oysters whereas if you reserve a picnic table you can buy oysters by the 50 count bags to shuck yourselves. The oysters were incredibly fresh and so inexpensive at 50 for $35. What. A. Steal. I have been a little bit hesitant of eating raw oysters since the time about a year ago that I got extremely bad shellfish poisoning, but I just love oysters enough to chance it. I'm pretty sure I just had bad luck and gotten an oyster that had eaten the wrong kind of algae because Nick was fine and he had been eating them with me. I'm glad that I didn't let my fear of getting sick get in the way of eating dozens of oysters yesterday. I'm fit as a fiddle today if not a little tired from all the commotion of the weekend. The only complaint I had was the carsickness on the way up to Hog Island. The oysters were delicious cooked and raw, but I think I'm oystered out for a while. Hopefully Juni will email me the pictures she took on her camera since we had someone take a group photo, but she's headed to Europe for a three month backpacking excursion with her husband before they settle down with her family in Manila, so that may not happen anytime soon.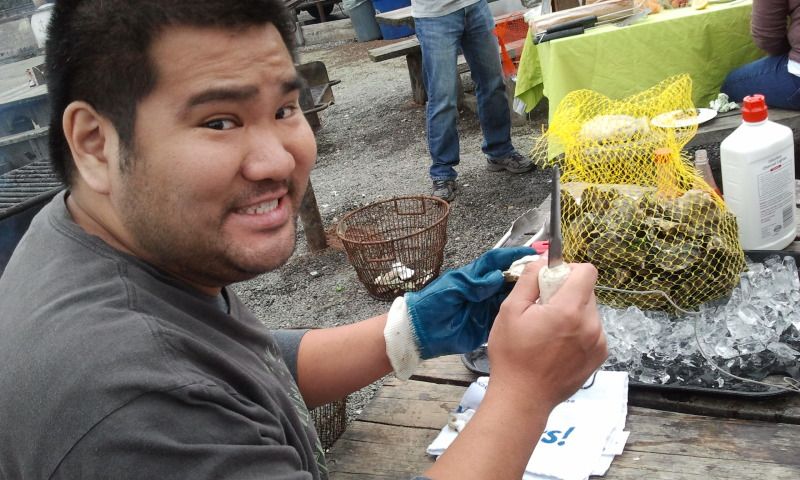 They're dog friendly! Emmy seemed to know that the ground was wet and dirty
so she stood up the whole time. She had just had a bath the day before. What
a smart girl.