Today Nick and I went out to the City to meet up with a couple of his MBA friends visiting for business from Germany. The last time we went to
Wayfarer Tavern
for Melissa's birthday dinner, Nick was too full to enjoy his meal so we suggested meeting up for lunch there with his colleagues. Holy moly, it was a good choice. Lately, whenever we eat out things have been tasting overly salty to me. My braised lamb sandwich with an added egg and brie was delicious. I scarfed that thing down like I hadn't eaten in months. Unfortunately,
Tyler Florence
didn't make an appearance, but we had good company so it didn't matter.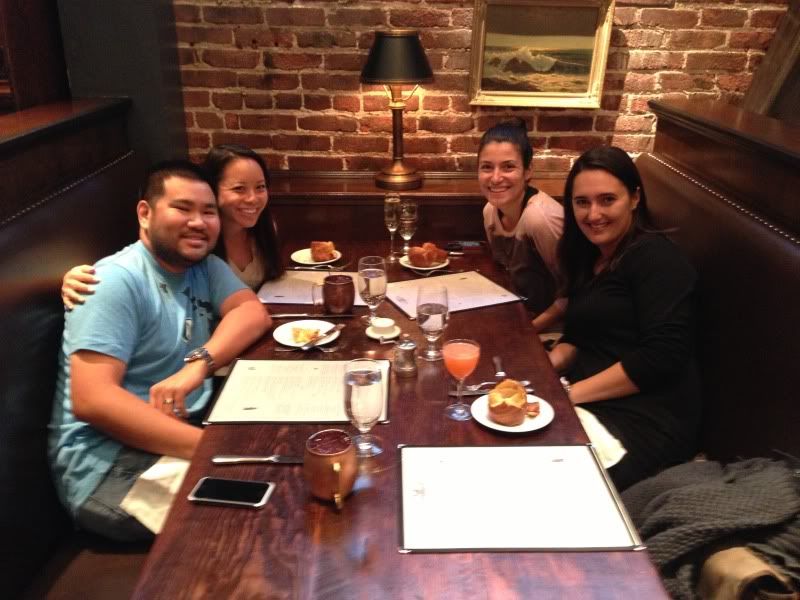 And this is the sandwich that I will be dreaming about for the next few months.
I normally detest the flavor of raw parsley, but I figured I'd give it a try. It was
actually quite mild and added a ton of flavor. As I said before, I did add the egg
and asked for them to add brie. Originally, I wanted to get the burger which came
with brie and option for the added egg, but Nick really wanted the burger. We
make it a rule not to order the same thing so that we can taste each other's dishes.
Knowing that they had brie available, I figured it wouldn't hurt to add it to the
sandwich. It was a great choice.