I decided on a whim that I'd paint the kitchen walls today. After refinishing the cabinets I noticed that the color of the walls didn't quite match with the cabinets. The cabinets are a cool tone while the walls were a warm. It had been bugging me all week. Also, Nick and I decided to go with a dark granite for the countertops so I wanted to paint the kitchen a light color to brighten it up. While at Home Depot I did see nice dark colors that I would have loved to paint the walls, but that would have just made the kitchen look smaller. Maybe I'll do a dark accent wall in the bedroom. Hee hee. I settled on Behr's
Swiss Coffee
, one of their most popular colors. It's an off white shade that reminds me of the foam on top of cappuccinos. It's kind of hard to see from these pictures, but the walls are significantly lighter than the
previous taupe
color that I had.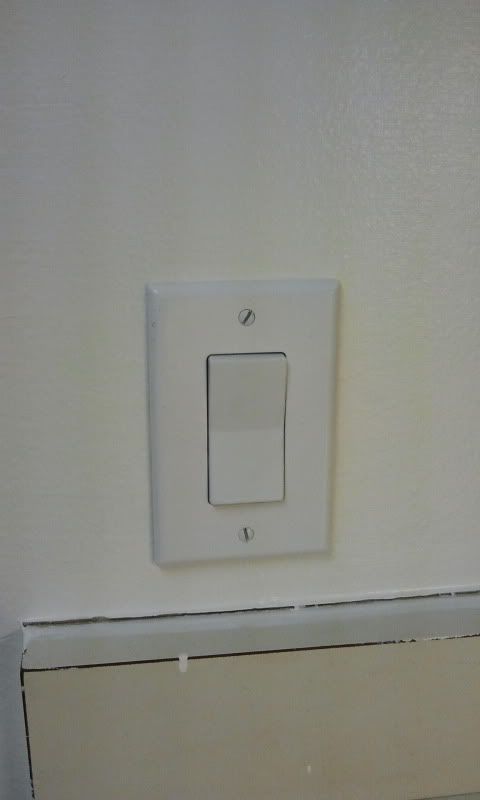 Before painting the walls I spray painted the switches
and switch covers. They were previously the ugly yellowish
color that the rest of the kitchen used to be. They actually do
make a difference.
It's been a busy day. Emmy and I went for a long walk and also spray painted a desk that I got for free from work. It still needs one more coat, but I'll post pictures when it's done. It will be Nick's computer desk. We're using the chair from our bedroom for the desk so the ugly brown of a normal office desk didn't look right with the cream and black of the nice chair that I have. I also gave Emmy a bath. She was so dirty that I had forgotten how white she naturally is!