I had gotten a lot of veggies over the weekend while I was grocery shopping. I wanted to make sure that I used them all since I've been noticing a lot of veggie waste from my fridge. I had also defrosted some chicken, but the highlight was really the veggies for me.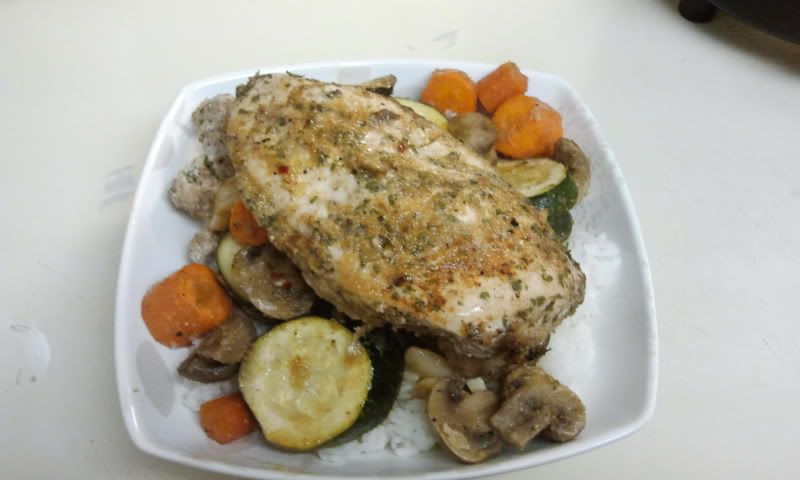 Roasted Vegetables
3 zucchinis, 1/4 inch sliced
1 head garlic, peeled
3 carrots, chopped
10 button mushrooms, halved
2 tbsp garlic powder
3 tbsp onion powder
1 tbsp salt
1 tbsp pepper
1 tbsp Worcestershire sauce
2 tbsp EVOO
1/4 cup chicken broth
Directions:
Preheat oven to 375 degrees. Place all of the vegetables in a large roasting pan. In a small bowl mix the garlic and onion powder, salt, pepper, worcestershire sauce, and EVOO. Pour EVOO mixture over veggies and mix thoroughly. Pour chicken broth over veggies. Roast for 1.5 hours.
I'm not a big fan of chicken breast, but Nick seemed to really like it. He said it was the juiciest chicken breast he's had. That's big!
Roasted Chicken Breast Concoction
2 boneless, skinless chicken breast
2 tbsp dried parsley
1 tbsp garlic powder
1 tsp cayenne pepper
1 tsp mustard powder
1 tsp allspice
1 tsp salt
1 tsp ground pepper
Directions:
Mix parsley, garlic powder, cayenne, mustard powder, allspice, salt, and ground pepper in a small bowl. Coat chicken breast in seasoning mixture. Cover chicken and vegetables with foil and roast on top of vegetables for one hour. Pull off before the last 30 minutes baking of the roasted vegetables.