Tonight I had a hair appointment and am super tired from the time change and not being able to sleep last night. All three factors being put together, I just didn't feel like doing anything complicated. So pasta with meatballs it was. This only took me 30 minutes to put together. I had defrosted some ground beef and a pasta sauce that Nick and I made a few weeks ago. Using what was left of my saffron rice/onion/spinach/gouda concoction as well as a little more saffron rice. I have to you use this stuff up before it goes bad. Saffron is expensive!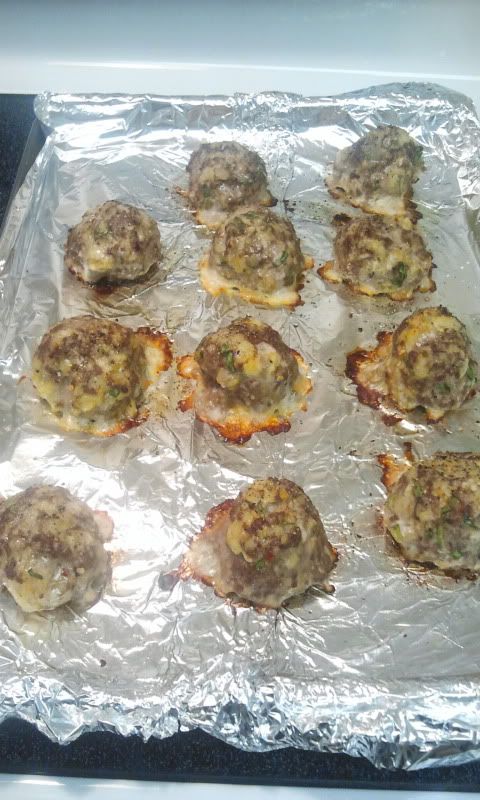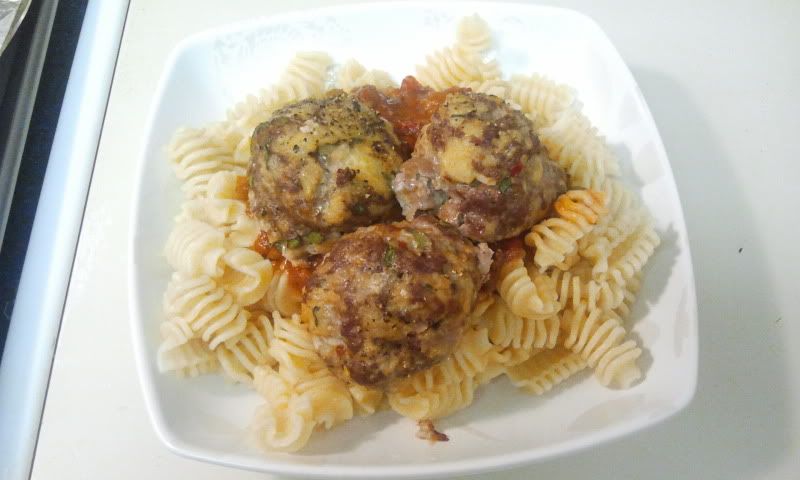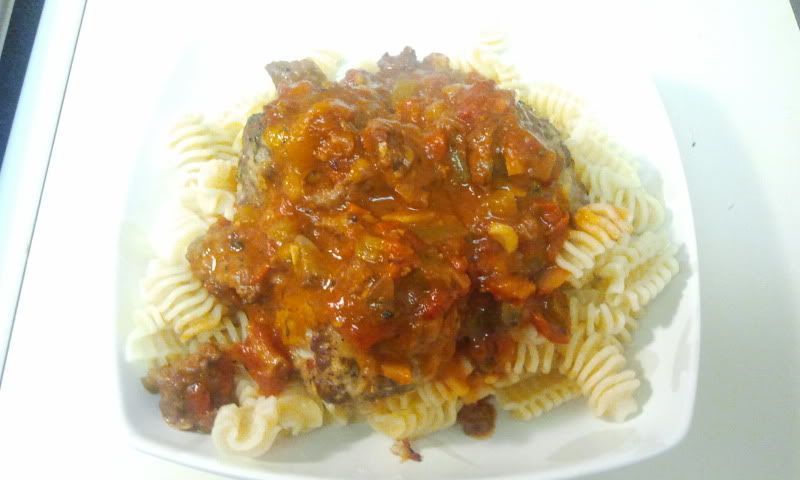 Lamb-Tomato Sauce
3 lamb necks
1 lb medium Italian sausage
1 onion, diced
1 green bell pepper, diced
10 button mushrooms, diced
1 head garlic, roughly chopped
2 tsp dried oregano
2 tsp dried basil
2 tbsp red pepper flakes
2 cans fire roasted tomato
2 cans diced tomatoes
1 can tomato sauce
pinch sugar
salt and pepper to taste
Directions:
In large dutch oven, brown lamb necks on all sides. Remove lamb necks. Add Italian sausage to brown. Once brown, add onion, bell pepper, garlic and mushroom. Sautee until tender. Add oregano, basil, and red pepper flakes. Stir until aromatic. Add all tomatoes. Bring to a boil. Add a pinch of sugar and also salt and pepper to taste. Once at a boil, let simmer for 2+ hours. The longer you simmer, the better.
Leftover Meatball Mix
1/2 lb ground beef
Saffron Rice Mixture (from stuffed chicken)
3 egg whites
1 tbsp crushed red pepper flakes
salt and pepper to taste
EVOO
Directions:
Preheat oven to 375 degrees. Combine all ingredients except EVOO. Spray baking sheet with cooking spray (I lined mine with foil). Mix meat thoroughly and roll into medium sized balls. Drizzle EVOO over the top and add a sprinkle of salt and pepper over the top. Bake for 35 minutes.