Tonight I did a dry rub I had concocted a while ago on a small pork loin. I believe that there is cayenne pepper, salt, paprika, black pepper, and a little cumin. I'm not really sure, but it's probably something I've posted in the past. Whatever the case, it's a pretty standard BBQ dry rub. Beneath the pork is asparagus with Parmesan shavings and a caprese salad along side. I cooked the 1.5 lb pork loin for 1 hour and then broiled it for a couple of minutes after sliced. We like ours a little rare, but if you like yours fully white just leave it in for another 30 minutes or so.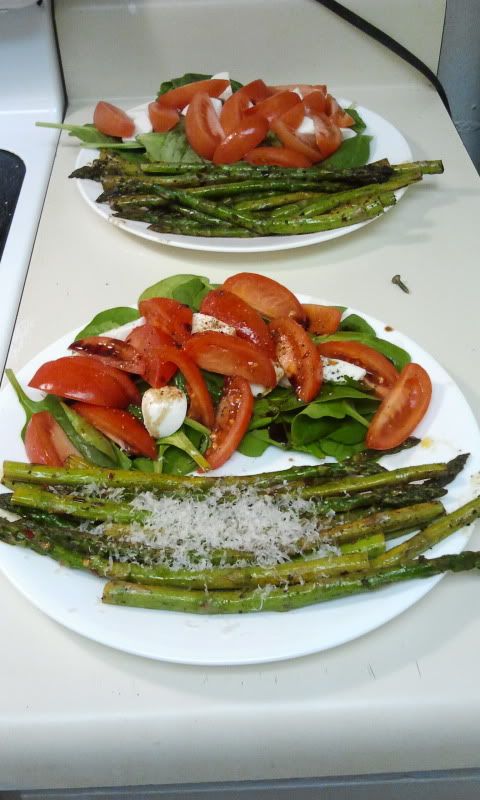 For the asparagus I pulled the pork out to rest and put the asparagus into the same pan so that it would cook in some of the good flavors the pork left. Roasting it on a cookie sheet will be fine too.
Spicy Asparagus
1/2 Costco sized bag asparagus
3 tbsp olive oil
2 tbsp crushed red pepper
3 tsp kosher salt
2 tsp black pepper
2 tsp worcestershire sauce
Directions:
Preheat oven to 375. Trim about 1.5 inches of stem off of the bottom of the asparagus. Mix olive oil, red pepper, salt, black pepper, and worcestershire sauce in a large baggie. Add asparagus and let marinate for two hours or more. Roast in the oven for 10 minutes. Serve hot.