For tonight's dinner I was inspired to do individual lasagnas from
Pinterest
. I had seen lasagna cups made in a cupcake tin. Since Nick thinks that ramekins are easier to clean than cupcake tins, I decided to try it this way instead. (If I cook, he cleans and vice versa.) This is a no ricotta lasagna recipe that I came up with for Nick's dairy issues. He can eat yellow cheese, but white cheese is no good. I also added cream of mushroom broccoli and cheddar cheese filled crescent rolls.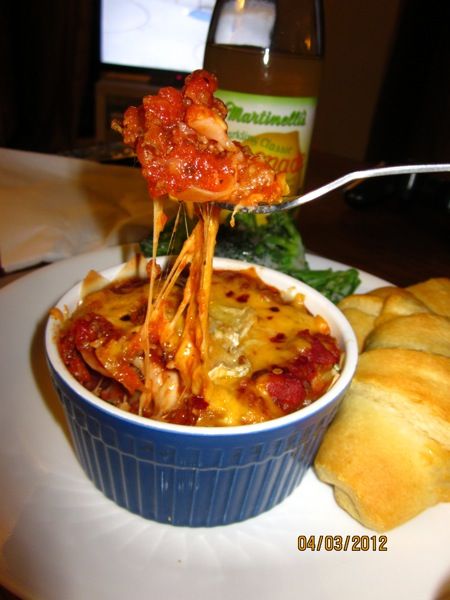 Cheddar Cheese Lasagna
4 cloves garlic, minced
1/4 lb ground beef
1 jar Classico Tomato Basil pasta sauce
2 c cheddar cheese, shredded
1 pack wonton wrappers
4 c baby spinach
4 slices brie (optional)
Directions:
Preheat oven to 400 degrees. Sautee garlic until lightly brown. Add ground beef and cook all the way through. Once cooked, add tomato sauce. Bring to boil and then let simmer for 30 minutes. Layer ramekins starting with sauce, two wonton wrappers, spinach, two wonton wrappers, sauce, two wonton wrappers, cheddar cheese, two wonton wrappers, sauce etc. For the top layer smother with sauce and then a layer of cheese. Add slice of brie if desired. Bake in oven for 15 minutes or until bubbly.
Grade: A