I totally forgot to take pictures of last night's chicken Tikka Masala! I had picked up a container of pre-made sauce and chicken tenders. It was super easy to throw the tenders into the sauce and let it cook for 30 minutes.
Tonight I did remember to take pictures. A while ago, I had made my Mom's black bean and pork loin with bell peppers dish. She nowadays, she always uses boneless pork because she said that my brother is too lazy to deal with bones. Nick liked the dish the first time I made it, but thought that he would like it more with bone in. It really does turn out better with bone in. I had gotten a strip of pork short ribs from Sprouts. I sliced the ribs, threw them in a pot with a little bit of salt and pepper until they were browned. Using a premade
black bean-garlic sauce
, I braised the ribs with red and green bell pepper for about 2.5 hours while I went for a run and did my nails. Holy moly, the dish turns out way better with bone in. Normally my Mom and I don't use red bell peppers because they don't hold up to the braising as well, but I had them in my fridge from the week before and wanted to use them before they went bad.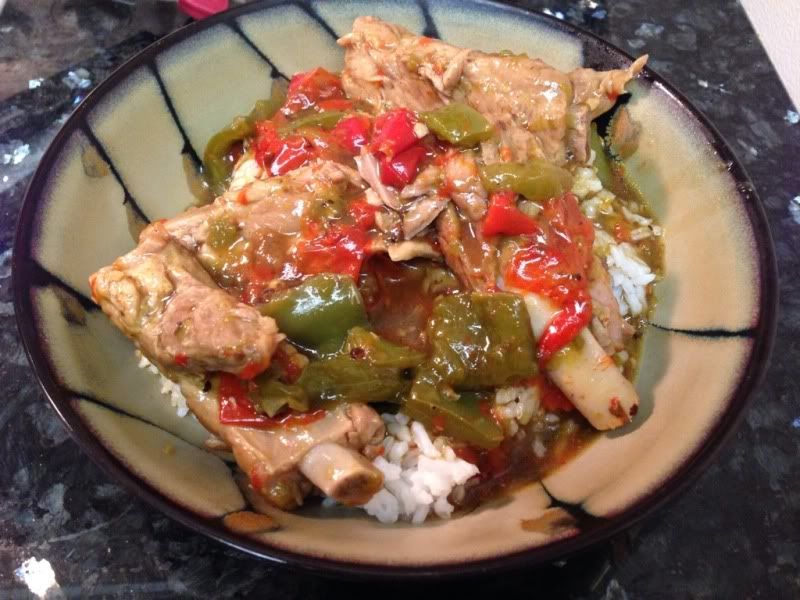 Mom's black bean pork
3 lbs pork short ribs
4 tbsp black bean garlic sauce
2 bell pepper; chopped
salt and pepper to taste
water
3 tbsp corn starch
Directions:
Cut ribs into individual pieces. Salt and pepper meat. Brown over medium-high heat. Add black bean sauce and cover with water. Bring to a boil then reduce to simmer; cover cracked. Let simmer for an hour. Add bell pepper and simmer until meat falls of the bones; cover off. Once meat is ready, in separate bowl mix corn starch and some of the braising liquid. Add cornstarch liquid to pot. Stir until braising liquid becomes thick. Serve over rice.