We haven't crock potted for quite some time because Nick said that whenever we do crock pot meals they are acidic. I had never noticed before, but after he mentioned it, I agreed. So we laid off the crock pot meals for a really long time. This week though, I thought I'd try it again. I didn't think that it was too bad, and it was darn easy. I got a bone-in turkey breast from Sprouts with the intention of using it for two meals. We are babysitting Nick's nieces and nephews so I plan to put the leftover turkey into their mac and cheese...or at least our portions of mac and cheese since they may not like turkey in their noodles. If we still have some left over after that, I'll use it for breakfast on Saturday with eggs.
I had prepped the turkey the night before while I was making Monday night's dinner. It was another Allison's creation as I was trying to use up cilantro and limes before they went bad. NWD! I threw in a can of Cream of Chicken soup with a box of chicken stock, mushrooms, and onions. It turned out pretty well and not acidic at all. I'm trying to mentally narrow down the normal ingredients that I put into the crock pot. I think I usually use a lot of onions. I only put one in this time so that could have done the trick. There were also no tomatoes, which always turn out acidic to me in a crock pot even though I add a pinch of sugar to help balance it out.
There was quite a bit of broth left over so I used it to make rice and Nick made a gravy. We still had broth left over, but much less than if we didn't use it to make the rice. The rice turned out like a rice pilaf and the gravy made the dish taste like a turkey pot pie. The last complaint I have about crock potting: the dishes never come out very pretty. ...but that is a minor detail.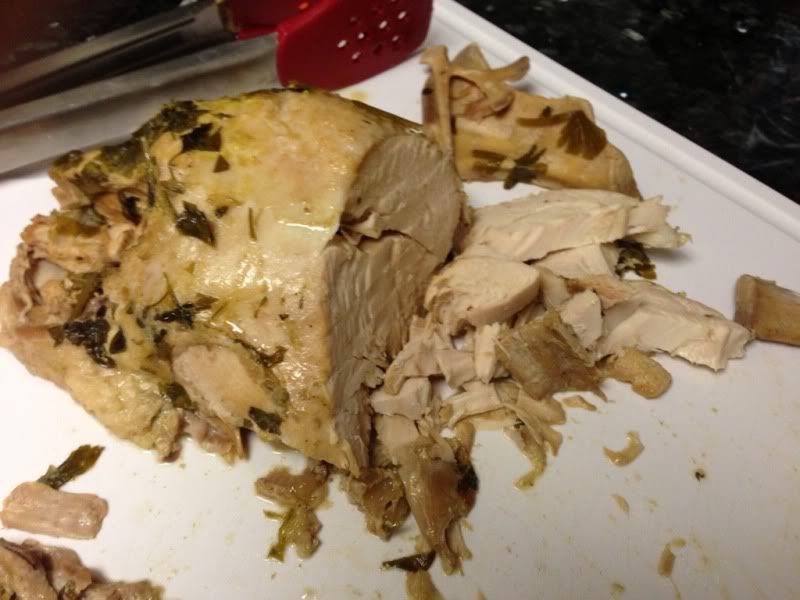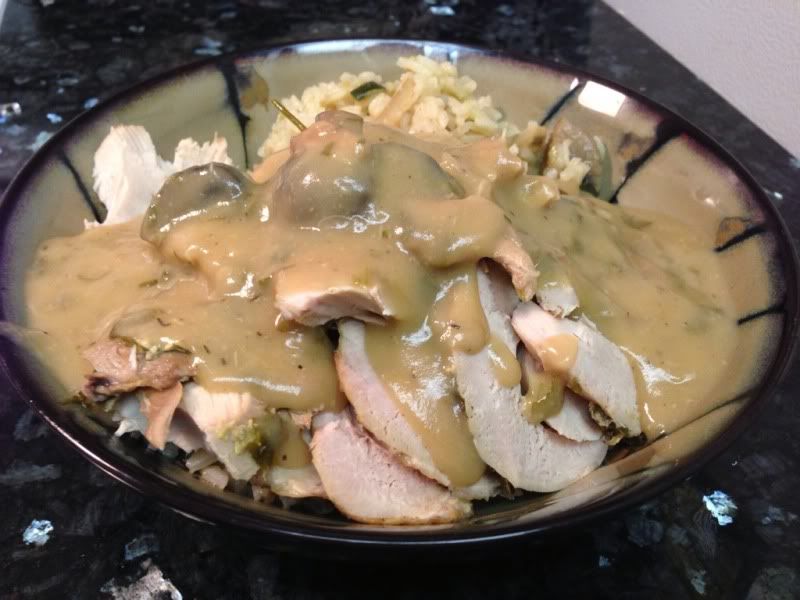 1 turkey breast

1 can Cream of Chicken soup

1 box chicken stock

1 bunch cilantro, roughly chopped

1 onion, quartered

5 mushrooms, quartered

1 lime, quartered

1 jalapeno, halved with seeds
Directions:

Combine all ingredients in crock pot and cook on low for 8-9 hours.
2 tbsp butter

1/2 c flour
Directions:

Melt butter in small sauce pan. Add flour and stir to cook. Add broth and whisk until it becomes desired consistency.