I hopefully will catch up with all of our travel blogging, but I don't want to miss out on the meals I'm cooking in the mean time. We ate so much on our trip that I'm putting us on a low carb, white meat, high foliage diet. Yesterday we ordered a pizza because we were too jet lagged to make anything, but tonight I kicked off our healthy diet. I used a whole pound of ground turkey, but reserved half of it to cook up with scrambled eggs. You could probably add some bread crumbs to the meat mixture, but I opted not to so that I could stick with our diet. I also made a fresh tomato and celery leaf salad and roasted cauliflower. I had learned to make the salad from an older Italian woman I had met in NY. It is delicious and very refreshing.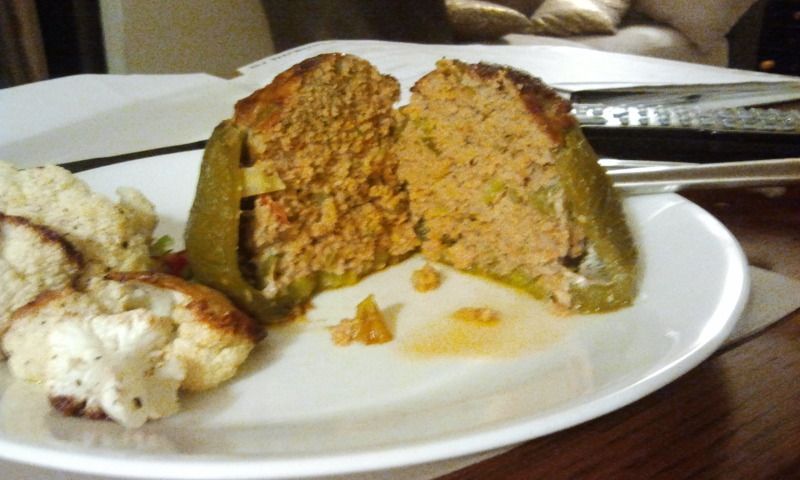 Turkey-stuffed bell pepper
1/2 lb ground turkey
2 bell peppers
1 celery stalk, finely chopped
1 tbsp pasta sauce
1 tsp red wine
10 fresh sage leaves, finely chopped
3 tbsp garlic powder
3 tbsp onion powder
2 tbsp black pepper
2 tsp kosher salt
Directions:
Preheat oven to 400 degrees. Cut tops off of bell peppers and clean out center. I chose green bell peppers because they were a better size for stuffing than the red ones at my grocery store, but you can use whatever color you prefer. Chop tops of bell pepper, reserve for turkey mixture.
In separate bowl, mix turkey, celery, pasta sauce, red wine, sage, garlic and onion powder, pepper, salt and reserved bell pepper tops. Mix well.
Spoon mixture into the bottoms of the bell pepper cups. Bake on a lined cookie sheet for 1 hour 30 minutes.
Tomato-Celery leaf salad
4 Roma tomatoes, diced
Tops of celery bunch
4 tsp kosher salt
Directions:
I chopped off the tops of the celery and finely sliced the stalks and roughly chopped the leaves. Using a fine sieve, I mixed the celery and tomatoes together over a bowl to release excess juices and water. Sprinkle about 4 tsp of kosher salt over the tomato-celery mixture and let combine for 15 minutes.