I think I'm in love. I haven't been this stoked about a makeup product since the Naked Palette. These things are just so easy! I've heard a lot of great things about NYX cosmetics, but hadn't tried them until recently because I didn't want to pay shipping and Sephora doesn't carry them. I found a couple of sellers on Amazon that have free shipping so I decided to give them a try. The texture is so creamy and smooth that it glides right on without tugging at the skin. I use these on my eyelids for full coverage. All you have to do is color them on like a crayon. The staying power is phenomenal also. I don't use a primer when I put this on and it seems to last all day even when I have a run incorporated into my routine.
My favorited
Jumbo Eye Pencil
is Iced Mocha. It's a soft brown color that blends well with my Naked Palette or can be work alone. I use the Cottage Cheese and Strawberry Milkshake colors less frequently, but they really pretty too. The Cottage Cheese works well as a highlighter. I find that it is a little to white to wear by itself. All of these colors blend well with the Naked Palette. Whenever I go out now, I use Iced Mocha as my base or stand alone. It is very subtle and so quick to apply that I can color it on right before running out the door. Last night I had to stop myself from buying another five jumbo pencils. I have a feeling that I will end up ordering them eventually though!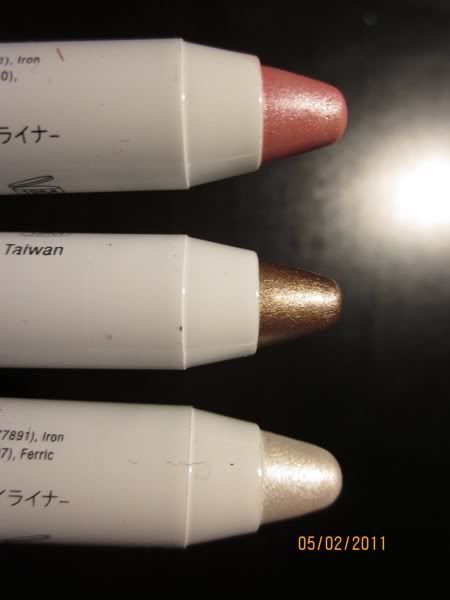 From Top: Strawberry Milk, Iced Mocha, Cottage Cheese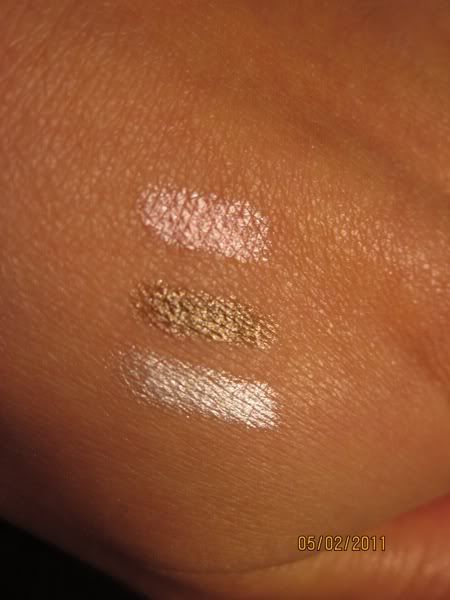 From Top: Strawberry Milk, Iced Mocha, Cottage Cheese
----
I decided to purchase more on Amazon and will post pictures when I get them. I originally wasn't going to put on makeup today since we have a softball game tonight. I got bored at work so I did a "look" with the three pencils that I have here. I used the pink as an all over color, the brown in the outer corners, and the white in the center of the lid. I also
tight lined
with
Stila's Kajal in Onyx
, which did carry over into the shading of the brown. Hopefully it doesn't rain later at the softball game.
I don't know how the ladies on Youtube and beauty
blogs take pictures without blinding themselves!
This is without a flash because I was seeing spots from
trying to do it with flash.