I've been training for my first half marathon for a couple of months now. The day finally arrive. I have to say, it was probably one of the most physically taxing things I've done since I was in competitive gymnastics, but boy, does it feel good when you finish. My Uncle Daniel agreed to do the race with me. I think he thought it was pretty difficult too since he normally runs flat half marathon races. This course was pretty darn hilly at
Del Valle Regional Park
. I finished at 2:49 hours and came in 9th out of 12 in my age division. At least I wasn't last!
We had to do the loop twice. It is so disheartening when you are
doing the first loop and you see a sign that you've hit the ten mile
mark. That just means that you have to do it again AND you're not
even that close to the end.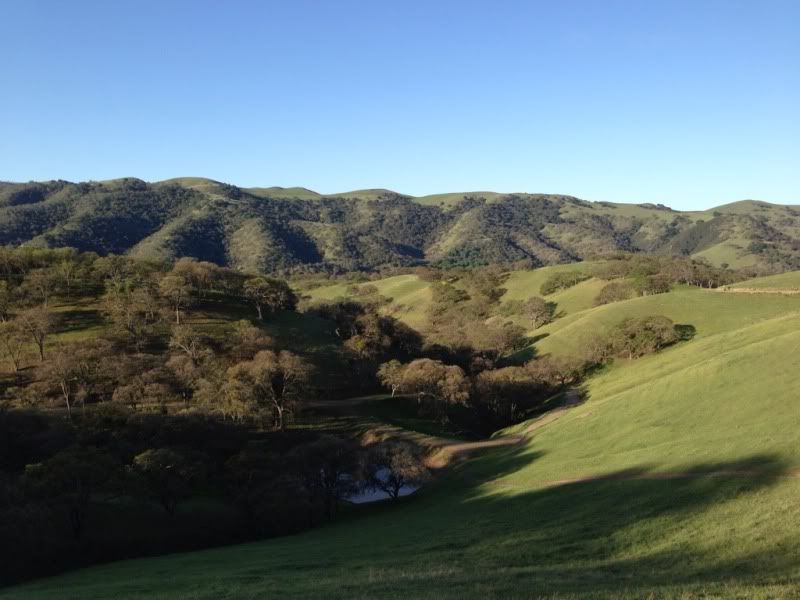 The first really large hill that we had to run up had this great view. The first
loop around the course I didn't take any pictures, but after rounding the large
loop a second time, I deduced that I wasn't going anywhere fast so I stopped
to enjoy the view.
On the second loop, these cows came to watch the runners. They're probably
thinking, you stupid humans. What are you doing?
This is one of the hills. I managed to run up to about where
the second pole is on the right, but walked the rest of the way.