One of the things on Nick's bucket list was to see Formula 1. With that checked off the list, I had to think hard about what to get him for his upcoming birthday. Next bucket list item, butchering a pig. I found a place in Napa called the
Fatted Calf
that hosts whole hog butchering classes. Perfecto mundo! I'm not exactly sure what I'll do for the rest of our lives together, but I will take it one birthday at a time.
I had to book the class months before since they are apparently very popular. Who would have thought that something like that would be? To my surprise, I was the only female in the class. It was a great experience nonetheless and I won the "estrogen award". Many of our classmates had received the course as gifts from their wives and girlfriends and then were dropped off while their lady friends went wine tasting. I thought it was great! Admittedly, I didn't as much butchering as Nick did once the wine came out. I got my money's worth in info, charcuterie wine, and food consumption. I would definitely do a class again. My only complaint is that we didn't get to bring home as much pork as I thought we would.
I don't have pictures from the very beginning before we started chopping up the pigs, but I have the pictures from midway through. Nick has the instructional/beginning part on his camera. I'll have to remember to get those and post an addendum. When we first arrived the were three pig halves on large butcher tables. There were four students per swine half and an instructor per table. The instructor taught us how to chop off the legs and then the best way to deconstruct the pigs. From there we each had a piece of pig to work on. I learned how to de-rib the pig. Pretty cool.
After we finished cutting up and preparing our take home portions, we sat down for a delicious meal that the Fatted Calf staff put together for us. They served a delicious roast with baked beans and artichoke halves. I would have eaten way more, but since we were in front of a strangers I decided it was best to look like I had the appetite of a normal female.
Nick sawed through half of the pig once the legs were cut off. They use a
hack saw to get through the main bone and then a boning knife for the rest
of the cutting. Using the boning knife prevents tearing of the meat.
Hard at work getting the shoulder joint out. They were nice enough to wrap
up the bone for us to take home for Emmy. She sure did enjoy it.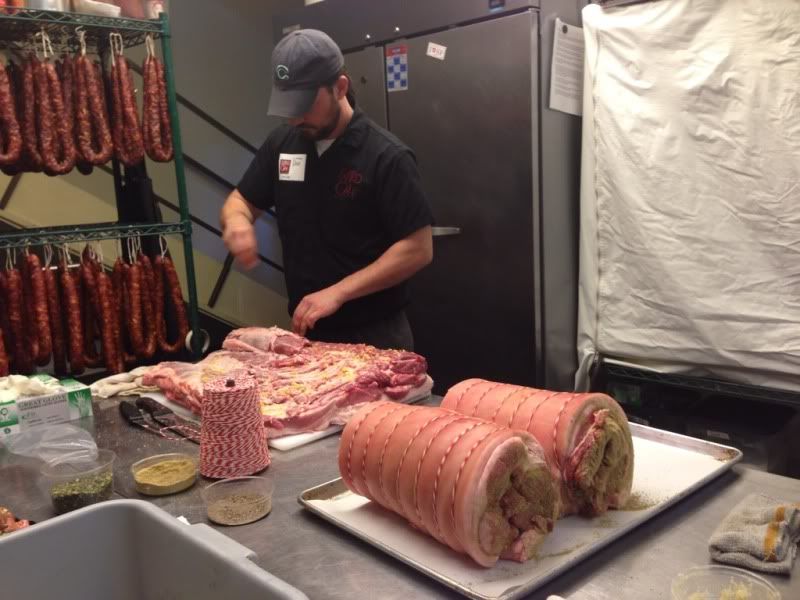 After deboning the pig halves, one of the instructors taught us how to season
and then tie up the pig. They leave the skin on, which crisps up in the oven and
turns into delicious goodness.
Using a huge industrial grinder, they ground up fatty
pieces of meat to make pork patties wrapped in caul fat.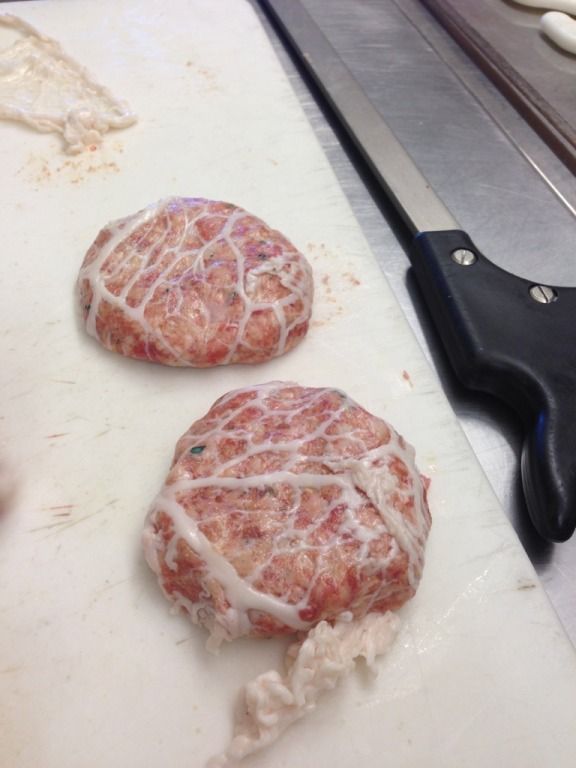 The caul fat acts as a self baster.
Pretty cute even in its dead, furless state.
The ears are already cut off. Those suckers are pretty big!
The instructor took off the skin in just a couple of minutes.
I thought this was really cool. It even looks like the snout!
The Fatted Calf's curing room.
This is a sample of the large roasts that the instructors showed us how to
roll up. They cooked this on low heat for about five hours. Holy moly it
was delicious.
Baked beans
Pork, artichoke hearts, baked beans, and a mustard dressing for the pork.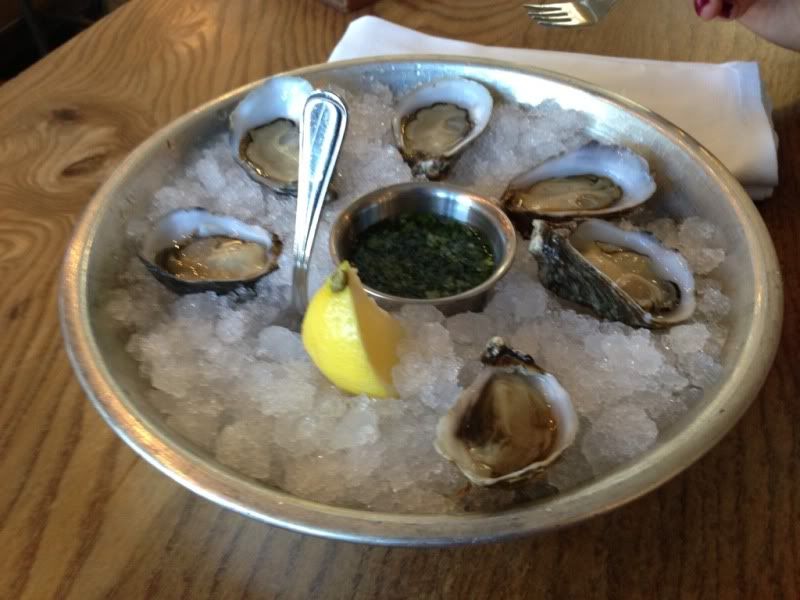 Next door was a small Hog Island Oyster restaurant. While Nick went to get
some ice cream for dessert, I got myself half a dozen oysters.