I wasn't planning on doing my nails until I was at work like usual, but it was raining yesterday and I wanted to test out one of my new colors. When wandering Target on Saturday I saw that they started carrying Essie polishes and for $0.71 cheaper than my local CVS. Score! They had a lot more colors and at $7.79 a bottle, I was able to get two. For some reason once nail polish hits $8.00 I think it's really expensive. Anything up to that price point is fair game though. I was only going to get Mochacino, but then saw Trophy Wife and knew I had to have it. In the photo they have on their site it looks more like a forest green, but it is really more of a turquoise that reminds me of
The Little Mermaid
. Because the weather was so gloomy, I wanted to try out Mochacino. It started with me just wanted to test it on my pinkie nail and then I ended up painting my whole left hand. I figured since I was half way done I would just keep going.
I swiped my picture from
Once Bitten
, who does a splendid job of reviewing this color. In the pictures I took of my own nails I only used two coats, but have decided that three looks the best with Essie polish as I experienced with Sand Tropez. Once Bitten also used three coats on her nails.
Image from Once Bitten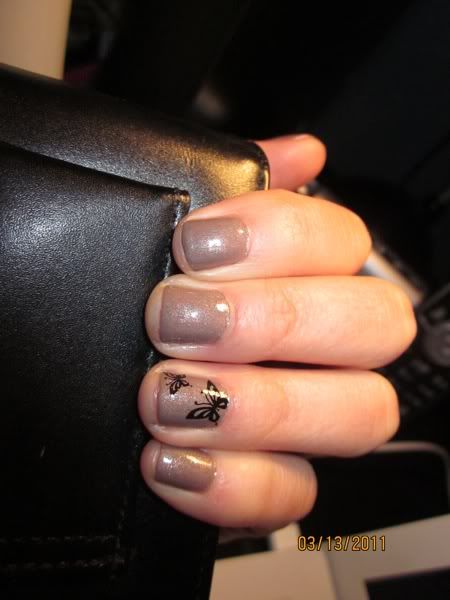 Flash
No Flash
Trophy Wife