Nick and I decided that we would kick off the grilling season last night. It was so warm and sunny that we couldn't pass it up. I had seen at Food Maxx that whole chicken legs were being sold for $.76/lb. If you are unfamiliar with grocery store prices, this is a good deal. A fabulous deal, in fact. I was able to get enough food to feed six people for under $8. Since I had some fresh thyme in the fridge and grow my own sage, I didn't have to worry about buying expensive herbs. When it comes to season, I will be planting thyme, basil, and rosemary. My mom gave me the idea to plant some cilantro too, but I'll have to check to see what season it best grows in. I don't think that I want to do tomatoes this year. If I do, then I will only put in one or two plants. There were too many tomatoes to eat last year, but not enough to put up in cans.
Back to the subject at hand. Originally we were going to throw our chicken legs in the oven to roast, but when we woke up to this beautiful weather we decided that it was time to break out the grill. I was a little weary of a marinade because I find that you don't get much of the flavor when you grill, but it turned out pretty well. I prefer spice rubs to marinades when grilling. Nick suggested that we use some thyme, sage, cayenne, and lemon in our marinade. This is what I came up with:
Chicken marinade
4 tbsp fresh sage, minced
3 tbsp fresh thyme, minced
1 lemon, zested and juiced
8 cloves garlic, grated
4 tsp salt
4 tsp pepper
1 tbsp cayenne pepper
6-8 tbsp evoo
Directions:
Combine all ingredients into gallon-sized ziplock bag. Let chicken marinate in refrigerator for 3-4 hours, rotating chicken every hour.
I added garlic to his idea because I always add garlic to everything. This weekend Uncle David had given us a bunch of lemons. This was the best lemon that I had ever used. My mom thinks that they are Meyer lemons. If that is the case I'm going to plant a tree in my backyard when I get a house. I don't like lemons that much, but this one was so pretty and juicy. The zest looked like candy and there had to be at least half a cup of juice in that one lemon.
Unfortunately, because we have the grill on the opposite side of the house, we can't see it from our backyard window and failed to put on the cover over the winter. The flavor plates that disperse the heat evenly got rusted and the gas element was cracked. My mom is going to get new flavor plates and we're hoping that little gas pipeline within the grill will shoot enough gas in to power the far end of the grill. We're a little disappointed that one winter of not covering it has done so much damage, but next year we will be sure to cover it. The grill we had in NY was out in the heat and snow and it never had this kind of wear and tear. Too bad Costco no longer has their lifetime guarantee otherwise we'd take it back.
Nick ended up taking off the flavor plates because we didn't want rust fumes and particles near our food. He was a little worried that there would be hot spots and that the chicken wouldn't cook evenly, but he did a good job at watching and rotating the chicken so that didn't happen. The chicken was quite tasty, and perfectly grilled.
Nick hard at work manning the grill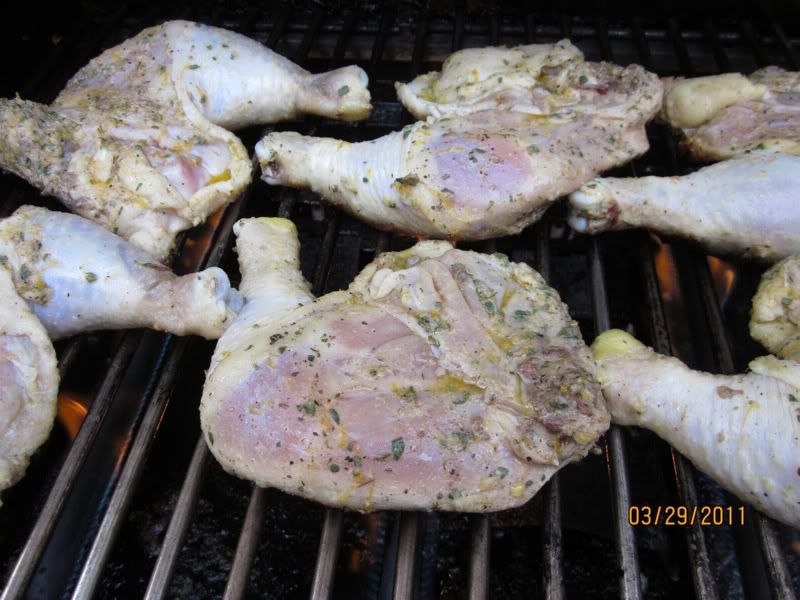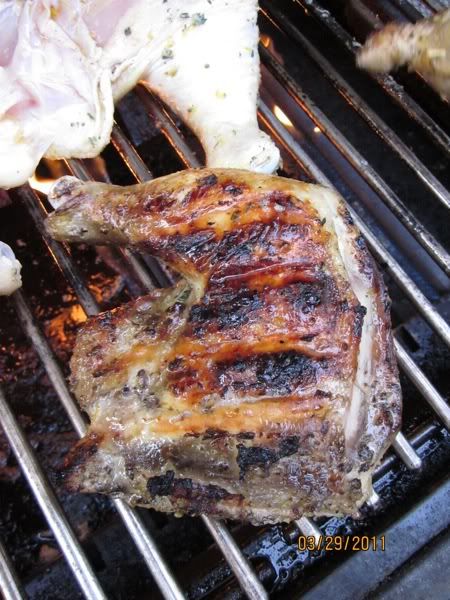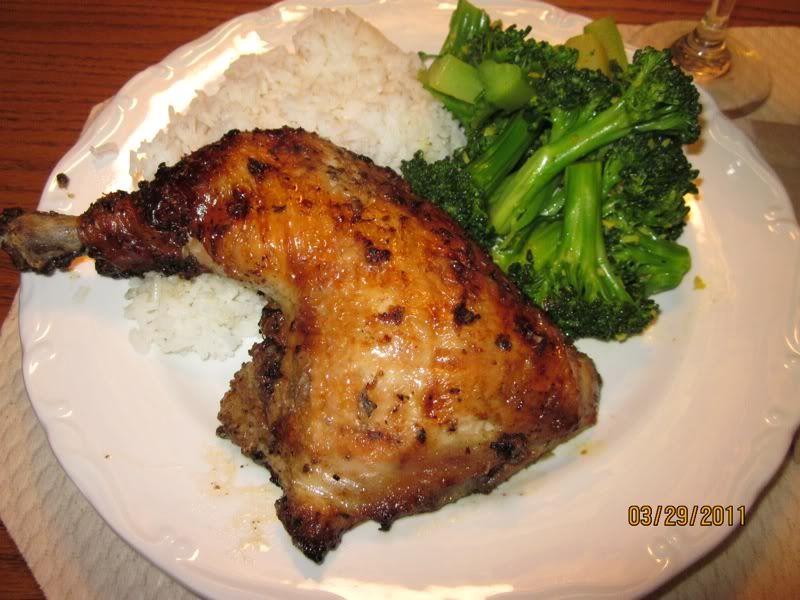 Turmeric Broccoli
5 cloves garlic, minced
3 bunches broccoli, cut into bit sized pieces
2 tbsp turmeric
2 tbsp EVOO
Directions:
Parboil broccoli until bright green and still slightly raw. Rinse under cold water to stop the cooking. Sautee garlic in EVOO for one minute. Add turmeric and stir. Add broccoli and toss together. Serve hot with rice.