I had been going back and forth to Sally's Beauty to try to find the
Seche Vite top coat
. I was able to find it the first time I went to the store, but for the month of February they were having a sale where you could get the Seche Vite base coat free if you bought the top coat. That is a bargin because the
base coat
is normally $6.99. I had to have the deal especially since I was going to purchase the top coat anyway and was looking for whichever brand of base coat was the least expensive. The only thing wrong was that my Sally's never had the base coat in! By the end of the month they still didn't have the base coats on their shelves so they gave me a rain check. I was able to go get it a few weeks afterwards at the February sale price. This was great because I had a coupon for $5 off too! Of course I was unable to just get top and base coats I went for. I got a couple of sale items while I was there too.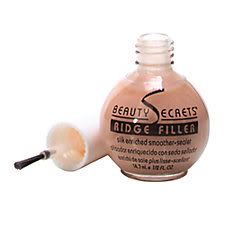 Ridge Filler
Org: $2.99
Sale: $2.29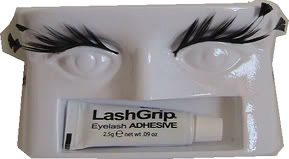 Ardell Dark Angel False Lashs
Org: around $12.50
Clearance: $1.99

Get a load of these lashes. I plan to wear these next Halloween but wanted to get them on major sale.
I've been using the base and top coats for a couple of weeks now and really enjoy it. I've never used base coats before and boy, what a difference it makes. I do like the top coat because it's nice and thin. I'm still a big fan of the
Sally Hansen's Super Shine
that I've been using since high school, but I find that it gets really thick in a couple of months depending on how frequently I use it. Since I just got this top coat I will have to see how it holds up, but so far so good. It's not quite as shiny as the Super Shine, but that's to be expected since it's a plain top coat. The one thing I really dislike about it is the smell. It reminds me of terpentine. I know the nail polish doesn't smell good as it is, but this is ultra stinky.
To sweeten the pot, the top coat is normally $7.99, but because I belong to the Sally's beauty club I got it for $6.79. The best part of all? Because of the $5 off coupon and the top and base coat sale I walked out the door only spending $6.63 for all four items. Can you believe it? I spent less than I would have on the top coat alone!