It was late and pouring rain after we got out of they symphony. I figured that I wouldn't be going to the 15k
Double Road Race in Pleasanton
the next morning. I hate rain and need a lot of sleep. I must have really wanted to go, however, as I naturally woke up at 5am to check the weather. After looking out the window, going to the bathroom, checking weather.com, and Facebooking, I got back in bed because the forecast said it was going to be raining all day. I laid in bed thinking about the race, knowing that come 11am I would be kicking myself for not going. The race was $45 and I kept thinking, I could have gotten a lot of makeup for that much money. So I told myself that if I couldn't fall back to sleep in five minutes I would go. I was out of the house by 5:50am.
I like the set up of this race. It was a nice stepping stone to see if my body could handle taking on a half marathon. First you run the 10k portion. Once that was done, more people showed up to do the Christmas 5k. With this setup, I was also able to get my 10k time, which is what I've been working towards. I was so disappointed when I came in 1 minute and 15 seconds slower than my goal of under and hour. I only walked about a hundred yards, but I was kicking myself. If I would have run a little faster and not walked that little portion I would have gotten under an hour. I guess this just means that I have to do another one. I'm going to blame it on the rain. The suburban scenery of Pleasanton was much more boring than the Orinda reservoir. It made the double loop seem really long.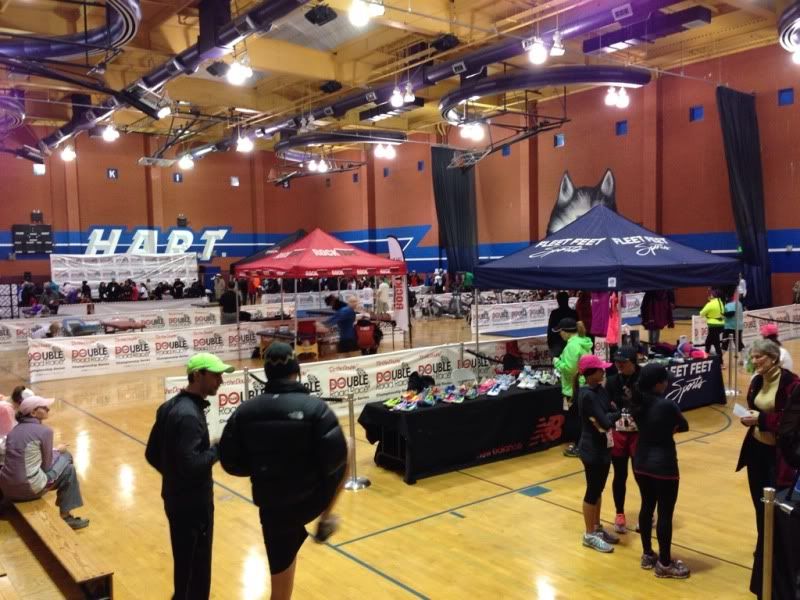 The race started at a middle school gym. They had stationary bikes, ellipticals,
treadmills, stretching mats, and massage therapists for the runners. I would have
liked a massage therapist to help stretch out and rub down, but my clothes were
wet and I didn't really feel like having anyone touch me. There were also a ton of
vendors. I love getting swag after races, but I left without any because it was so
cold and I wanted to get out of my wet clothes. By the start of the 5k, my socks were
squishing in my shoes from the rain.
I was able to meet up with a friend during the 5k portion, but promptly left afterwards. She was going for after-run beers with her boyfriend, but I had to decline. I figured my legs would start to go into shock and I wanted to be planted on my sofa before that happened. Luckily, I thought ahead and brought a full change of clothes to put on in the car. When I did get home, I went to pho with my parents because I was starting to feel terrible from lack of food. I had only had a half a banana and a ton of water. Usually for races I make a couple of hard boiled eggs the night before to eat for breakfast. Since I didn't think I was going to the race, I didn't make the eggs. Post pho, I felt much better and I camped out with a heating pad on my legs on my parent's sofa. It just so happens that the
Ironman Triathlon
was being aired that day and made me feel super inadequate for laying on the sofa after only a 9.3 mile combined run.
My joints were extremely stiff, but I managed to get myself up to have dinner with Nick's sister at a restaurant that is quickly becoming my favorite local datenight spot,
Va de Vi
. Melissa was planning on spending Christmas with their extended family while Mr. and Mrs. Fong were planning on spending it with my family so we wanted to do our gift exchange early.