Where to start, where to start. Maybe with a Holy smokes, you're CRAZY! This is also a good time to sigh and shake your head. When my mom says she goes hog wild at the Meyer kitchen supply sale, it's nothing compared to the damage I did this weekend. I was literally bouncing around the store with a huge smile on my face scanning the cosmetic aisles for the little 75% off stickers. Ohhh how there were many. I just couldn't get enough! I went to three different CVS' in my area and found different deals and products at each location. Last night I was just going to CVS to get some face cream, but decided I didn't want to spend a lot of money on it. Then, low and behold, I came back with four more lip glosses, a cream blush, and nail polish. In the last four days, I've been to CVS five times. I'm banning myself from CVS...after today because I have to drop a movie off at Redbox, which is inside the store.
Originally, I wanted to post pictures of everything that I got, but by the end of the weekend it just wasn't feasible. No right-minded person who isn't planning on becoming a makeup artist and on a low income should be allowed to do what I did. It's just plain crazy. I didn't think that you would want to see every single thing that I purchased so I compiled all the days worth of CVS trips into one picture and will just show you some of the things that I'm a little more excited about. I ended up spending $75.95 and saving $165.86. (I know, I know, I could have saved a lot more if I didn't get any of it.)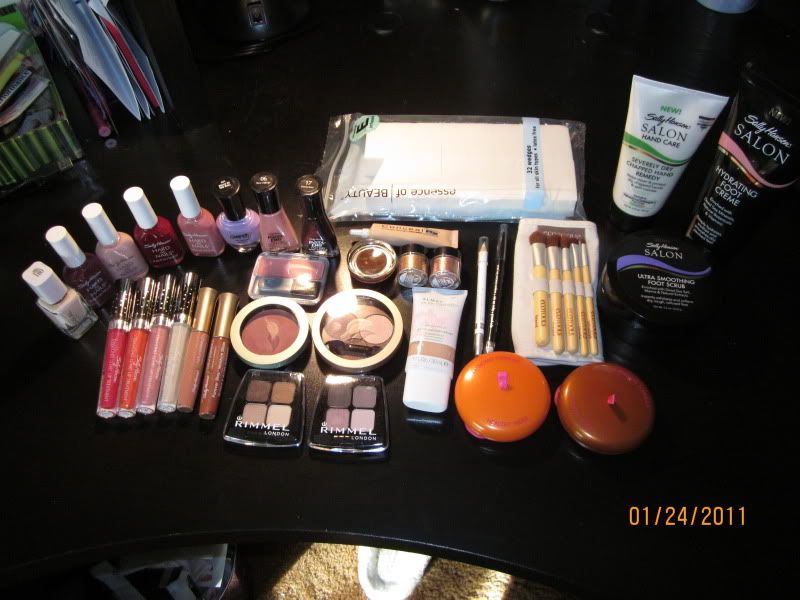 My Complete Haul
That little brush set wasn't actually from CVS, but I included it because it came in the mail over the weekend. I like the brushes a lot. They are nice and soft and fit into my existing brush set case. So far none of the bristles are falling out, but I haven't used them extensively yet. I've noticed in the last few weeks that my Sonia Kashuk brush set that I got from Target a the beginning of 2010 is starting to have a lot of fall out. I've tried washing them because people say it helps get rid of the loose bristles, but it seems to be making it worse. I have brush bristles left on my face after applying blush with the blush brush and from the shading brushes when I apply eye shadow.
Sonia Kashuck: Out of the Woods 6-pc brush set; Spring 2010 collection
L'oreal Hip High Intensity Pigment

Org: $13.49 Sale: $3.25

Left:#924 Visonary

Right: #848 Tenacious
I am particularly fond of the copper color and have worn it out over a base of the dark brown shadow pictured below from the Rimmel palette. These are very similar in pigmentation and texture as the little Christmas pigment set that Nick's sister gave me from Mac.
Smokey Brun
Org: $7.89 Sale: $1.95

Smokey Purple
Org: $7.89 Sale: $1.95
I like the brown set and have added this to my everyday makeup bag. The purple is pretty too and I'm considering putting that in my bag if I can fit it.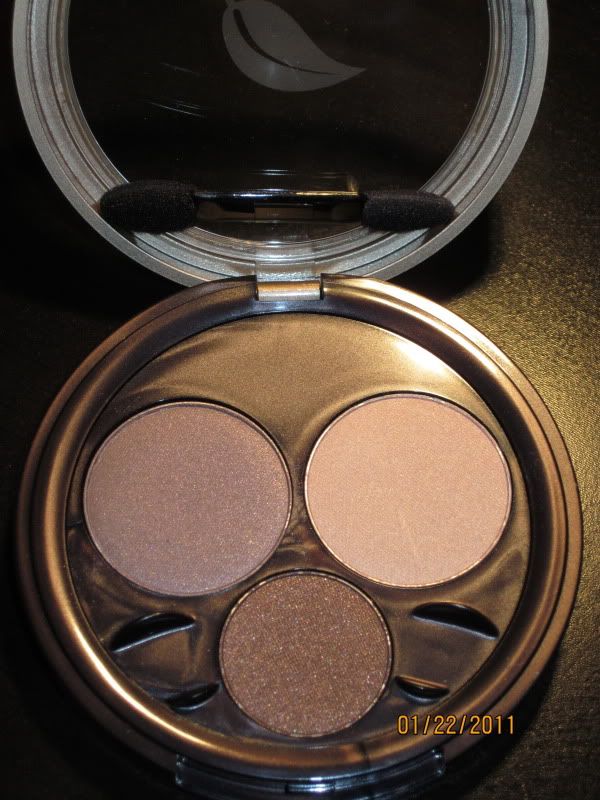 Quartz Eye Palette
Org: $8.99 Sale: $2.19
Since I discovered that neutrals look better than all the bright colors that I have so diligently collected over the years, I purchased this trio from the Sally Hansen Natural Beauty collection inspired by Carmindy from
What Not to Wear
.
Confetti #071 Belle of the Ball
This was not on sale, but I thought that the color was really pretty and believe it or not, I don't already have a color similar to this.
The reason I posted this picture is because I really like the dark color on the far left. I also got four bottles of the Hard As Nails line for only $0.79 each. I just couldn't pass them up at that price.
Years ago my mom had gotten me this cute little beauty mirror that has a light going around the edge of it. I thought it was so pretty and sophisticated looking. The only problem was that the mirror was a magnifier and made me feel sick whenever I looked into it. It was basically a large concave mirror/fish eye. Bleh. Needless to say, I didn't use it ever, but I kept it out anyway because I liked the way it looked. On Friday I went to Ross to find myself a proper mirror to use at my desk.
This one doesn't have a cool light, but is much bigger and doesn't make me feel ill when I look into it. For $20, I thought it was a good deal. While at Ross I got my mom four different sized OXO push-pop-top containers. Of course, they were were on the highest shelf so I could barely reach them and was afraid I'd make the whole shelf come toppling down on me. It's a good thing I had grubby little fingers to grip onto the container way in the back.