Much to my father's chagrin, Emmy has once again created herself a dog run. She did this last year when we were taking care of her, but then when she went back to Auntie Julie's the grass began to grow back. Now the run is back in full swing. As I said in previous posts, she runs back and forth, back and forth for hours. I actually haven't taken her for a walk in a couple of weeks because she get so much exercise running up and down. You should see how fast she runs! Maybe I'll try to video tape her and put it up on Youtube. Her fur blows behind her and she looks like a little black and white jet. It would be nice if she ran around the whole backyard like she used to, but then she'd get burrs that we would have to pick out. This stretch is pretty long though and she get plenty of exercise. Her waist is starting to look pretty trim and her stamina for frisbee playing on the weekends is growing. I used to take her out before work and she'd be tired in ten minutes. Now I have to take her on the weekends because she goes thirty minutes or more! So now I put her in the backyard with a bowl of water for an hour or so and she runs herself until she's tired and wants to come back in. She rarely stops for a drink, but her throat gets dry from all of her "talking" to the dogs next door so every once in a while you'll catch her pausing for a water break. My poor neighborhood is no longer quiet.
The Track
Step 1: Checking the front of the house to talk to the dogs by the gate.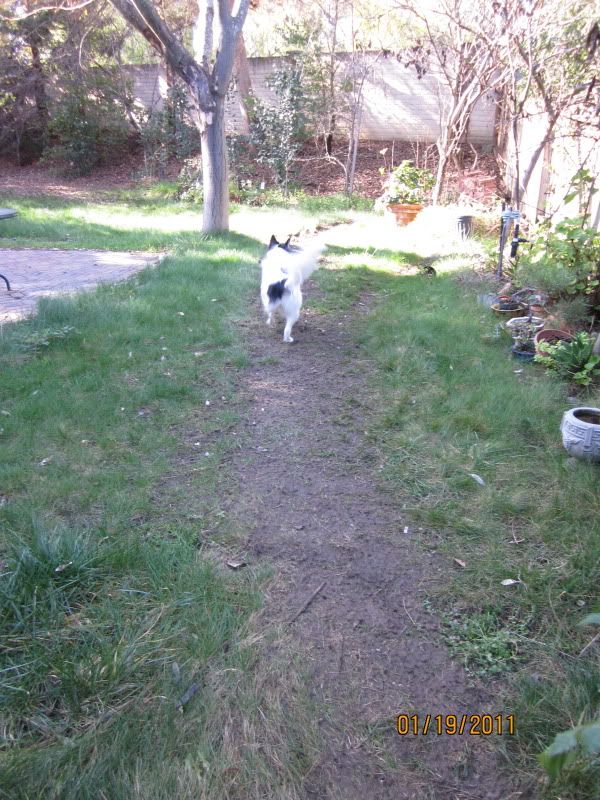 Step 2: Going to the back of the yard to tell the dogs to come to the back of the yard with her.
Step 3: Rounding the corner (you can see her tail behind the potted plant).
Step 4: By the fence preparing to start Step 1 again.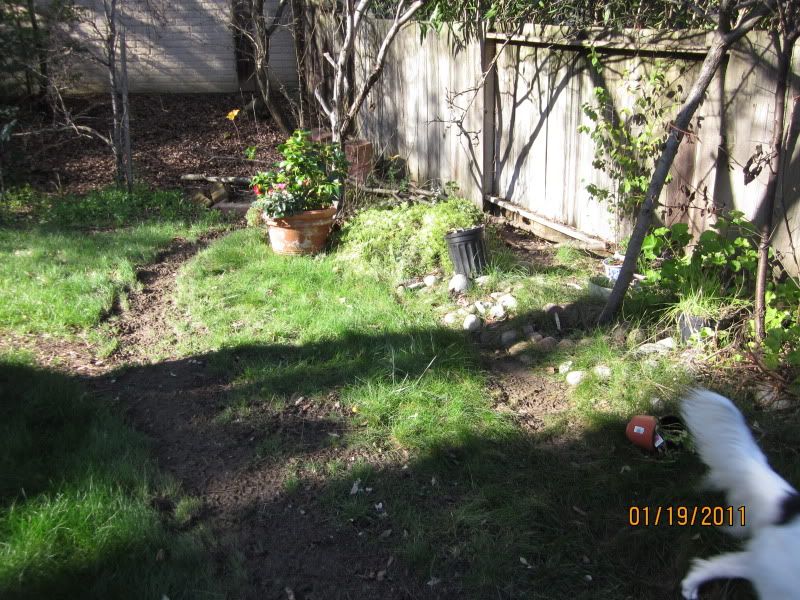 Step 5: Rinse and repeat.