[Just a head's up, I can feel that this is going to be a long post but I will try to keep it a brief as possible.]
I can't believe that the holidays are already over! Part of me is like, thank goodness, but the other part is like, how did it go so quickly?! Everything went off without a hitch except that after Christmas I couldn't move my left hand and couldn't sleep because my arms and hands were aching so badly. (I'm glad that part is over.) I am clearly not cut out for being a chef. Looking back at my calendar I don't know how we got everything done. There were so many things to do in my Tasks area that all I saw was blue and purple on my calendar.
This is what the week leading up to Christmas looked like. The week before and after looked very similar. I had my days planned down to the half hour for Christmas Eve, Christmas, and the day after for Josie's baby shower. It of course didn't end up the way I planned, but I seemed to manage to get everything done at some point before all the different parties. I was the most stressed out Christmas Eve because I had tasked myself to do the most preparation stuff for Christmas Day and Josie's Baby Shower before we headed to Jen Jen's for Christmas Eve festivities. I even had a list of things for Christopher to do since he was going to be my sous chef for Christmas day. I think I would have been on schedule but since my mom was out running around to three different stores trying to find clams for our Christmas dinner she wasn't going to have enough time to make the cabbage rolls that she had planned to take to Jen Jen's house for dinner. So I looked up a recipe and started making them in the allotted time that I had set for the Chicken Salad, which I had mostly prepared the night before. Not only did that set me back in time, but they didn't taste good! I was very disappointed by the outcome. The seasonings smelled right, but I also like the smell of raw meat so I couldn't really tell. It could have used a lot more salt and pepper. We'll just say that it was high blood pressure friendly. Anyway, so Christmas Eve was a blur of tons and tons of chopping and preparing for the upcoming parties.
Let's back up a bit. Amongst all of the hustle and bustle with the holiday preparations and parties, Nick's parents were in town so I was trying to spend some time with them too. They took me out to the
Yacht Club
in Walnut Creek for oysters and some good seafood. I was unsure if I wanted to go because I was trying to get decorations and planning done for Josie's baby shower, but my mom told me that I better go since there was no way that they would be taking us there. Hahaha, so I went. This is the basket that I prepared for them before we met up for dinner. Kuwait is a non-alcoholic country so when they are home the Fong's like to indulge in some beverages. I got Mr. Fong a red and Mrs. Fong a sweet white since she doesn't drink much. In the basket is also a box of smoked salmon, smoked gouda, pate, an international cheese wheel, salmon spread, and water crackers. My mom helped me wrap it all up so that it was nice and pretty. After Christmas my whole family met up with the Fong family for dinner at a local Italian restaurant right before they left to go back to Kuwait on New Year's Eve.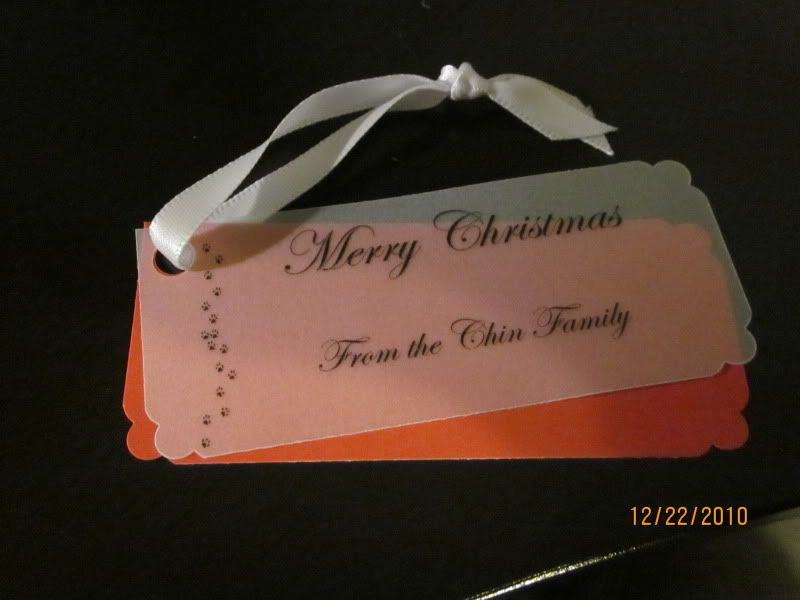 Every year our family goes around and gives out gifts to the neighbors. In the recent years my parents have been more selective of who they give these to since there are quite a few new families on the block who we don't really talk to. However, for those 10 lucky families, they got a cute bottle of merlot from Cost Plus. I was in the tag making mode after making menus and advice cards for Josie's shower so I made a little tag to hang on the bottles too. Those are little paw prints going up the side of the vellum.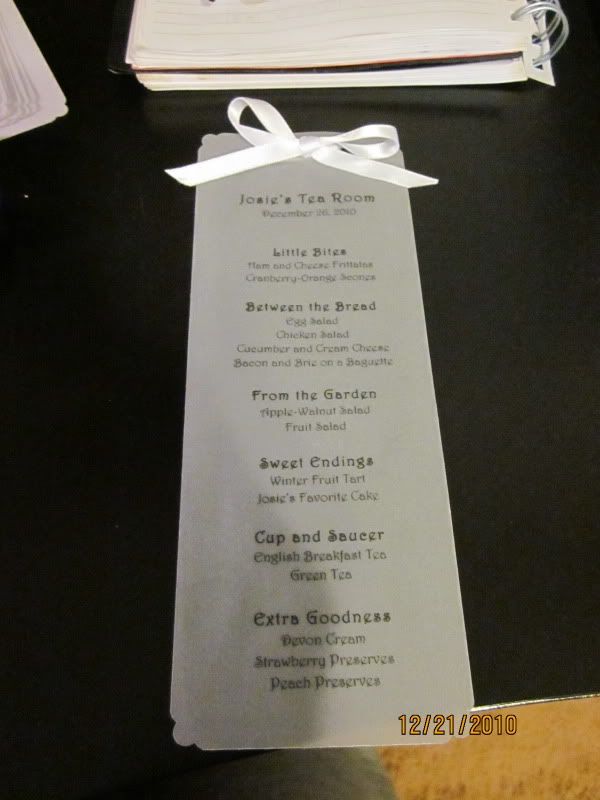 Aside from cooking and preparing for Josie's shower, these are the cones and menus that I made for decorations.
Homemade peach and strawberry preserves for the shower.
Christmas Eve: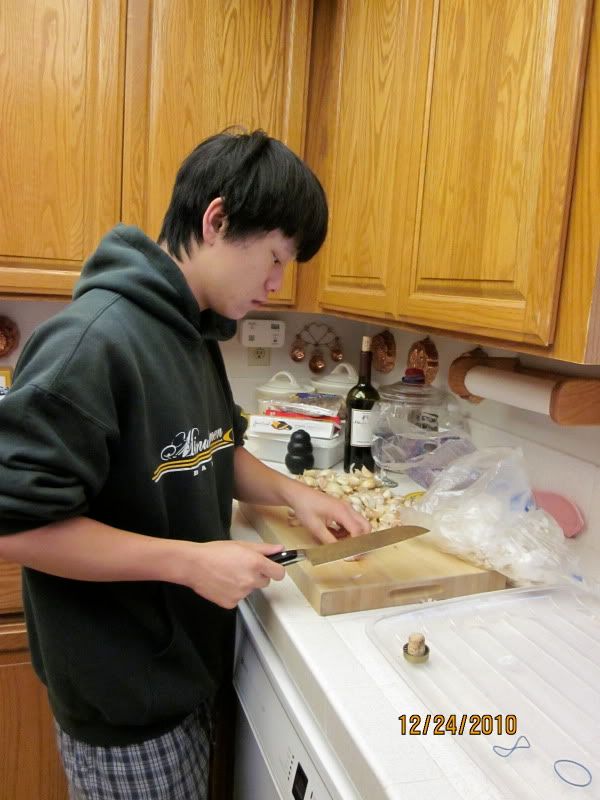 Because Christopher agreed to help me with Christmas dinner, he was set to the task of preparing my garlic...and I use A LOT of garlic. In the end I didn't need it all, but I didn't want to be scrambling around with my knife and cutting board while our family was arriving to chop more garlic. After mincing about half of the cloves by hand, he started putting them in my Magic Bullet to speed up the process.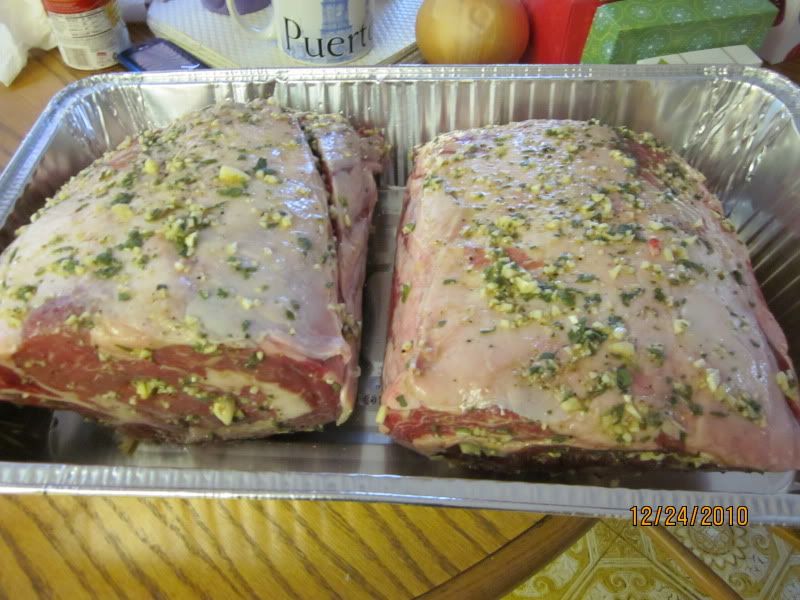 As Christopher was peeling the cloves and cutting off the hard end of the garlic, I was stealing them to shove into my giant pieces of prime rib that I was marinating for our Christmas party. I slathered it with salt, pepper, minced garlic, sage, and EVOO. Usually you would use rosemary for this, but we had sage and since it is one of my favorite herbs we used it. The prime rib turned out fabulously the next day with my Dad's keen eye and prime rib cooking experience. It was so tender and flavorful that I was pretty much patting myself on the back while I was chewing.
Just a few pictures from Christmas eve: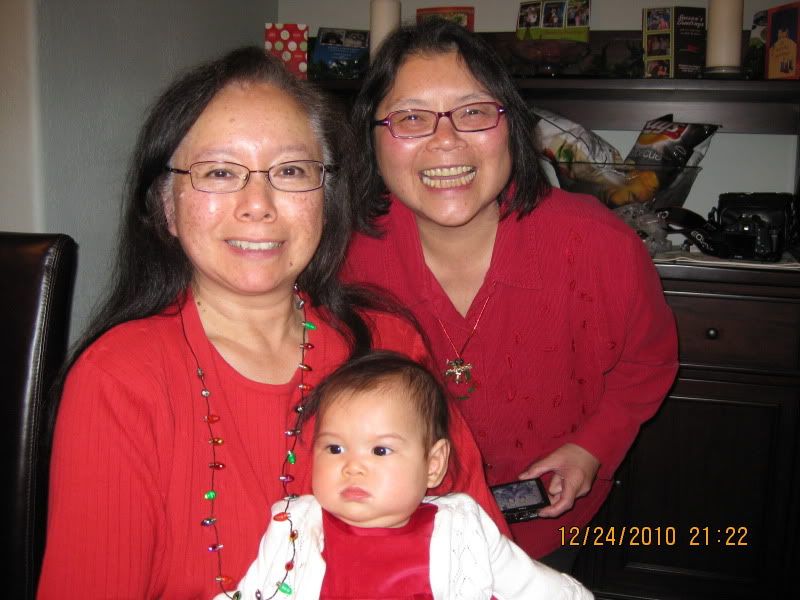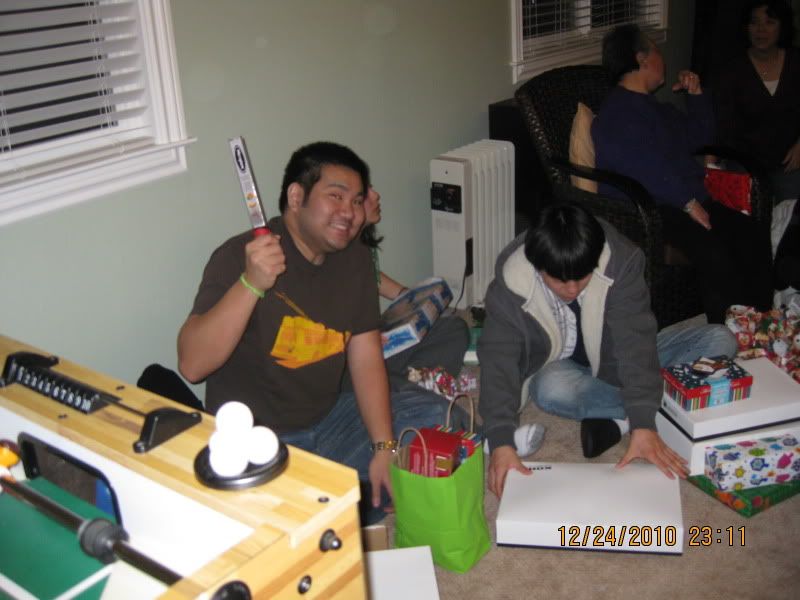 Nick was looking pretty happy here with the new microplane my parents gave him even though he wasn't feeling well. He had been sick with a stomach bug the day before and had stayed home from work. He managed to tough it out and come with us to Christmas Eve though. Christopher was actually not feeling super well either, but I think his ailment was more like a cold than a stomach bug. He didn't eat much during any of our parties. More for me to eat! At least they both got to take naps on Jen Jen's sofas.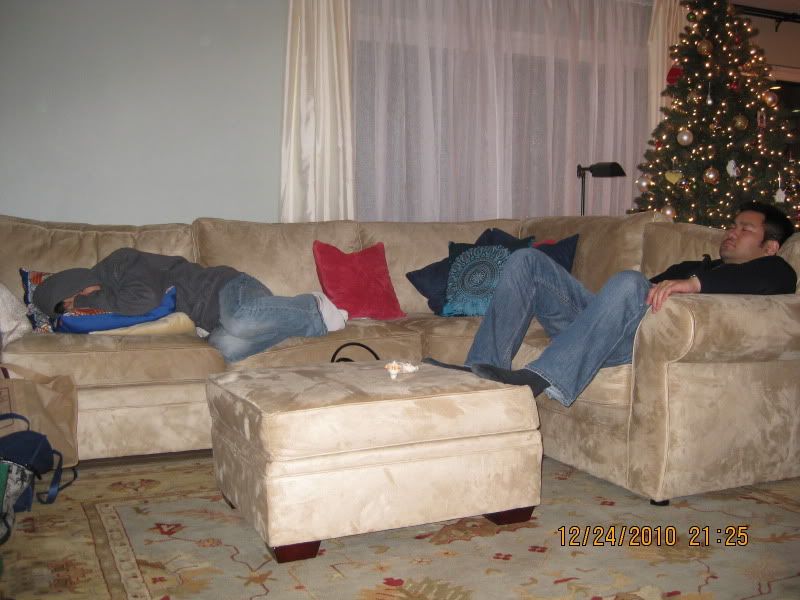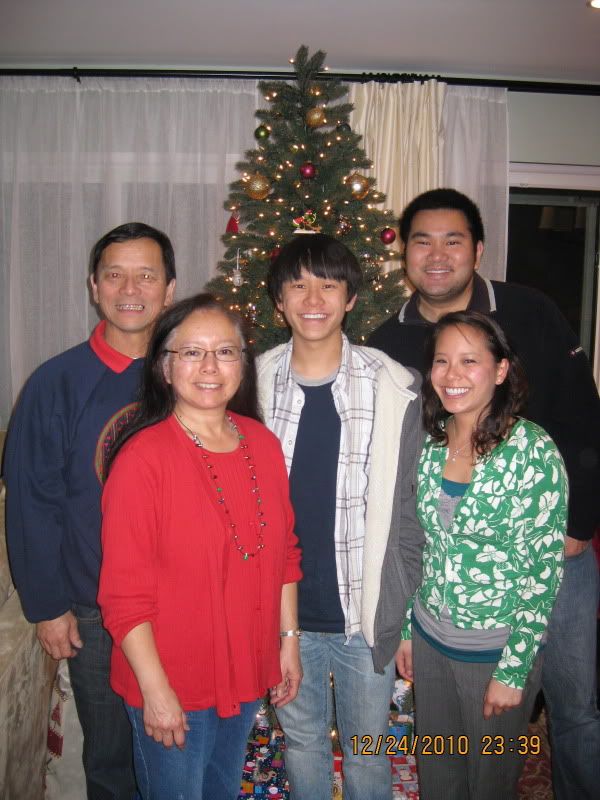 I would have been nice if Briana could be here for the picture, but she was spending Christmas with her family in Colorado.
Christmas Day: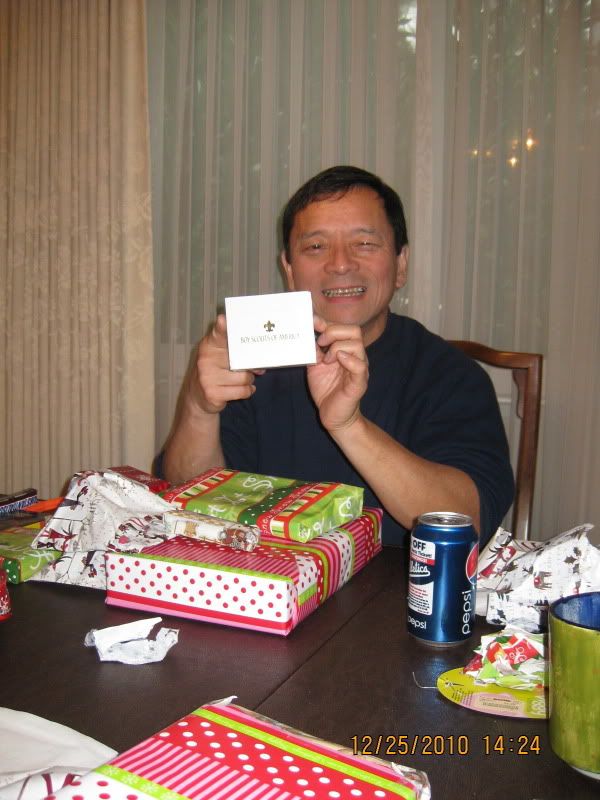 On Christmas day we always open our stocking stuffers. Sometimes we do it after the party is over and everything is cleaned up, but usually we try to take a break from all the cleaning and cooking to sit down and open them together. This is the box of a Scoutmaster Boy Scouting coin that Christopher and I got engraved. Since he just stepped down as the troop Scoutmaster we thought it was something nice that he could hold on to...aside from all the pictures that we have on our walls now.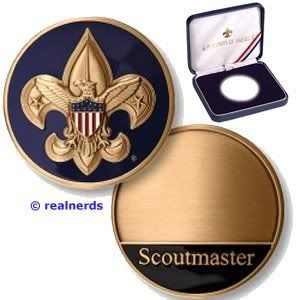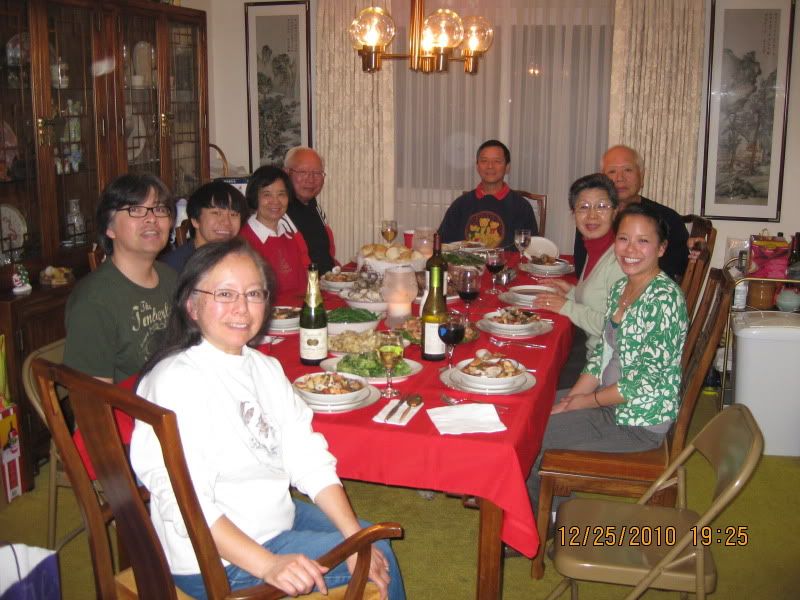 I'm regretting not taking a picture of the feast that Christopher and I somehow managed. We got the dinner on the table by 6:15pm and it was actually still pretty warm! Christopher was in charge of doing the all the appetizers, mashed potatoes, and salad. He did a really good job. Everyone loved the potatoes and salad. This was our menu:
Salami, cheese, and crackers platter
Pistachios
Chips and salsa
Auntie Wendy's seaweed and crab appetizer
Cioppino
Spinach, walnut, apple salad
Prime Rib
Chinese clams
Roasted shrimp platter
Garlic green beans
Stir fried broccoli
Roasted cauliflower
Garlic mashed potatoes
Rolls
Ice cream and pie
Everything turned out well except for my broccoli. I was going to make my anchovy paste broccoli but we couldn't find our anchovy paste! Instead I tried to substitute it by pasting up sardines like I originally had with the whole anchovies a few weeks back. The outcome wasn't that great. It had a weird texture, but it did taste okay. Anchovies would have been a lot better. We still haven't found that paste and I don't think I used it all last time I used it.
We had sooo many left overs. This looks like a regular sized meal that we'd be ready to sit down to. We also had a ton of cioppino to finish, which I think my parents just recently polished off.
Gifts!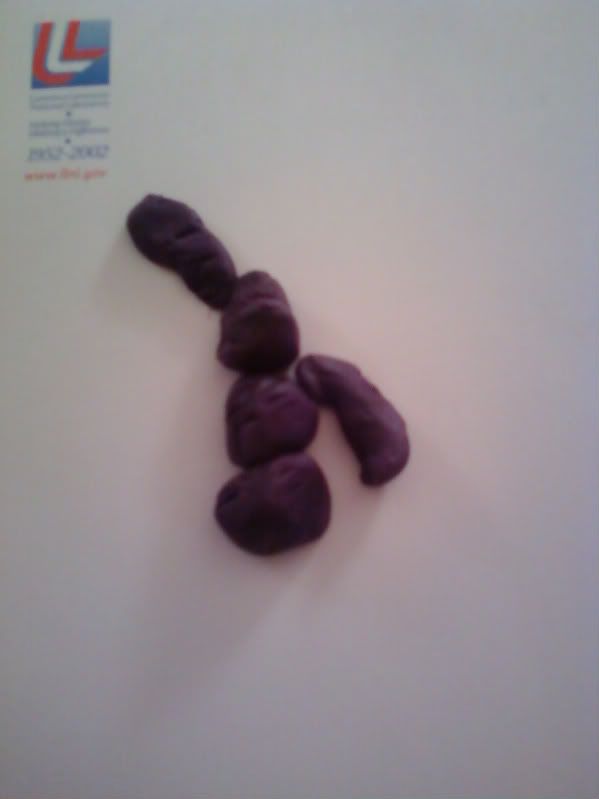 Last year Christopher and I challenged our parents to a game of Cranium and they won. I was flabbergasted. Christopher and I make a really good team and they beat us in the last round because we couldn't get all four categories answered all at once. So this year I challenged them to a rematch. We managed to beat them pretty quickly, which made it no fun so we went for a quick third round and they beat us again. I feel an annual Parents vs. Kids Cranium tradition sprouting. As it turns out, my mom is TERRIBLE at doing the sculpting, which is why we made her do it every time because it was so funny. Can you guess what the picture above is supposed to be? The hint was a "thing". Give up? It was the Statue of Liberty! Oh man, we were laughing so hard. After that I started filming her sculpting. I'm going to try to post a video of one of the very funny ones tonight on a different post, but no promises because I'm not actually sure how to go about uploading it onto the blog. There's a little button for me to push to upload, but I don't want to do that while I'm at work because it slows down our internet. All I have to say is that I watched the video again and couldn't stop laughing.
Josie's Baby Shower:
I thought it went great! I woke up at 8am to start my
mini frittatats
. They turned out a little on the salty side, but were still edible. So my cabbage rolls didn't have enough seasoning and my frittatas had too much! Oh well, you win some you lose some. At least my scones turned out well. Unfortunately, I don't have any pictures from the shower because I was too busy running around. I swear, if it wasn't for Nick helping me cook and then all the aunties coming later to assemble tea sandwiches it wouldn't have all been done. I thanked Nick like twenty times when I got home. I was so tired by the end that when I got home I willingly watched Jurassic Park III. But all-in-all, it was a great success. I'm not going to talk much about it since most everyone who is reading this was at the shower or has heard me yammerin' about it the last few weeks. Thank you for all your help everyone!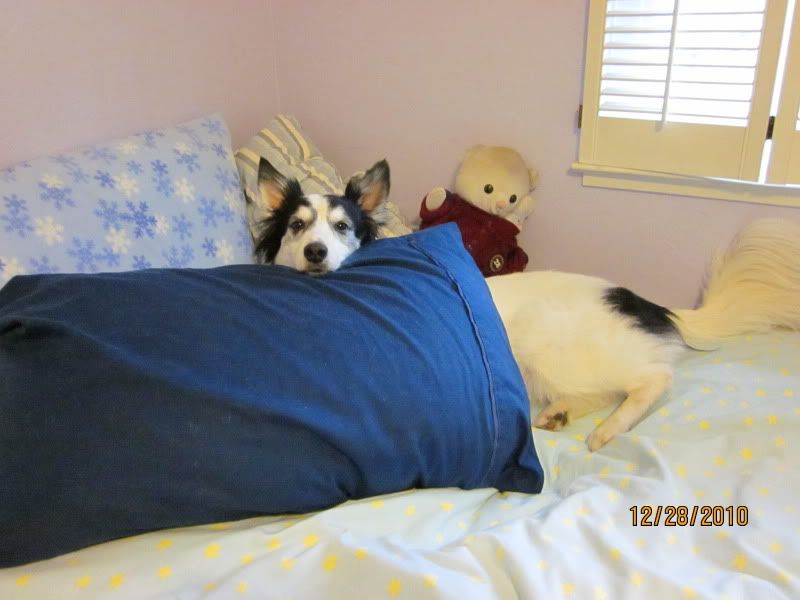 Emmy is such a funny dog. She was rooting around on my bed and doing her digging (she doesn't actually dig outside just in fabric like our beds, her beds, sofas, or back seat of cars) and then she ended up with the pillow on her head. I was giggling so she popped her head up and rested it on the pillow to look at me like, what's going on over there?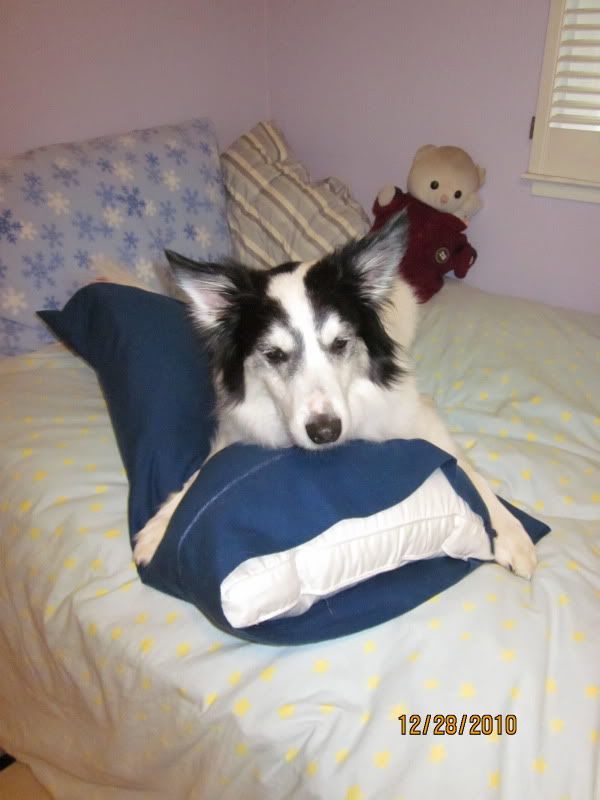 It's been really cold and rainy so I haven't been wanting to go out as much. Plus, all of the week after Christmas and last week I was recovering from lack of sleep and stress so I was too tired to take her for our normal 2.5 milers. At first I thought she was just getting fluffly because all of her fur is growing back, but now I can really see the poundage that she's gaining because I've been bad and not taking her out as much. We would go for short walks around the park, which my dad has mapped out as half a mile. That is not nearly enough for her. My parents even got me the headlamp that I was asking for so that I can take her on walks after dark. By the time I get off of work it's always so dark outside now and I don't like to have to carry a flash light with me. When we do go out at night I've been wearing my headlamp and a giant puffy yellow vest that Nick calls my life preserver. I look pretty darn cool with my flashing red head lamp and life preserver on. It's a good thing Emmy doesn't care about fashion.
In other news, I got new glasses for the first time since high school. It's been 8 years! I apparently still have the same taste because these don't really look that different from one another. I'm pleased with them and they weren't that expensive. I'm going to try sending in my receipt to VSP and see if I can get reimbursed. If not, then that's okay, they weren't that expensive since I got them from Costco. The frames were only $55ish and the lenses around $110. Not bad at all. I actually think these make my face look slimmer. I don't usually wear my glasses out though so I guess it doesn't really matter. It took me a while to find a blogger code for side-by-side pictures, but thank goodness for Google and people sharing codes and giving instructions for untechnical people like me. On the left are my new glasses and the right my old.
| | |
| --- | --- |
| | |
| | |
| --- | --- |
| | |
I was hoping to get this in the mail before Christmas Eve so I could show everyone, but my new nail stamper didn't come until after the holiday. I've been seeing a lot of videos pop up on Youtube lately for this
Konad Nail Stamper
. (Click the link to see their poorly dubbed commercial.) I subscribe to a ton of makeup artists because I find it fascinating what you can do to make yourself look nicer, though whenever I try to do makeup I look like a zombie. One of the videos I was watching mentioned this stamper. I figured since some of the people I watch think it's good I would try it. The stamper and scraper was only around $6 and then each stamping plate is around $7 depending on the website you get it from. I got mine from individual sellers on Amazon, but you can look at all their products on
Wowsocool.com
. At first I was hesitant to get this because a lot of the videos I sampled to make sure I really did want the product were teenagers and I didn't want to look like one of them. Obviously, I managed to convince myself over the months that I could pull it off without looking like I'm 16. I'm so glad I decided to get it!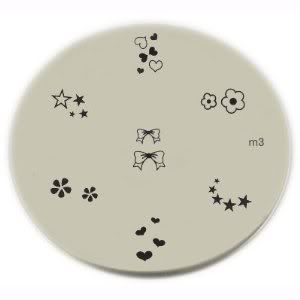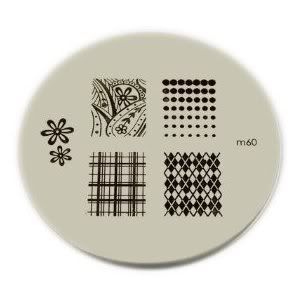 I bought three different plates and love them! Right now I have the stars on that I did for the SJ Sharks game that Nick and I went to with Bonnie and her boyfriend, James. I also did a fishnet look, but forgot to take pictures of it. The only problem that I had with the fishnet look is that I have my Dad's monkey thumbs and my nails are to wide for the template. It fit all my other nails, but since the design is so rigid with straight lines, you could tell when it didn't go all the way from one side of the nail to the other. I tried to center the pattern so that it wouldn't be so noticeable, but gave up after two hours and put flowers on my thumbs instead. Generally these stamps don't take that long, but since I couldn't get the thumbs right and it was only my second time using them it took me a really long time. I didn't have the same problem with the zebra pattern on my thumbs because the squiggliness of the print made it so that it wasn't noticeable that it didn't reach all the way across my thumbnail.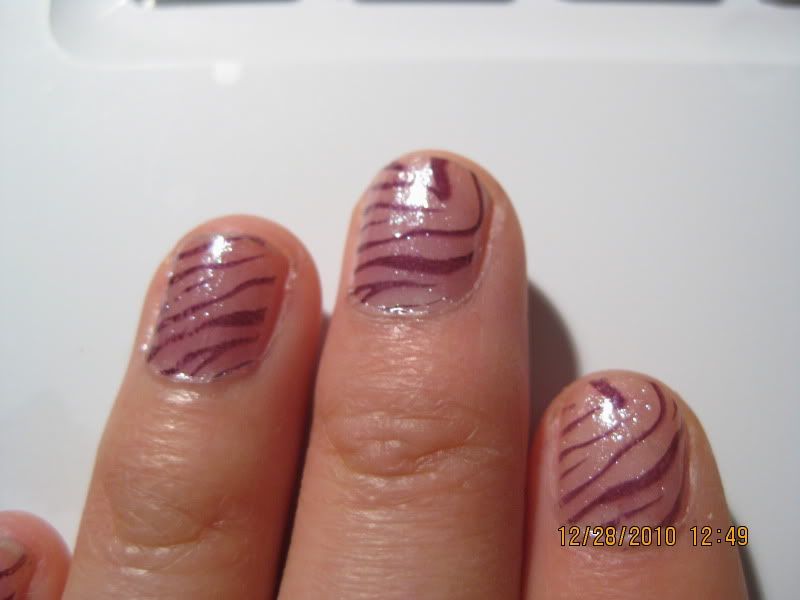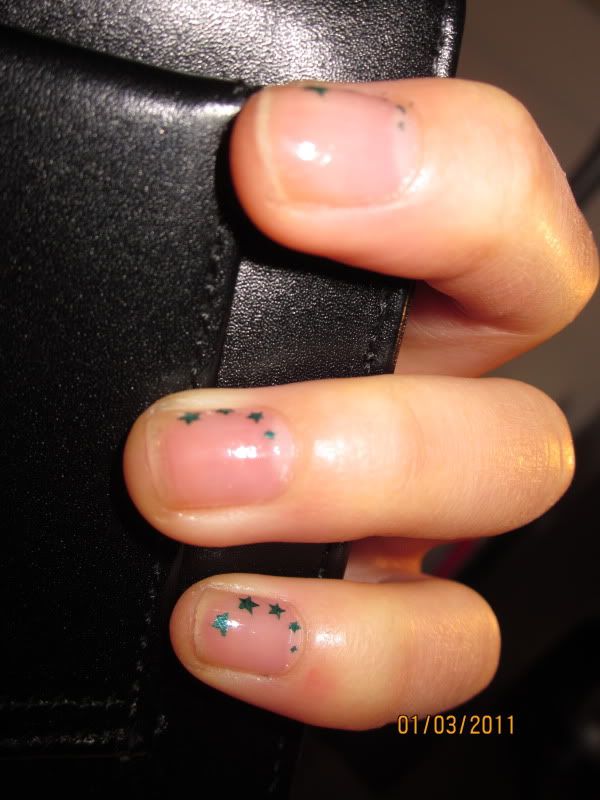 This year for New Year's Eve I had Abby and Bonnie over for a nice dinner and some movie watching. Since it's been hard to train Emmy for Separation Anxiety because there are always people at home, she isn't near ready to being left alone yet. It's difficult to try to train her to be left alone when there is always someone in the house. Haha. She's getting better (I can leave the house for about five minutes and come back and she's not frantic) but she's not good enough to be left alone yet. I can only imagine how good it would be if I could fully train her everyday with no one around. It would be great. But that not being the case, she's still her frantic self when she's alone so I opted to stay in and have my girlfriends over for dinner. My parents went to the city to meet up with Uncle Baldy and Auntie Sue, Christopher went to Briana's where she was hosting a party for their friends, and Nick went to our friends Will and Lindsay's house. Nick was invited to my get together, of course, but after hearing that we would be marathoning the old A&E version of Jane Austen's Pride and Prejudice he gracefully opted out. James, Bonnie's boyfriend, also declined. I guess they both knew that we'd be chatting the whole time and drooling over Colin Firth and the "
pond scene
" at Pemberley. We all got very quiet when this part came on. Hahah.
Overall the night was beyond wonderful. I had a great time ladies! For the appetizers I made a chili cheese dip, fresh mozzerella caprese salad, and Ina Garten's
Roasted Shrimp Cocktail
. Apparently since I got the RR recipe out of the book that Uncle David gave me for Christmas a few years back it's not online. If you want the recipe let me know and I'll email it to you. It was super tasty and easy to make. For dinner we each had our own little chicken. I got us Cornish Game Hens, which are pretty much baby chickens. As Nick likes to say, anything in baby form tastes good. And by George, he's right. These little guys sure were tasty! This is the complete menu:
Warm Chili and Cheese dip with Tri-Color Peppers and Tortilla Chips (Classic Rachael Ray 30-Minute Meals page 152)
Caprese salad
Roasted Shrimp Cocktail
Cornish game hens with garlic-sage butter over white potatoes, red onions, and garlic
Garlic green beans
Cheese platter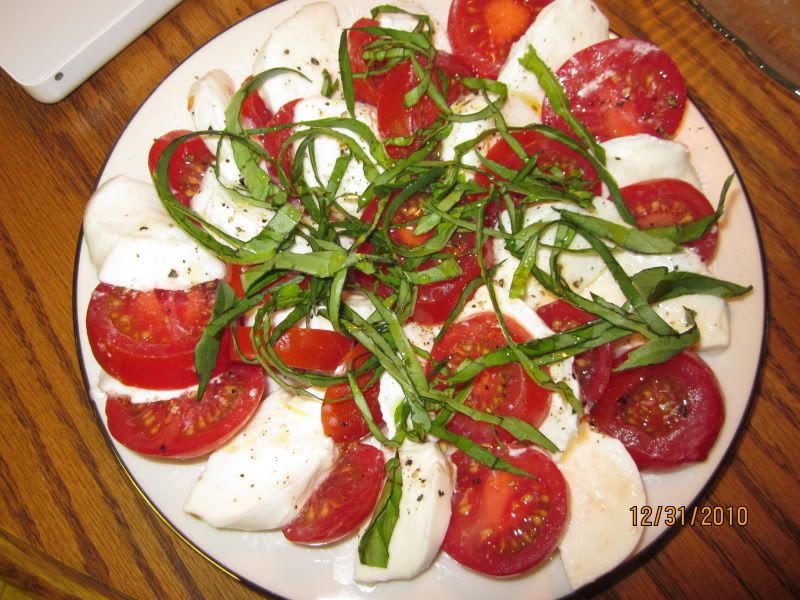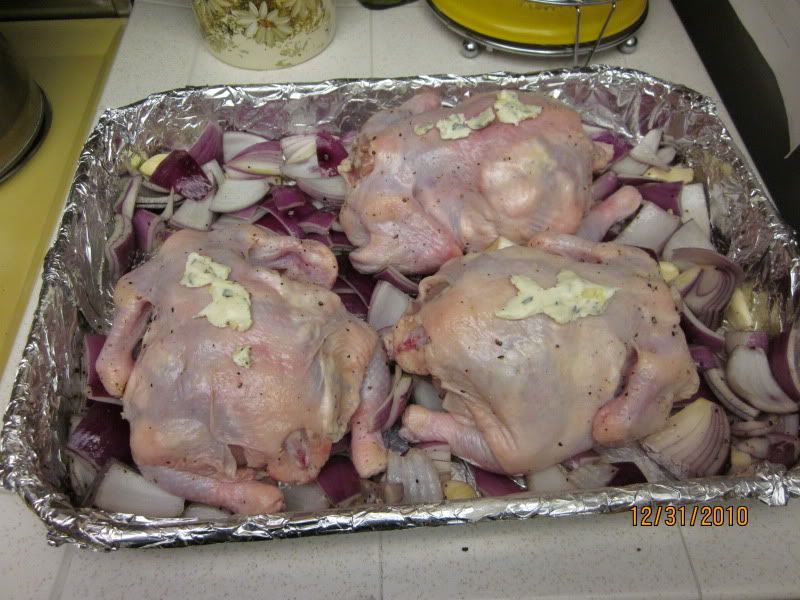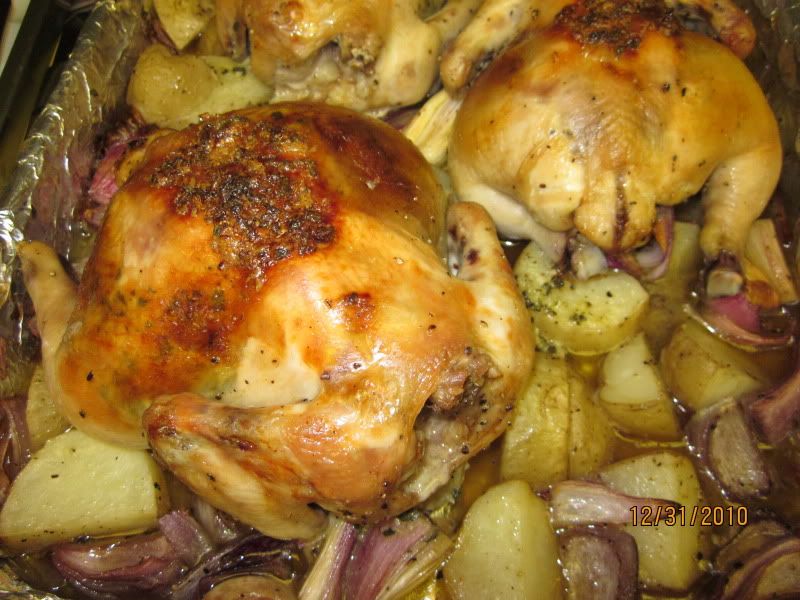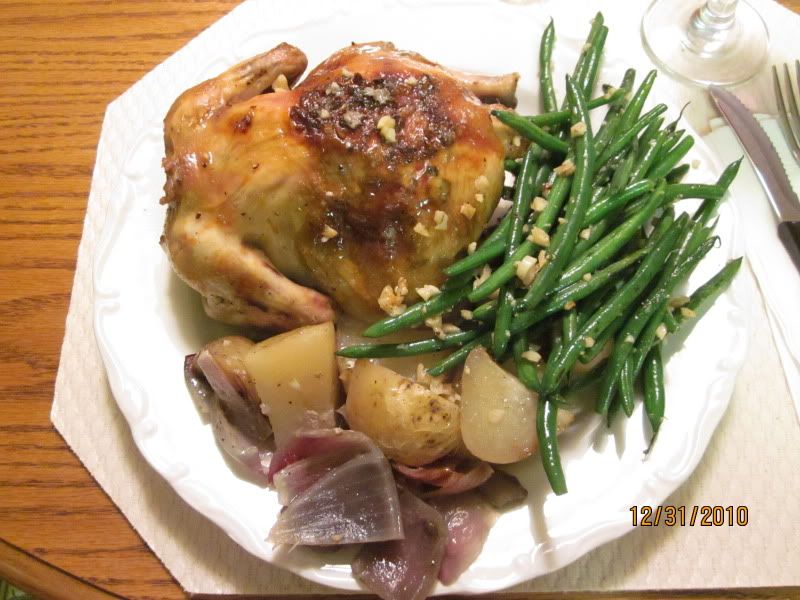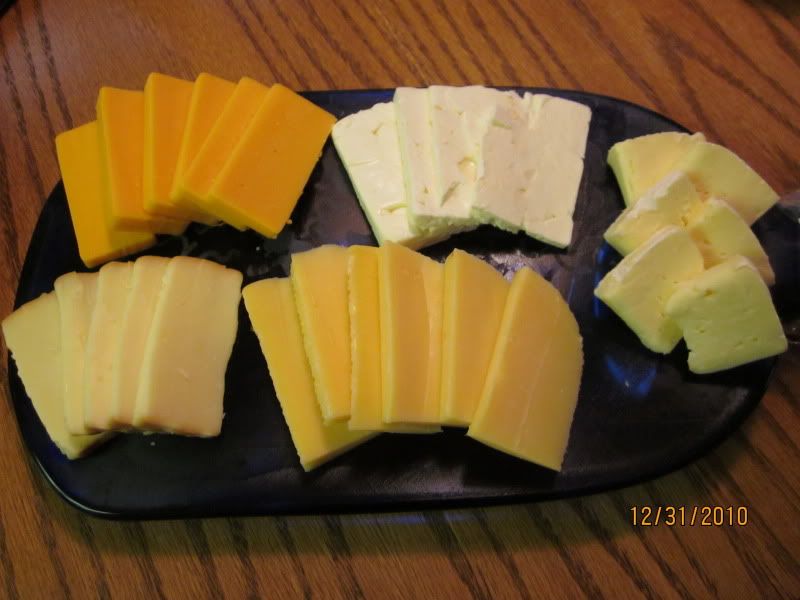 From top left: Sharp cheddar, Feta, Brie triangles, Smoked Cheddar Swiss, and Gouda. My favorite was the Smoked Cheddar Swiss. It melts down nicely for quesadillas. I knew that Abby was planning on bringing a scrumptious Pistachio Pudding pie with fresh whipped cream so having a cheese platter as dessert sounded really good. For as long as I've known her, Abby has always been a great cook and baker. So I was very pleased when she said that she couldn't get my green beans into her mouth fast enough.
On Monday Nick and I met Bonnie and her boyfriend James down in San Jose for a Sharks game. It was a lot of fun. They lost 3 to 4 against the Vancouver Canucks, but it was still really exciting. The only thing that I didn't enjoy was the lack of heckling. Bonnie and James, who were also college hockey fans, agreed. There was some booing, but no "you sucks" or foul language during penalties. I'm sure we'll get used to it, but it's so much fun doing all the chants and team cheers.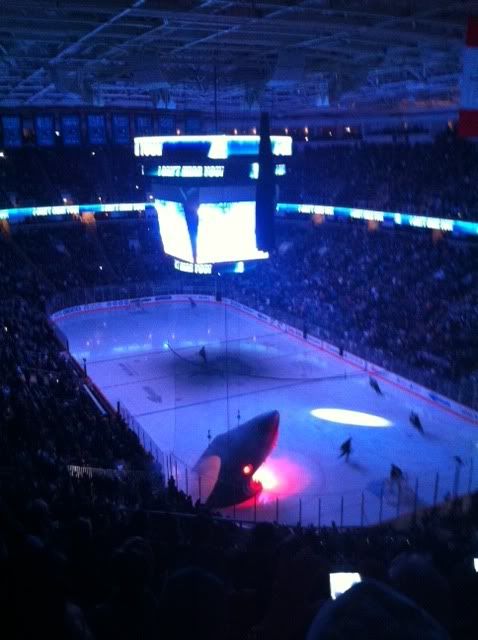 At the beginning of the game the Sharks players all skate out of the giant shark head. The head raises up to the ceiling and its eye glows and flashes when certain chants are yelled. As you can tell, we were pretty high up so we got to see the shark's eye up close. It was kind of creepy at first. In a couple of weeks Nick and I plan to have a San Jose day and visit the Tech Museum and hopefully get some last minute tickets to the game that night and to purchase more tickets and not have to pay Ticketmaster's service charge.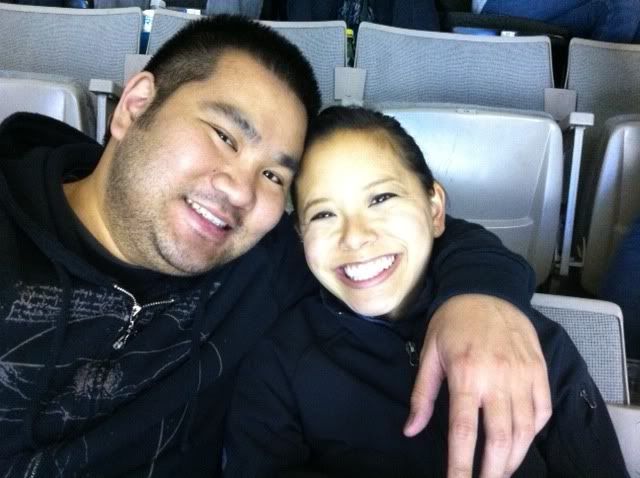 As we were walking out of the house I said, Oh I should get a scarf because it'll be cold in there, but I didn't because we didn't want to be late. I should have! There was air blowing down on us so I zipped my jacket all the way up my neck, which is why my head kind of looks like it's floating in a sea of black fabric. I will know for next time. Hopefully next time will be in just a couple of weeks!