Earlier in the week I did my nails a light pink with a purple flower. I liked the detail of the flower, but just couldn't love the color of the nail polish or the paint quality for that matter. I figured after a few days of wearing the color I would start to like it and it would grow on me. That has happened a few times before. Not the case. I may try to give the color another try with a stamp design that's a little more busy, but I just wasn't loving it this week.
I also wasn't fond of the quality of paint. Remember how I said that I didn't feel like cleaning up my edges and cuticles that night? Well it did start to come off in the shower like I predicted, but it was cracking! Usually if I just let the paint that I miss come off of my skin in the shower it comes off and leave a nice smooth line on my nail where the paint is supposed to be. This was not the case for this nail polish. It was cracking apart from the polish on the nail so that when it came off of my skin it left a jagged look on my nail. What?! I am not please with this polish at all. I guess you get what you pay for as this was only $2 a bottle, but even Wet n' Wild (usually a $1) is better than Easy Going. I did buy a glittery purple that I want to try by this brand. After I see how that one goes I'll give you my full review on the brand, but until then, stay clear of SinfulColors!
Today I inverted the colors I used on Monday. The base is Sally Hansen's Trouble Maker and the flower is SinfulColors' Easy Going.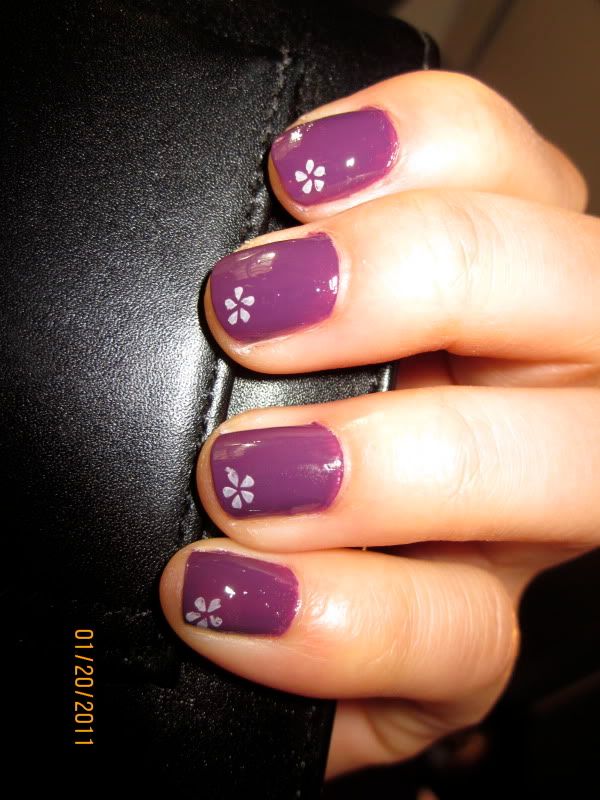 Flash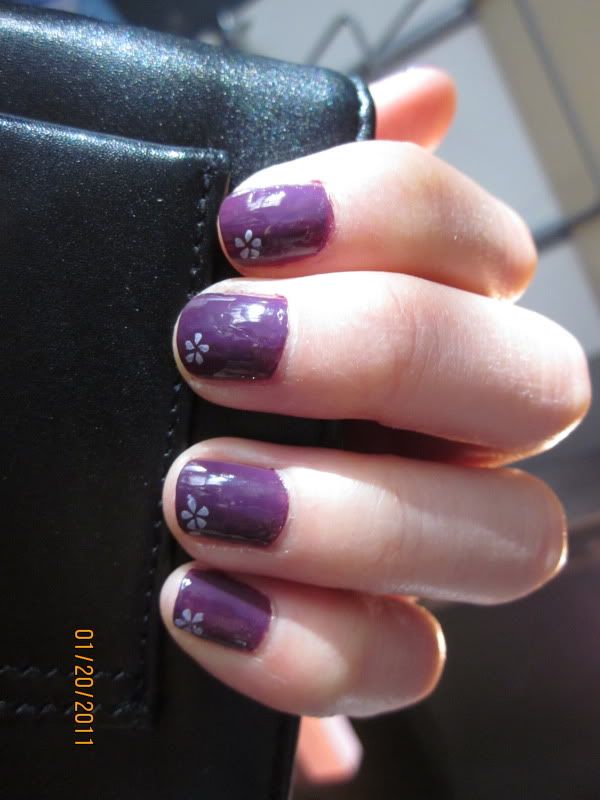 No Flash
Today I did my nails at work. This may sound bad, but while I was doing them I did get a sales call and got us a new customer and a nice chunk of change in Celery's bank account. Hehe. I like to paint my nails while I work because I can't get up to move around much, which means less chance of me whacking my hand against something and messing up my nail polish.
As a continuation of my pampering, I plan on spending the night in and trying out makeup looks for our Valentine's Day weekend. I like to watch makeup videos before I go to sleep to shut off my brain so now I'm feeling inspired. I will not be posting pictures of this because I usually end up looking like a clown. Hahaha.