For once I actually felt like blogging just about one topic and not weeks and weeks worth of thoughts. Probably because I'm so excited/obsessed with the
Konad Nail Stamper
that I keep buying more stuff to use with it. On Saturday Nick and I met up for lunch at a little cafe and then strolled around Bed Bath and Beyond and Michael's. From there we split off and I hopped over to Rite Aid because they had a nail polish brand that I've been looking for. Back when I was living in NY with Edward, I had picked up a couple of nail polishes at our local Walmart. I love these polishes and use them all the time. So I figured I'd go out and get more. For the longest time I couldn't remember where I had gotten them. Since I like Target more than Walmart, I was convinced that I got them there, but never could seem to find the brand whenever I would go. I was a little disappointed because I thought that maybe it was just the Targets on the east coast that carried it. So I looked up the brand and found that it's sold in Walmart. No wonder! I planned on going out to Walmart in Martinez to look for the nailpolish, but really didn't want to drive all the way out there just for a couple bottles of nailpolish. I checked the website again to see if maybe I could just buy them online. I saw that they also sell their brand at Rite Aids. Woopie! There really aren't any Rite Aids near us, but since I was out at Michael's and it's across the street I figured I'd stop in. While I was there I noticed that all nail polishes were buy one get one half off. That was the end of my self control. I ended up with eight different colors. This is my "haul" as Youtubers call it.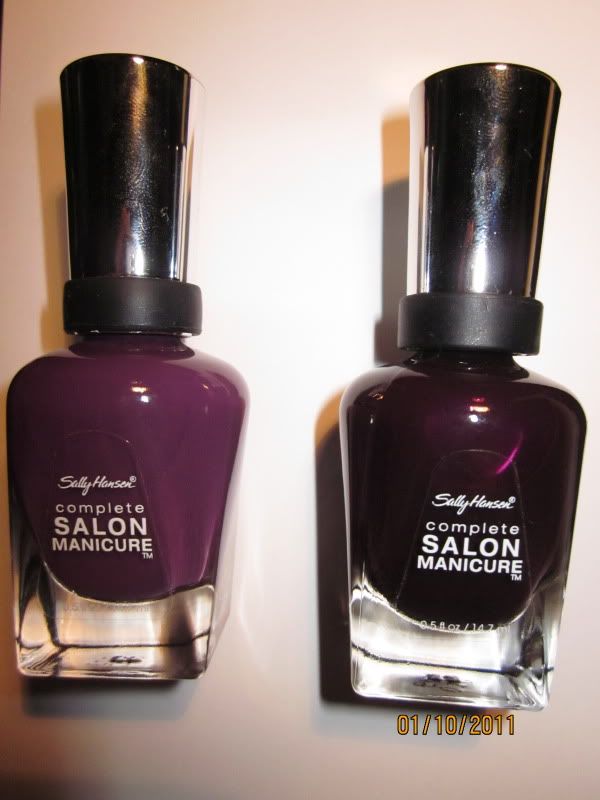 Left: Sally Hansen Complete Salon Manicure-Trouble Maker
Right: Sally Hansen Complete Salon Manicure-Pat on the Black
I love this line. I have four of their polishes so far. I've always been a big fan of Sally Hansen nail polish but these take the cake. I really enjoy their bold colors and the new flat brushes. The paint quality is really good for a drugstore brand and I find that it doesn't chip nearly as quickly as some of the other brands. These usually run around $7.50 a bottle, but you can pretty much wear them for a whole week without having to do touchups. They advertise that they have the base coat and topcoat built in, but I still like to use a topcoat anyway. I'm wearing Pat on the Black on my toe nails and love it. With one coat it has that nice purply that I was going for, but with two it looks more black with hints of maroon when it's in the light.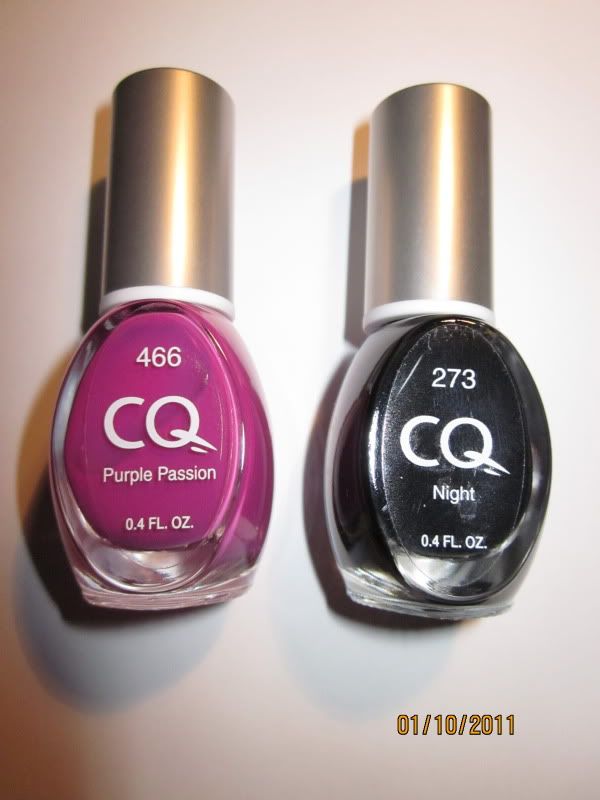 Left: CQ-Purple Passion
Right: CQ-Night
This is the brand I was looking for. The coverage is great and it only takes two coats to get it on smoothly without any streaks. I believe it's only around $3 per bottle. Fine by me! My Wet and Wild black was all goopy because it was super old so I decided to get another one.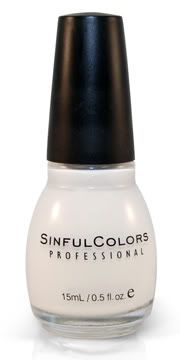 SinfulColors: #1 Snow Me White
SinfulColors: #700 Easy Going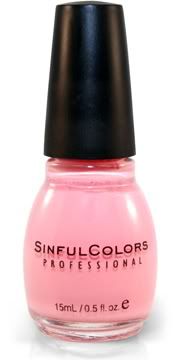 SinfulColor: #714 Beautiful Girl
SinfulColor: #925 I Love You
These pictures are compliments of
Sinfulcolors.com
. These were $1.99 each so I thought I'd get a bunch of them. I've been watching a lot of Giada De Laurentiis during my lunch time and she is always wearing this pale pink color. I've been looking for a similar color for a few weeks now and am glad to say that Easy Going is very similar. I also wanted a bubble gum color to see if I'd like it. We'll see how that goes. I figured if I don't like it then it was only $1.99. I haven't tried any of these yet for everyday wear so I don't know how good they are, but when I did swatches for myself the other day they seemed okay. I will definitely be wearing a topcoat with these to make sure that they last longer. I find that the cheaper the nail polish, the faster that dreaded chipping occurs.
On top of all of these colors, I heard from one of the makeup gals I watch on Youtube that
Zoya.com
was having a special with three free nail polishes. It was the last day of the sale so I hurried and got my three nail polishes. All I had to do was pay for shipping, which was $6.95. Each bottle is $7, so it was a pretty good deal. I haven't gotten a shipment confirmation yet, but hopefully it will come soon. I have heard good things about this brand so hopefully they live up to all the good reviews.
Zoya: Heather
Zoya: Sabrina
Zoya: Venus
You'll notice that I got quite a few purples. I love purples, but they always turn out look like I'm wearing black nail polish. My punk-kid days are over so this is not the look that I'm going for. I'm still on the hunt for a good grape purple. The most common problem that I run into is that they look great in the bottle, but then look black with shimmers on my nails. The second problem is that if they don't look black then the color isn't really grapey but more toward the violet side. I've even tried Googling these problems to see if anyone has any solutions. Maybe normal people don't think about purple nail polish as much as I do. Hahaha. So far I've tried about three different ones with all the same "black" results. I like Trouble Maker and Venus, but they're not the deep grape purple that I'm looking for. Pat on the Black is pretty close, but still looks like I'm wearing black nail polish. After I take off these pink nails I'm going to try the SinfulColors I Love You to see if it's true to the color in the bottle. Keep your fingers crossed!