Tonight we had a
big
dinner. My Mom had invited some of their friends over to celebrate Chinese New Year. I showed up early to do my laundry and help out. What really happened was that I did my laundry and the passed out on the sofa for two hours from a pho-coma. ...At least I did help her clean the dishware before falling asleep and I cooked so that she could socialize.
My Mom had been prepping for days before. It must have taken her hours because everything was prepared in little baggies and her knife cuts were awesome! I was very impressed. I thought that she would have planned the traditional eight course meal, but when I looked at her menu she had ten things on there! We actually ended up adding an extra veggie dish too. One of the guests is a vegan (grumble) so we were trying to make it vegan friendly. When she arrived, she said that she eats fish! So now we just say that she's a vegetarian, but it would have been much easier if we knew before hand since we normally use a lot of oyster sauce and had to substitute it with plain soy sauce. We considered just using oyster sauce and not telling her what the flavor was, but we didn't want to be disrespectful of her dietary choice. Soy sauce did manage to get us through, but our traditional dishes didn't have the nice depth that they usually do. What we realized at the end of the night was that vegetable stock is not nearly as flavorful as chicken stock. We cooked everything with vegetable stock and found that we had to add more salt. Even with the added salt, it didn't make up for the nice flavor of chicken stock.
Menu:
Roast duck
Roast Pork
Homestyle Chicken
Wintermelon soup
Boiled turnips with tofu
Spicy clams
Lettuce wraps
Thy foon (Glass noodles)
Bokchoy w/ Shitake mushrooms
Shrimp w/ asparagus
Gai Lan
Rice (of course)
This chicken was so amazing. It was flavorful and moist.
My mom said that it was a "mommy original" so I'm going
to have to get the spices she used so that I can make it myself.
I normally don't like chicken, but I really liked this.
These are the veggies that my mom cut up for the lettuce wraps. Look how
evenly cut everything is! Normally, this dish would be used with a ground
meat. Since our friend is a vegetarian, we changed it last minute to have tofu
as a meat substitute.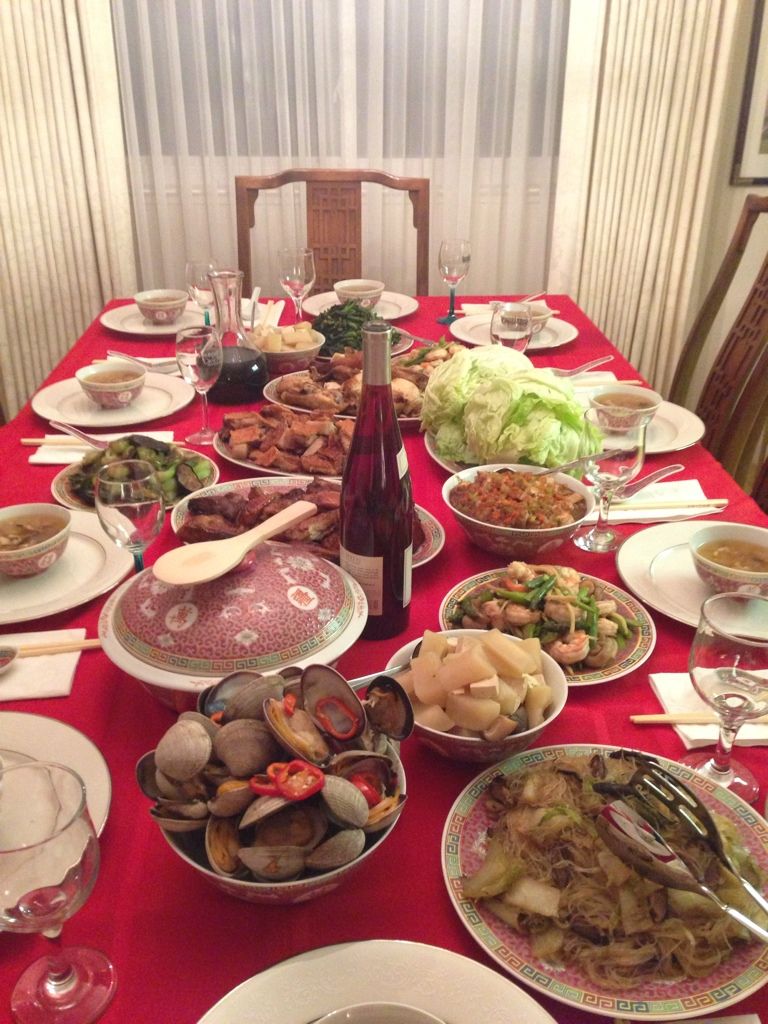 In front are the glass noodles. We usually make this with salted, dried shrimp,
but we substituted the shrimp with sliced shitake mushrooms and added Napa
cabbage. The small bowl is the turnip dish. You can eat it as a soup too, but
since we had as soup we drained it.