Today we had planned to go try some Livermore wineries, which I long ago dubbed "Nuclear Wine". It was actually pretty good. Though it was really hot, the tasting rooms were not full of pretentious tasters and the prices were much more reasonable than Napa. Now that Nick and I have been going to Napa more frequently to wine taste, I've become more aware of how snooty Napa people can be. Good wine is whatever you like. I don't care so much about the hints of pineapple or cherry or if it's $5 or $100. If I like it, that's what matters. Even better if I can get it on the cheap. I definitely prefer Sonoma to Napa and now Livermore to Sonoma.
Once we were done tasting, Linda had graciously gotten us a reservation at a local BBQ restaurant called
Sauced
. It was really good and I plan to go there again the next time I'm in the area visiting. We ordered quite a bit of food. We started with frickles and jalapeno poppers stuffed with pulled pork. How much better can jalapenos get?! Nick ordered blacked ends brisket and I ordered the regular brisket with a side of
pimento cheese
. After my first visit to Georgia with the Levies, I have been in love with the stuff, but rarely get it.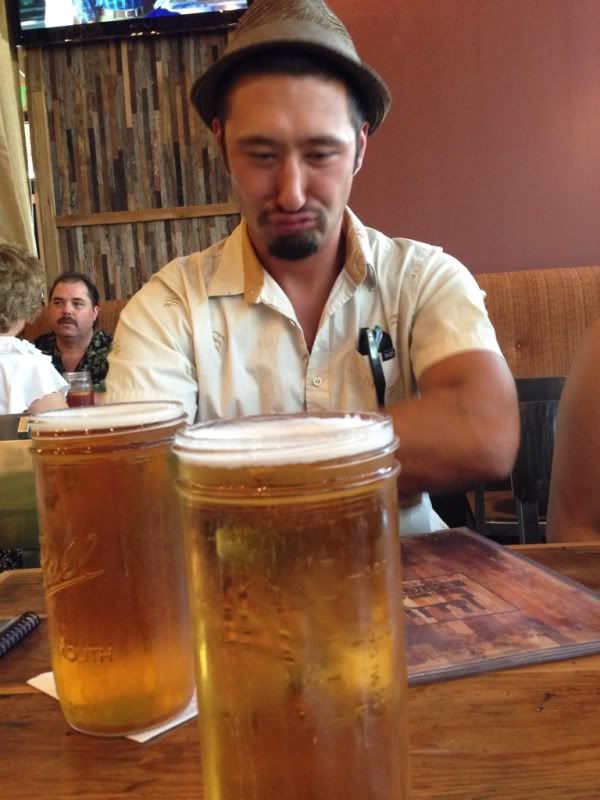 After a day of sipping on wine, Rob and I really needed
some beer. He is doing the classic "this is what I'm talking
'bout" that Nick's group of friends made up years ago. I'm
not actually sure what the back story of the saying and crossed
arms is, but I think it's hilarious. I find the man in the background
to be even more amusing.
BBQ brisket with squash casserole (left) and mac and cheese (right).
This food is heavy, but so, so good.