I debated heavily on whether or not I wanted to post this dinner. Nick and I went for our menu tasting at our wedding venue. They served us small portions of the items that they offer for appetizers and dinner. It was so much food. The food was pretty good, but we do have a few changes that we want to make to the way it is prepared the night of. What can I say? We're picky. Hopefully the food will turn out well, but from what I've been told, the bride and groom don't have much time to eat anyway so we'll need feedback. The venue has their own catering company, so we didn't get to pick who is serving. I'm confident that it will turn out well. We may have to escape to the bridal suite for 15 minutes to scarf food before we're introduced as a married couple. For those of you who don't know, if Nick or I don't eat, we get very grouchy. It is in everyone's best interest for us to sneak food before we greet everyone.
For fear of giving to much away, I'm not going to talk very much about the food. I'll just say what each item is.
From left: carmelized onion and fig bruchetta, ahi tuna on a fried wonton cracker,
curry chicken on endive, croque monsieur, and bacon wrapped chorizo and fig.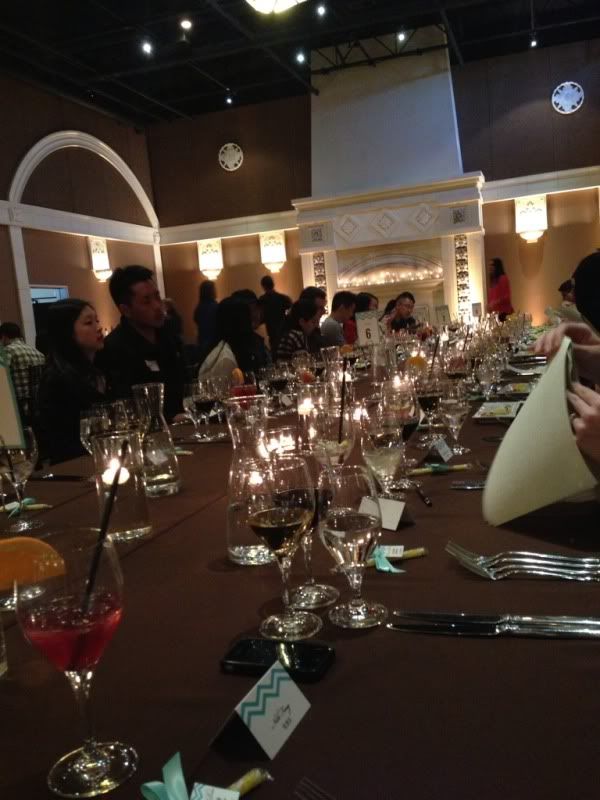 There were two big tables like this. We are actually not
going to utilize this room unless it rains and we can't have
the ceremony in the garden.