For a friend's birthday, we agreed that it would be fun to go to
Big Basin
for his birthday camping trip. Well let me tell you, it wasn't fun until we found Dan. After parking practically on the other side of the park and trying to decipher the Ranger's map, Nick, Emmy, and I decided that it would be best to try to hike into the campsite. To keep this story short, we overestimated our map reading abilities. Two hours and A LOT of sweat later, we found Dan and his girlfriend Chelsea's campsite. I told Nick on the drive home that if we somehow fell into the ravine and died the rangers would find us with a dog laying over our decaying bodies and ridiculously unhelpful food in our packs. They would open our backpacks and find a twelve pack, two containers of potato salad, and s'mores supplies. Nick reminded me that we were on a paved path and we weren't going to fall anywhere... At least I packed my Swiss Army knife and a mirror. I was prepared to send out SOS signals if something happened.
After we did finally find Dan, we had a great time. Nick helped grill steaks over the camp fire and we had an awesome dinner with Dan and Chelsea's families. Unfortunately, because of all the commotion from trying to share steak knives and plastic forks, I forgot to take pictures. I did, however, take pictures of Dan eating s'mores with jumbo marshmallows.
It was a great time in retrospect. Nick and I, not outdoorsy people, would never have done that on our own. The fact that we can be in a trying situation where we don't know where we're going, hot, hungry, and physically fatigued with beer in our backpacks and not even raise our voices makes me confident that our future together will be a smooth ride.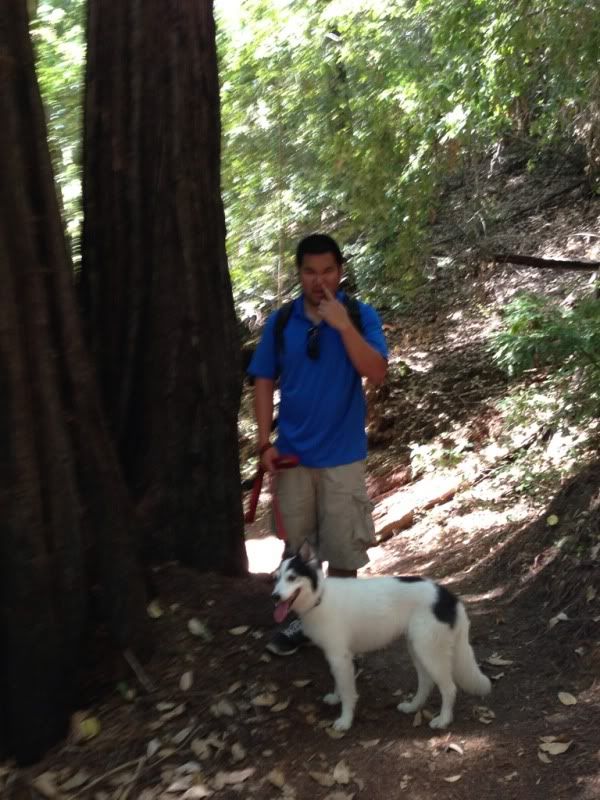 In case we couldn't find Dan, I took a picture of Nick and
Emmy to prove that we were actually there. There was
no cell reception so we weren't able to call him to ask him
to pick us up and drive us in to camp.
Emmy had a fantastic time tromping around the Red Woods,
but there was no way that I was going to let a dusty dog
get on our bed.