Tonight for dinner, I wanted to make sure that I used products that I had started defrosting at the beginning of the week. I had bought two chicken-basil sausages a few weeks ago, but threw them in the freezer when I realized that I wasn't going to cook them. Since they had already been frozen, there was no throwing them back in the freezer. I didn't want to grill them like I had originally intended, so I uncased them and stir fried them with tofu and sugar snap peas. As it turns out, the dish was rather Asian inspired, except that I had jumped the gun and made cous cous before knowing which direction I wanted to go in. It went okay with the cous cous, but would have been so much better with rice. Such is life.
Midway through cooking, I got a hankerin' for steamed eggs. I love when I can just whip things up that fulfill my sudden cravings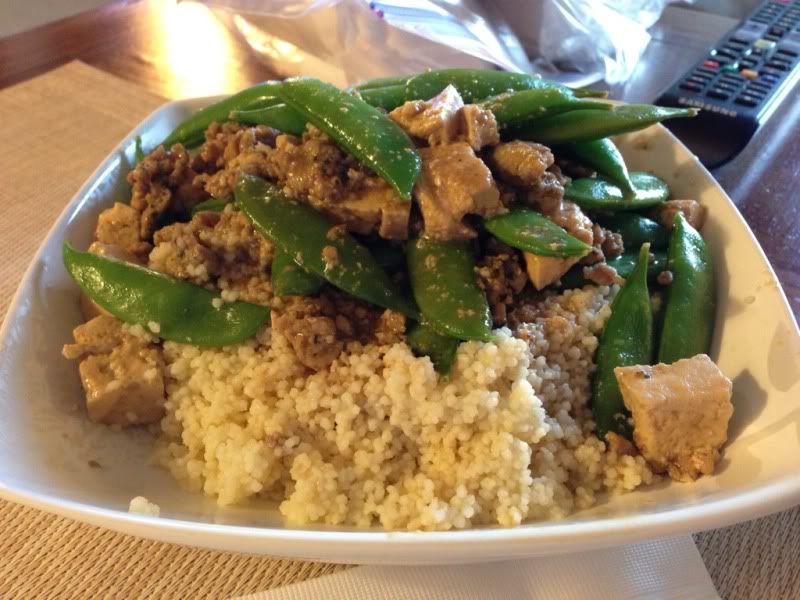 6 eggs

1 c chicken stock

Oyster Sauce (for the top)
Directions:

In blender, mix eggs and chicken stock. In a large pot, boil one inch of water. Place metal trivet in pot. Place eggs on trivet and cover. Cook for 10-12 minutes or until the eggs are a consistency of jello. Remove from pot. Drizzle Oyster Sauce over for flavor.