Tonight I wanted to use chicken breast that I had defrosted. I have to say, I'M GETTING REALLY TIRED OF CHICKEN BREAST. I haven't been feeling very inspired lately in the kitchen. I think this is because it's grilling season and my grill prep recipes are limited when it comes to chicken. After a while everything starts to taste the same. As easy as grilling makes cleanup, I get a little bored if we only eat chicken. I figured it was time to go back to cooking in the kitchen. I decided to stirfry zucchini, mushroom, and cubed chicken. I marinated the chicken in a mixture of three table spoons of Black Bean Garlic Sauce and two teaspoons of Sichuan Spicy Noodle Sauce for about two hours while I took Emmy for a run and did a short workout. I stir fried the zucchini and mushroom first with more black bean sauce and then added chicken stock. Once the veggies were almost cooked, I added the chicken. Usually, I would cook the chicken first and then throw the veggies in, but I wanted to make sure that the vegetables were cooked to the way I like them since the chicken was cut into small pieces. This must have done the trick because the chicken came out extremely tender and moist for being chicken breast. I sure hope that I can replicate this recipe in the future. It is definitely a winner.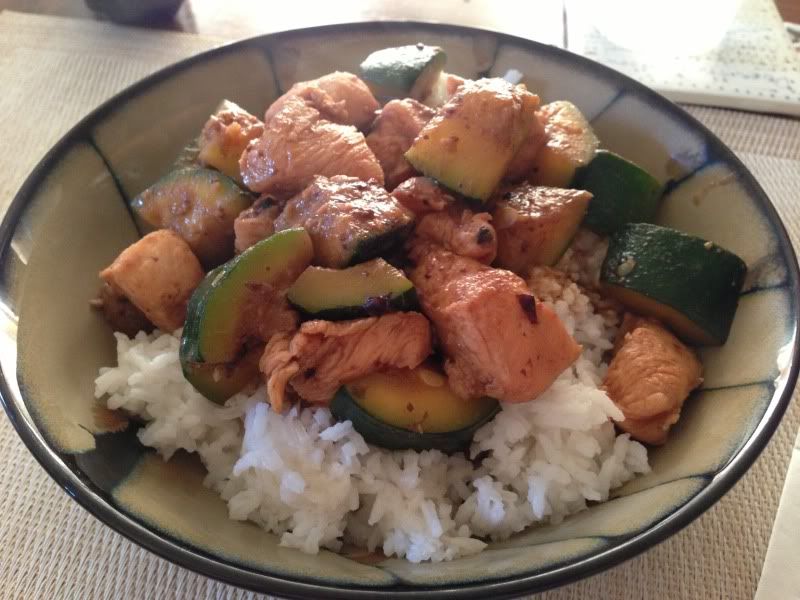 2 chicken breasts, cubed

5 tbsp Black Bean Garlic Sauce

2 tsp Sichuan Spicy Noodle Sauce

2 large zucchini, cubed

8 large mushrooms, quartered

1/4 c chicken stock
Directions:

In medium sized bowl, marinate chicken cubes in 3 tbsp black bean sauce and 2 tsp noodle sauce. Let marinate in fridge for two hours.
In wok, stirfry zucchini and mushrooms with 2 tbsp of black bean sauce over high heat. When cooked halfway through, add chicken stock and chicken. Reduce heat to medium. Toss until chicken is incorporated. Cover with lid. Toss until chicken is cooked. Note: Make sure that the liquid boils to ensure that all the germs from the chicken are cooked out.
Serve over white rice.