Today was the first day of Formula 1. Nick had me up at what seemed like the crack of dawn to walk to the bus stop that would take us to the shuttle. Thankfully, the stop was next to a Randall's (owned by Safeway) where there was a Starbucks. I like to save my low caffeine tolerance for when I travel and need to stay awake. I'm sure I'll be chugging it during the holidays as well.
When we got to the F1 shuttle stop in downtown Austin, there were what we thought a lot of people waiting for shuttles. Little did we know the swarms of people to come in the next couple of days. Most people did not show up for the full three days. The city had set up barricades that funneled us through a long line. It actually worked out really well, as they had dozens of charter buses waiting to be filled up. We continually walked through the line and barely had to stop. Their system worked out pretty well even on the actual race day. What was actually really bad were the merchandise lines and the tunnels that crossed over the track. Unfortunately, we had to cross two tunnels to get to our seats. By the last day we opted to walk around the whole track just to avoid the cattle-like congestion of the tunnels.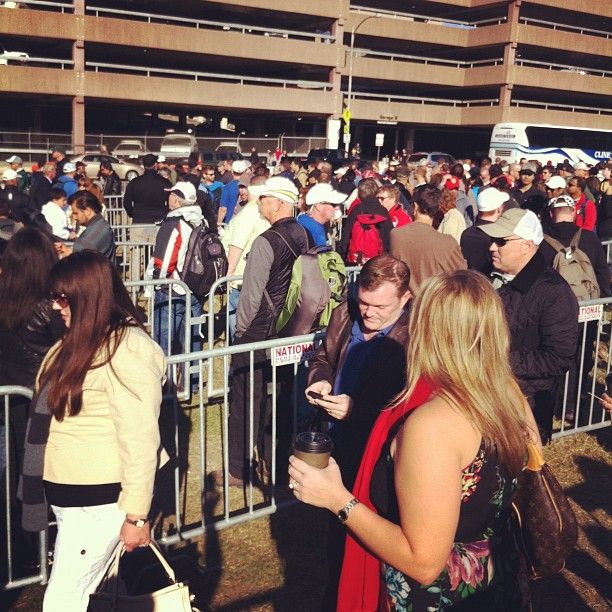 Once we got there, we were of course taking a lot of pictures.
I got myself two jumbo corndogs, but my stomach must
be shrinking because I was only able to eat one.

I was testing out the panoramic feature on my phone. Pretty cool feature, but it looks fish-eyed to me.