Something I ate yesterday had me up at 1am with a terribly upset stomach. It was probably something from the track. It's a good thing that we bought all of our stuff on qualifying day because I wasn't sure if I was going to make it to the race. Nick was thinking that he would hawk my ticket, but didn't want to go without me. It seems like one of us always gets some sort of stomach illness when we travel so I made sure to bring Pepto Bismal. After some Pepto and Advil, I was able to get myself up. I knew I was feeling better when I started to get hungry. Once we got to the track, we took a shuttle around the course to get to our seats and picked up Gyros. We took a video of the first lap which I posted on
my Youtube channel
. There was almost a crash that Nick got very excited about.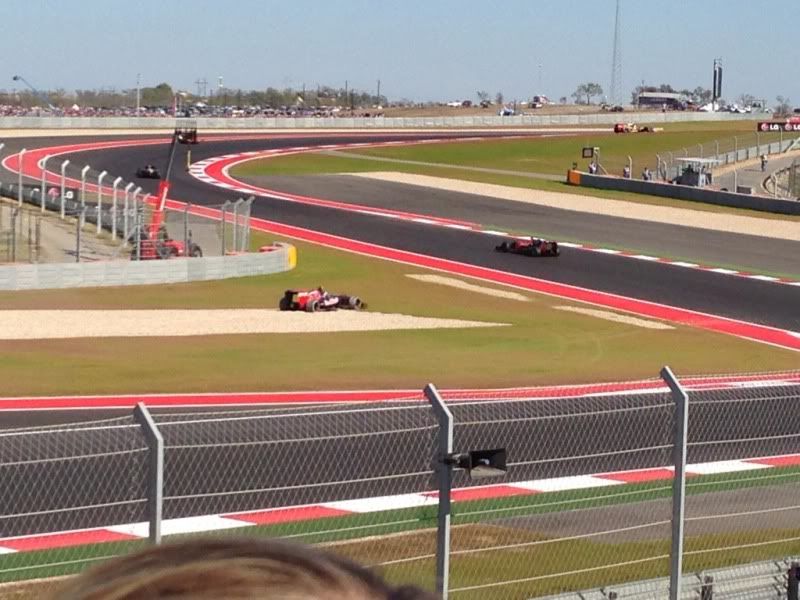 At the end of the race we decided to walk around the entire track so that we
could avoid the massive amounts of lines. It was reported that there were
around 130,000 people there. We passed by one of the major parking lots
and saw all of the parade cars that toted around the race car drivers. This car
is one of the Lotus team drivers. One of the smaller Lotus team sponsors is
Dynamics CRM, which is what Webfortis specializes in.